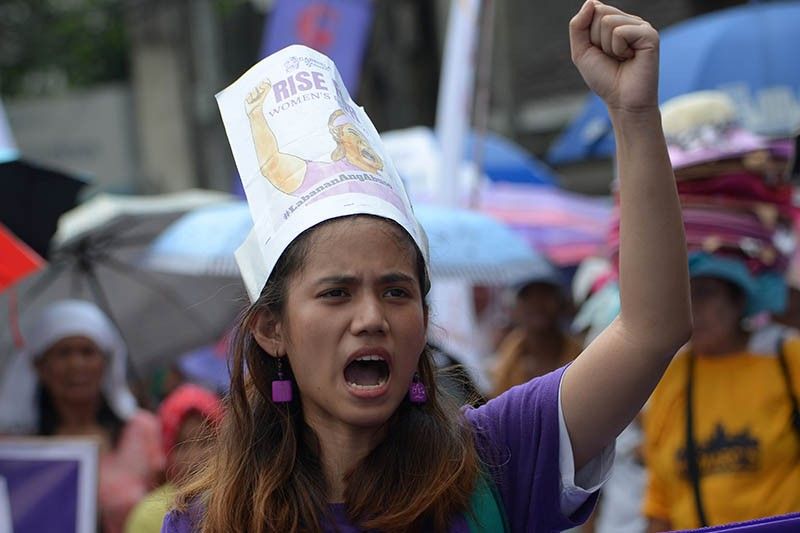 An activist shouts slogans as she raises a clenched fist during a protest to commemorate International Women's Day in Manila on March 8, 2019.
AFP/Ted Aljibe
Women urged to demand poll bets to address women's issues
MANILA, Philippines — A research and training organization for women on Friday called on female voters to demand candidates in the May midterm elections to address issues affecting women.
In a statement released during the celebration of the International Women's Day, the Center for Women's Resources stressed that the female population is a "force to reckon with" in the upcoming elections.
"Women have the power to make or break the results of 2019 elections. We must recognize and make use of that power to send in people who genuinely push for women's agenda in the government," Jojo Guan, CWR executive director, said.
She noted that the female voter turnout of 22.9 million in the 2016 national elections comprised the 81.6 percent of female registered voters and 51.6 percent of the country's voter turnout. The female votes, however, did not fully translate into fulfilment of women's agenda, Guan said.
"Many of the promises were left unfulfilled. This misogynistic and sexist government did not only leave women behind but it also added more burden to women," the CWR executive said.
The organization, moreover, challenged the female voting population to make sure that women's issues are discussed and prioritized in the platforms of local and national candidates and party-list representatives.
"The list of women's demands is too long and too many to be ignored by the government. Women must raise their voices in demanding the government, both those who are incumbents and aspirants, to address the issues of women," Guan said.
Women's issues
The result of CWR's biannual report on women's situation, Ulat Lila 2019, showed that women were forced to buy cheaper alternative commodities, purchase less than usual, find alternative source of income and resort to borrowing or getting loans due to the tax reform law.
The report also revealed that women have to endure the "unabated misogynist and sexist attacks of the president and his minions." Guan said that President Rodrigo Duterte's "low regard" for women's rights has translated to various forms of violence against women.
The leader has ordered soldiers to shoot female rebels "in the vagina," kissed a married overseas Filipina worker, bragged about attempting to touch his maid when he was younger, among others.
Women and rights organizations have repeatedly slammed Duterte for his "vile remarks" toward women, saying such comments from the country's most powerful man encourage objectification and violence against them.
Fifty-nine police officers are involved in 35 cases of violence against women since Duterte took office, the group documented. Of these cases, 18 involved rape, while seven were acts of lasciviousness.
"We shall continue supporting and electing progressive groups and individuals who have fought against TRAIN law, human rights violations and violence against women, and have pushed for policies that cater to women's needs such as Expanded Maternity Leave and Occupational Safety and Health," Guan said.