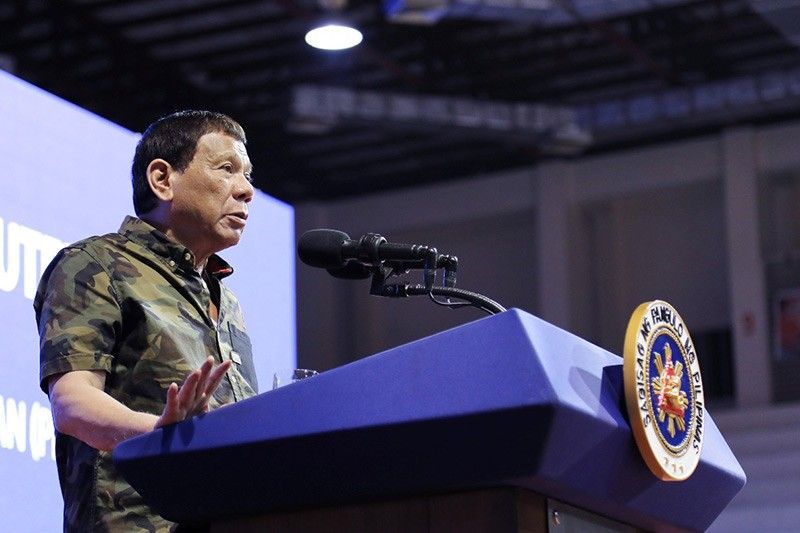 President Rodrigo Duterte delivers his speech at the Partido Demokratiko Pilipino-Lakas ng Bayan campaign rally at the Mayor Vitaliano D. Agan Coliseum in Zamboanga City on March 3, 2019.
Valerie Escalera/Presidential Photo
Duterte still bent on renaming Philippines but this time he did not propose Maharlika
MANILA, Philippines — President Rodrigo Duterte is bent on changing the name of the Philippines but appears to have dropped his suggestion to rename it "Maharlika."
Speaking during the groundbreaking of a gymnasium in Isabela City last Sunday, Duterte said the country should be renamed because "Philippines" was given by Spanish colonizers.
But unlike his earlier speech where he floated the name "Maharlika," Duterte said he still did not have any name in mind.
"Kaya sabi ng mga ano na papalitan ko, gusto kong palitan balang araw (That's why I said I want to change it someday). No particular name yet but sure I would like to change the name of the Philippines because the Philippines is named after King Philip," he said.
The Philippines was named after King Philip II, the Spanish king who funded Portuguese explorer Ferdinand Magellan's expedition that sought to find a western sea route to the Spice Islands. The expedition brought Magellan and his companions to the Philippines in 1521.
In 1978, former senator Eddie Ilarde filed a bill that aims to rename the country to "Maharlika," which contains the words "maha" or noble and "likha" or create.

In a speech in Maguindanao last Feb. 11, Duterte said former president Ferdinand Marcos was right in supporting the renaming of the Philippines to "Maharlika" because "Philippines" has colonial origins. Some critics frowned upon Duterte's remark, saying the president should focus on more important issues. Others ridiculed the suggestion, saying "Maharlika" literally means "big phallus."
Maharlika was also the name of the armed unit Marcos claimed to have led during World War II. But a New York Times report published in 1986 claimed Army investigations "found no foundation" for the former president's claim.