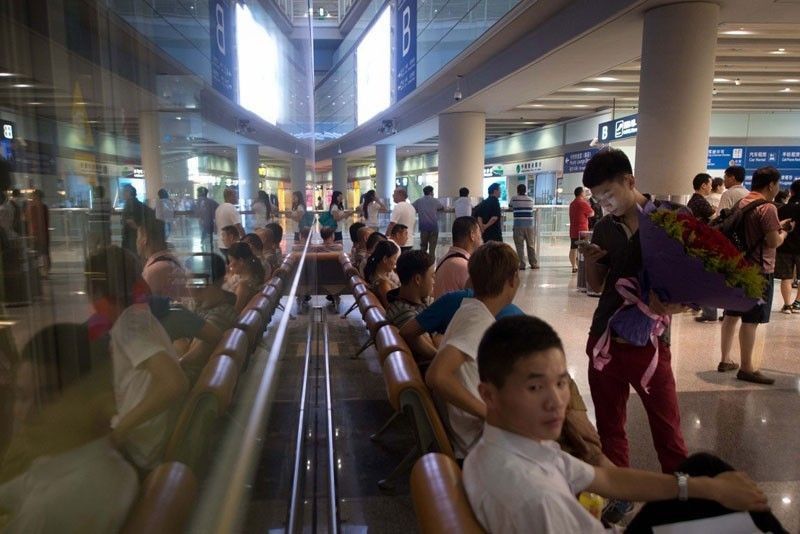 On Tuesday, presidential spokesman Salvador Panelo told reporters that Chinese Ambassador Zhao Jianhua had informed him over dinner that China would do the same if the Philippines sent back illegal Chinese workers. "That's tit for tat," Panelo said.
AFP
Chinese embassy: 'China respects Philippine employment laws'
Embassy: No tit-for-tat on workers
MANILA, Philippines — The Chinese embassy in Manila denied yesterday that China will retaliate or adopt a tit-for-tat approach if its nationals illegally working in the Philippines will be deported.
On Tuesday, presidential spokesman Salvador Panelo told reporters that Chinese Ambassador Zhao Jianhua had informed him over dinner that China would do the same if the Philippines sent back illegal Chinese workers. "That's tit for tat," Panelo said.
The embassy said it has taken note of media reports on Panelo's remarks, noting that "China adheres to the principle of non-interference in other countries' internal affairs."
"Chinese law enforcement agencies will continue to properly handle relevant issues concerning foreign nationals working illegally in China in accordance with laws and regulations," the embassy added.
The embassy said China respects the laws and regulations of the Philippines regarding employment of foreign nationals in the country, and "holds that Chinese nationals should not stay or work illegally in foreign countries including the Philippines."
China expressed hope Philippine law enforcement agencies would continue to deal with relevant issues in a professional manner and in accordance with the rules.
"The Chinese government has always requested Chinese nationals in the Philippines to observe the Philippine laws and regulations. The Chinese embassy in the Philippines has been issuing consular notices in this regard," the embassy said.
It was President Duterte himself who first said that Chinese workers must be allowed to work in the country to avoid retaliation from China targeting illegal Filipino workers in that country.
Onerous project
In another development, party-list group Bayan Muna yesterday questioned what it described as an "onerous" P3.6-billion loan from China for the Chico river irrigation project in Cagayan.
The loan agreement "imposes an admission on the part of the Philippines that it 'does not violate any Philippine law or rules,' practically preempting our country's right to challenge the legality or constitutionality of the contract," Rep. Carlos Zarate said.
"Worse, it provides that any dispute such as a delay or default in payment shall be resolved by the China International Economic and Trade Arbitration Commission (CIETAC) and shall be governed by the laws of China. It even identifies… Beijing," Zarate said.
He said the country is already at the losing end before project implementation "even if the cause of delay or breach of contract is China."
He added that the loan agreement also prohibits the country from doing any act which, in the opinion of Beijing, would affect Manila's payment of the loan.
"This could mean any act, since it is solely interpreted under China's opinion," Zarate.
For his part, Bayan Muna chairman Neri Colmenares said the country accepted an interest rate that is higher than what other lenders offer.
"Furthermore, China demands that the loan be 'paid in full without counterclaim or retention.' The contract provides that China will not pay any taxes or charges for the entire transaction including any interest income it earns from the loan," he said.
He said the loan agreement contains a confidentiality provision that prevents the public from accessing it.
"This is obviously an onerous contract. We challenge the Duterte administration to reveal it and all other agreements it has signed with Beijing," he added.
On Tuesday, former president Benigno Aquino III said China had imposed the same "onerous" conditions on the Arroyo administration's North Luzon rail project, which his government stopped.
"China can be a really fantastic friend. There is only one requirement – if they say something, you just have to answer, 'yes sir'," he said.
Aquino said the loan agreement for the rail project had so many vague provisions, including one that stated that in case of a dispute, a Chinese court should resolve it, he added.
Aquino pointed out that Beijing eventually demanded that the rail project loan be paid after the Chinese contractor built concrete columns in Malolos, Bulacan, which are now useless.
He urged the current government to learn from the North Rail project mistakes.
Meanwhile, President Duterte has appointed five special envoys to China: Fernando Selim Borja, William de Jesus Lima, Carlos Chan and Wallie Lee (Jan. 1 to Dec. 31, 2019) and Cheng Yong (Nov. 24, 2018 to Nov. 23, 2019).
Also named as special envoys were Miguel Ayala (Australia), Susan Pineda-Mercado (global health initiatives) and Wencelito Tan Andanar (Malaysia), father of presidential communications secretary Martin Andanar.
The President also appointed Jose Ernesto Gaviola as social welfare undersecretary and Vicente Gregorio Tomas as social welfare director 4.
The appointment papers were signed last Feb. 26, documents released by Malacañang yesterday showed. – With Alexis Romero