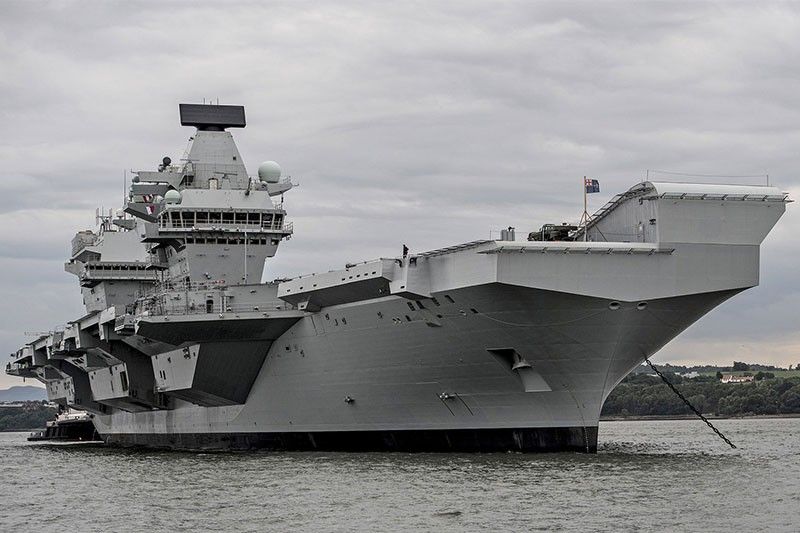 In this June 26, 2017 photo, HMS Queen Elizabeth is under anchor awaiting low tide before departing at the start vital system tests off the coast of Scotland.
UK Ministry of Defence/Release
UK to deploy flagship aircraft carrier in South China Sea
MANILA, Philippines — The United Kingdom would soon send the Royal Navy's largest warship in the South China Sea as the United States steps up its presence in the contested waterway.
British Defense Minister Gavin Williamson confirmed that the HMS Queen Elizabeth will sail in the South China Sea, according to a report from CNBC.
HMS Queen Elizabeth, poised to become the Royal Navy's fleet flagship, will carry two squadrons of F-35 jets.
"Significantly British and American F-35s will be embedded in the carrier's air wing. Enhancing the reach and lethality of our forces (and) reinforcing the fact that United States remains the very closest of partners," Williamson said during a speech in London.
Williamson also called on their Western allies to be prepared to "use hard power to support our interests."
The British Defense chief, however, did not confirm when the aircraft carrier will sail through the South China Sea.
This announcement came after the US Navy's USS Spruance and USS Preble sailed within 12 nautical miles of Mischief Reef, one of Beijing's artificial islands in the South China Sea. This feature is also being claimed by the Philippines.
The Chinese Foreign Ministry claimed that the American ships entered the area without official permission.
Earlier this year, the US and UK navies conducted joint maritime drills in the South China Sea. The US Navy's USS McCampbell and the UK Navy's HMS Argyll were deployed for several drills.
This was a first for both navies since the earlier declaration of London that more British ships will sail in the disputed waters.
China has been claiming sovereignty over the South China Sea, part of which is the West Philippine Sea. It has also been ignoring the landmark ruling of a United Nations-backed arbitral tribunal that invalidated its nine-dash line claim over the region.