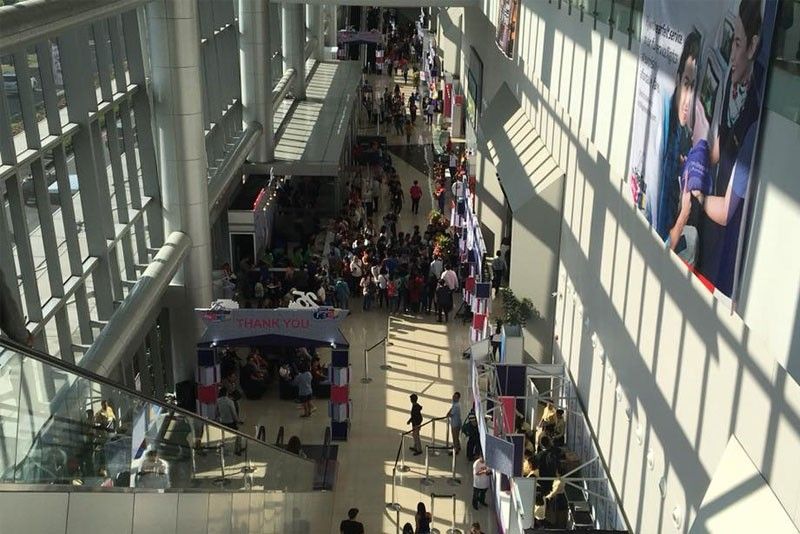 The Travel Tour Expo opened on Friday and will run until today.
PTAA TravelTour Expo 2019 FB Page
Pinoys flock to Travel Tour expo
MANILA, Philippines — Inflation has not hindered thousands of Filipinos who trooped to the SMX Convention Center on Friday to attend the 26th Travel Tour Expo (TTE).
"I don't think inflation will stop many Pinoys from attaining their travel aspirations, they will find means and given the special discounts and packages that many tour operators and airlines are offering, Pinoy tourists will surely take advantage of these offers," Travel Tour Expo's Marlene Dado Jante said.
The Travel Tour Expo opened on Friday and will run until today.
Considered the country's biggest, most-awaited annual travel and tourism event, the TTE 2019 offered exclusive deals and featured the biggest roster of airlines, hotels, resorts, theme parks and cruise lines offering special discounts and packages.
This year's expo featured more than 400 travel and tourism related companies, associations, organizations and even those from the diplomatic community.
Jante said they have placed emphasis on widening the packages and services they offer to the public.
"Even as the TTE is the biggest travel event in the country, every year we still try to expand the expo for it to reach and serve more of our countrymen. The Philippine Travel Agencies Association takes pride in being able to provide our countrymen with the opportunity to travel," Jante said.
She said those who come to the expo will be greeted with dropdown rates from all exhibitors and packages that will cover destinations in most parts of the world.
This year, the expo again occupies the entire SMX Convention Center with a floor area of 16,230 square meters, with more than 400 exhibitors and 994 booths. Foot traffic projected to reach at least 135,000
"The Travel Tour Expo is the country's one-stop-shop for all the travel needs and plans of our countrymen. What they will find at the expo will not be available elsewhere at any given time for the remainder of the year," Jante said.
The PTAA is also steadily expanding its partnerships with international counterparts in a bid to provide its members with the needed networks to grow their operations.
Eight national tourism organizations are participating to showcase their destinations, while also working closely with PTAA members to provide the public with a wide range of options for their travels. These include tourism organizations of Guam, Japan, Korea, Hong Kong, Singapore, Thailand, Taiwan and Tokyo.
Jante said they want to expose and match their members with the most number of international tourism stakeholders to explore new business opportunities.
"The tourism industry landscape is evolving rapidly. The introduction of disruptive technologies requires travel agencies to adjust with the times. As an association, we have to provide our members with the tools needed for them to continue growing,"Jante said.