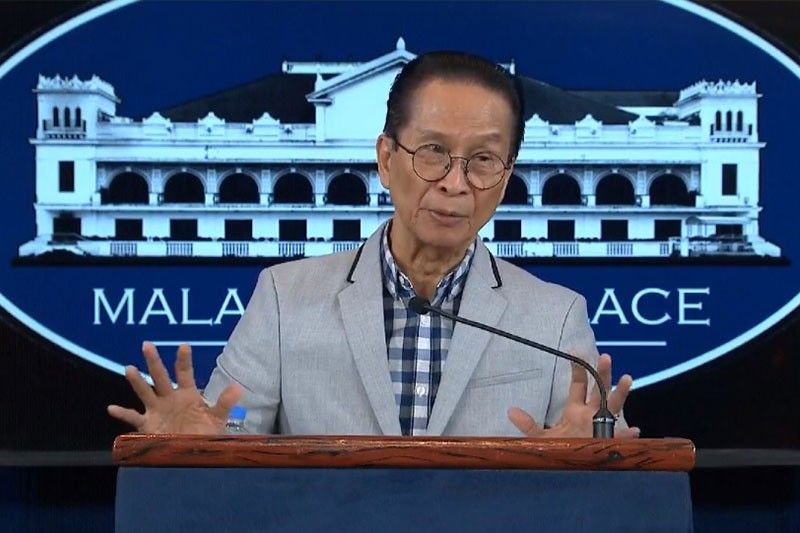 "We have to look whether it's true or not and then we will make our move diplomatically," presidential spokesperson Salvador Panelo said on China's establishment of weather stations in the West Philippine Sea.
Facebook screengrab/Presidential Communications
Philippines refuses to acknowledge China's announcement of weather stations
MANILA, Philippines — Beijing's announcement that it has started operating weather monitoring stations on the Spratly Islands may not be enough validation for the Philippine government.
In a press briefing last November 1, Chinese Foreign Ministry spokesperson Lu Kang confirmed that China has begun operating a maritime observation center, a meteoroligcal observatory and a national environmental and air quality monitoring stations on its artificial islands in the Spratly Islands.
Asked whether Beijing's confirmation is not enough validation, presidential spokesperson Salvador Panelo said they would have to "look whether it's true or not."
"It is in a wrong interest to validate any claim whether it's for or against this government or for or against their own government," Panelo said Thursday.
The Malacañang spokesman said it would be up to the Department of National Defense on how it will confirm the China's establishment such facilities in the West Philippine Sea.
The Department of Foreign Affairs earlier said that it is coordinating with the Philippine Embassy in Beijing to verify the report.
"The Department will take the appropriate action should these reports be validated," DFA spokesperson Elmer Cato said.
The report, initially published by South China Morning Post, was based on the Chinese Foreign Ministry's statement.
These facilities were installed on Fiery Cross, Mischief and Subi Reefs, which are also being claimed by the Philippines.
"These projects are designed to observe the maritime, hydrological, meteorological conditions and air qualities and provide such services as maritime warning and forecast, tsunami alert, weather forecast, air quality forecast and disaster prevention and relief," Lu said.
Earlier this week, Panelo said the government has yet to get confirmation as it is "merely a news report."
Jay Batongbacal, director of the University of the Philippines Institute for Maritime Affairs and Law of the Sea, urged the Philippine government to protest China's recent actions in the disputed waterway.
The maritime expert warned that the weather stations on the Spratly Islands are also part of China's enhancement of military outposts in the region.
"The Philippines should protest this latest action of China as it definitely part of the larger effort to assert China's claims to sovereignty/rights over the long run, and unilaterally impose its position on other littoral States," Batongbacal said.