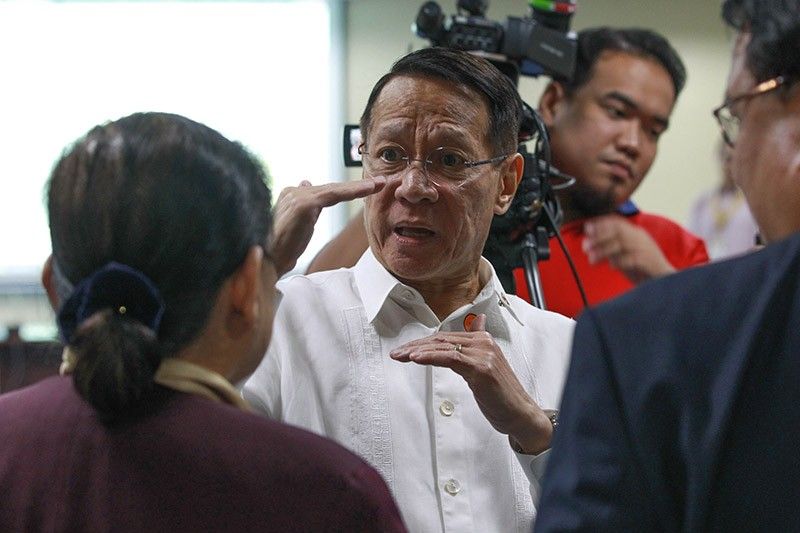 This file photo shows Health Secretary Francisco Duque III during the bicameral conference hearing into the universal health care measure.
The STAR/Geremy Pintolo, File
Duque: 'Baseless' attacks and statements erode trust in DOH, vaccines
Duque says 'baseless' statements damage DOH reputation, affect trust in vaccines
MANILA, Philippines — Health Secretary Francisco Duque III said there is no basis for Public Attorney's Office Chief Persida Acosta's claim his department is paying off families of alleged Dengvaxia victims to drop charges.
In a statement Thursday, Duque called the accusation of PAO chief Persida Acosta "malicious, baseless and a complete lie."
"Baseless statements like these cause serious damage to our reputation as the primary government entity mandated to protect the health of all Filipinos," the Health secretary said.
Duque said the DOH has tried to reach out to government agencies, including PAO, to resolve the issues surrounding the anti-dengue vaccine that the PAO is blaming for at least 32 deaths.
"Unfortunately, my fellow public servants at PAO led by Attorney Persida Acosta refuse to cooperate and continue to attack and throw baseless claims and accusations at the Department of Health and myself," he said.
Duque is among current and former Health officials, and officials of Dengvaxia manufacturer Sanofi Pasteur who are facing complaints over the deaths of those who received the dengue vaccine.
The Department of Health has maintained that the deaths were not due to Dengvaxia but PAO, citing analysis by its in-house forensics team, claims there is a "pattern" to the deaths blamed on the vaccine.
Duque: Work with facts, reliable evidence
The DOH chief called on his fellow public servants to collectively find solutions to the problems instead of creating divisions and to always work around facts backed by reliable evidence.
In a radio interview last week, Acosta alleged that "agents of those charged" in connection with the Dengvaxia mess were paying off families affected by the controversial Dengvaxia vaccine P50,000 so they would withdraw the charges.
Presidential Spokesperson Salvador Panelo called the bribery accusation of Acosta a "serious charge."
"She should have substantiated that," he said in a press briefing Monday.
'Decline in vaccine confidence, increase in measles cases'
In the same statement, Duque said the remarks of the PAO chief have contributed to a "decline in vaccine confidence and a rise in cases of measles and other vaccine preventable diseases."
A study of the London School of Hygiene and Tropical Medicine released in October last year said the Philippines' "highly politicized response" to the reported risks posed by Dengvaxia has eroded overall public trust in immunization.
President Rodrigo Duterte himself urged parents not to be afraid of vaccines as he expressed concern about the drop in the number of vaccinated children because of the Dengvaxia scare.
"It is alarming to government for people to shy away from vaccination for their children," he said during the groundbreaking of a hospital in Malabon.
Duque also lamented that the DOH's effort to extend help to Filipinos are "twisted and taken negatively."
"Even our staff on the ground facilitating the support groups are being bullied and harassed at every instance," he said.
The Health chief added: "I strongly call on those with negative intentions to stop propagating baseless allegations and stop harassing our staff."
Duque suspended the dengue vaccination program after French pharmaceutical company Sanofi Pasteur disclosed in November 2017 that there was a risk of those who had not previously had dengue of getting "severe dengue" despite having been vaccinated.