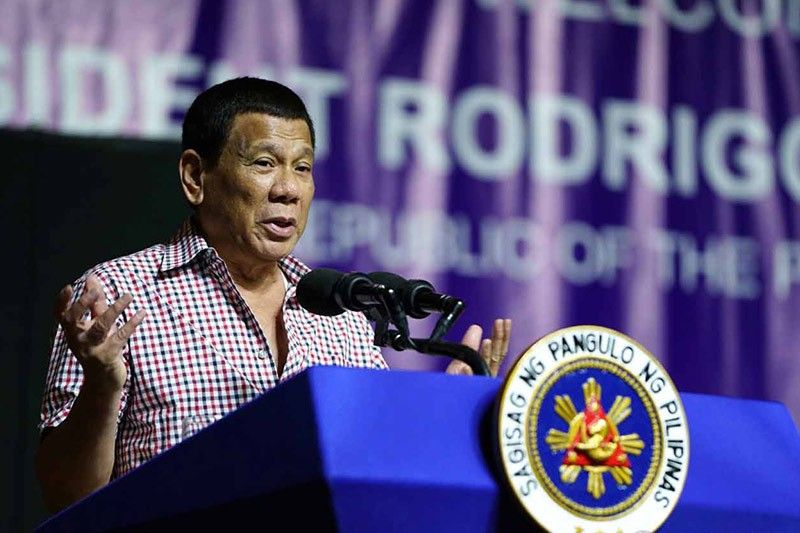 President Rodrigo Duterte delivers his speech during the 4th Roa Clan Grand Reunion at the Limketkai Center in Cagayan de Oro City on Jan. 25, 2019.
Joey Dalumpines/Presidential Photo
Duterte to public: Do not be afraid of vaccines
MANILA, Philippines — President Rodrigo Duterte Tuesday urged parents not to be afraid of vaccines as he expressed concern about the drop in the number of children who received vaccines because of the Dengvaxia controversy.
Duterte said parents have other options if they are not confident of Dengvaxia, the anti-dengue vaccine blamed for the deaths of some students.
"Since the controversy, many families in the Philippines, not just in Malabon, were scared of vaccination. They do not want it anymore," the president said during the groundbreaking of a hospital in Malabon.
"Do not be lulled and be complacent about it because a baby really needs it. If you do not want Dengvaxia, that's okay," he added.
Duterte said vaccines are "good" for the health of children and can protect them against illnesses like measles, polio and hepatitis.
"You can compare it with the civil registrar, even the number of children who were given vaccines. Apparently, there is a great drop," the president said.
"They are afraid. They think it is dangerous. But based on statistics, we have 110 million people. If two or three die because of that, it does not set a trend or record. On the other hand, it is alarming to government for people to shy away from vaccination for their children," he added.
The P3.5 billion Dengvaxia project, which was implemented during the time of former President Benigno Aquino III, sparked outrage after it was revealed that the vaccine may have placed students who never had dengue fever at risk of contracting a more serious illness. Aquino has denied disregarding the safety of students who were given the vaccine and has decried the supposed politicization of the issue.
Charges have been filed against incumbent and former health officials, executives of Dengvaxia-maker Sanofi Pasteur and pharmaceutical firm Zuellig Pharma Corp. over the deaths of some students who received the vaccine.