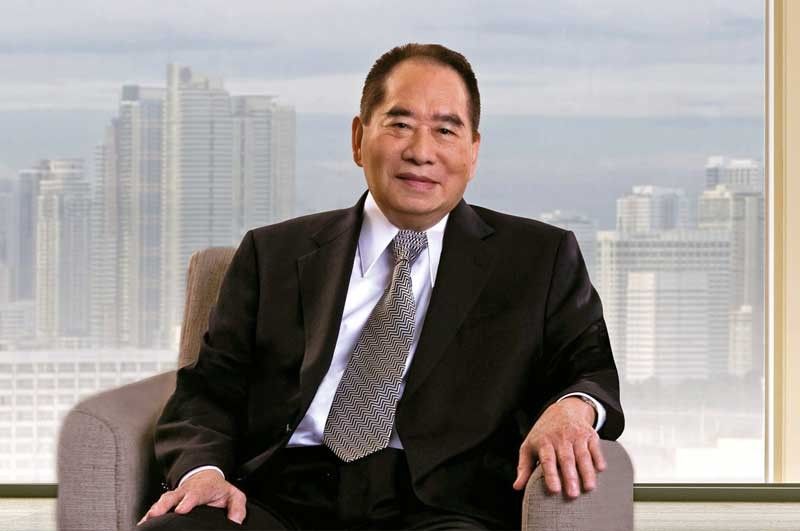 Henry Sy Sr. worked in his father's sari-sari store at age 12, opened the first Shoemart in 1958 and rose to become the country's richest man.
Henry Sy Sr., retail king and mall tycoon, 94
MANILA, Philippines — His legacy of hard work, simple living and a firm belief in the value of education lives on in his family and in the thousands of lives he had touched through his numerous businesses and philanthropic activities.
Henry Sy Sr. – the Philippines' wealthiest person, "Retail King" and number 1 banker – died yesterday morning in his sleep at age 94.
He was an immigrant entrepreneur who founded the SM retail chain and the country's biggest bank, BDO Unibank Inc.
He supported education though National University (NU), Asia Pacific College (APC), academic scholarships and many other educational charities.
Highly respected in the business community for his hard work, honesty, simple lifestyle, entrepreneurial talent and vision, Sy became the country's wealthiest person.
On the day of his demise, he had a net worth of $19 billion according to Forbes magazine and ranked the world's 52nd wealthiest, while Bloomberg Billionaires Index estimated his fortune at $7.1 billion.
SM Group issued this statement through SM senior vice president for marketing and communications Millie Dizon: "It is with deep sadness that we inform you of the peaceful passing of our beloved Chairman Emeritus, founder and Tatang, Mr. Henry Sy Sr. this morning. We join the Sy family in fervent prayer. Mr. Sy was 94 years old."
In response to the outpouring of condolences and many inquiries on funeral arrangements, the Sy family said: "We are truly grateful for the outpouring of sympathy on the passing of our father, Henry Sy Sr. May we respectfully ask for privacy today to give the family time to reflect and to finalize arrangements."
Based on initial details, public viewing at Heritage chapels in Taguig City will start at 9 a.m. today until Wednesday evening. Interment is on Thursday. Mass will be celebrated each evening at 7 p.m.
Sy once told The STAR that he was born in the rural village of Angkue (Hong-xi in Mandarin), Loushan district, Jinjiang City, Quanzhou, Fujian province in southern China.
His Chinese name Chi-Sieng means "towards success."
National hero Dr. Jose Rizal's paternal immigrant great-great-grandfather Domingo Lamco (Chinese name Cua Yi-Lam) also came from the Luoshan district in the village of Zhangguo.
Sy came to the Philippines at age 12 to join his father who operated a sari-sari or neighborhood sundry store in Quiapo, Manila, which was wiped out during the Japanese invasion.
He opened the first Shoemart retail store in 1958 in downtown Manila, pioneering new merchandising and retail concepts. In the 1960s, Shoemart expanded its shoe store chain to new urban centers in Makati and Cubao, Quezon City.
Revolutionizing urban lifestyle
In 1985 amid political and economic crises, Sy boldly built the first SM shopping center, SM City North EDSA, and began to revolutionize the urban lifestyle and shopping habits.
Today, the SM Group has grown to close to a thousand retail stores, 72 shopping malls all over the Philippines and several malls in China.
Sy was at heart a family man. He and his deeply religious widow Felicidad Tan raised six children who are all actively involved in the family businesses – Teresita "Tessie" Sy-Coson, Elizabeth, Henry "Big Boy" Jr., Hans, Herbert and Harley.
Through SM Prime Holdings and SM Development Corp., Sy became a leading developer of residential condominiums with affordable prices and prime locations.
Sy had always believed in the positive impact of tourism for Philippine social and economic development, so he invested in unique destination malls like the SM Mall of Asia, hotels like the famous Taal Vista Hotel in Tagaytay City, many other resorts and tourist attractions through SM Hotels and Conventions.
In banking, the acquisition of Banco de Oro in the 1980s enabled the SM Group to provide better cash management services to its suppliers and also retail banking services to its customers.
BDO Unibank Inc. is now the country's largest bank in terms of resources, deposits and loans.
Sy also invested in and acquired control of the 99-year-old China Banking Corp.
Education, environment
As part of his civic commitment to Philippine social development through education, Sy invested in and helped modernize NU, APC and Far Eastern University.
He donated buildings to De La Salle University in Manila, University of the Philippines at The Fort in Taguig City, UP College of Medicine, Immaculate Conception Academy and land to St. James in Calamba, Laguna.
Sy also donated school buildings to the country's disadvantaged regions through the Federation of Filipino-Chinese Chambers of Commerce and Industry Inc. (FFCCCII)'s Operation Barrio Schools.
FFCCCII president Domingo Yap said Sy was FFCCCII's respected senior executive adviser, who had partnered with FFCCCII to donate school buildings in the provinces of Pampanga, Tarlac, Bataan, Zambales, Cavite, Cebu, Davao del Sur, Laguna, Sorsogon, Sultan Kudarat, Cotabato, Ilocos Sur, Bohol, Leyte and South Cotabato.
Through SM Cares, the SM Group has undertaken environmental programs by building green spaces in its malls, as well as upholding sustainability efforts, trash-to-cash recycling and disaster risk reduction programs.
It has also made going around the SM malls easier for those with physical disabilities through PWD programs.
Since 1983 when he established SM Foundation, the simple-living Sy had given support to numerous socio-civic causes. His main philanthropy was education, which he believed was a way out of poverty, so he and the Sy family provided thousands of college scholarships and donated to educational charities.
All in the family
"I saw how difficult life was for (my father), his struggle and hard work to earn a living with that small store," Sy said in an interview published in the February 2004 issue of Time magazine.
While other boys his age spent their time playing, Sy helped his father in the store.
He also devised ways to increase their income by making small portions of products, which became his very successful retail formula.
At night, after a day's work, the father and son would clear the table and sleep on it.
"There is no substitute for hard work. There is no such thing as an overnight success or easy money," he said.
All of it starts with a dream, Sy famously said.
"You have to have a dream, whether big or small. Then plan well, focus, work hard and be very determined to achieve your goals," he said.
After World War 2, Sy sold US-made shoes brought in by enterprising GIs. He peddled the shoes around the streets of Manila.
"When we started the construction of our first mall in 1983, the Philippines was in the midst of a debt moratorium and experienced hyper inflation. Many bankers predicted our demise because my dad came from nowhere – he may have had a few department stores and shoe stores at the time, but he was not one of the financial heavy-weights at the time," Sy-Coson said.
According to an urban legend, Sy and fellow tycoon John Gokongwei Jr. tossed a coin to determine who would get the right to buy the prime parcel of land at the corner of EDSA and Ortigas Avenue. Gokongwei won the coin toss.
The tale, which has been told so often, turned out to be true. – With Iris Gonzales