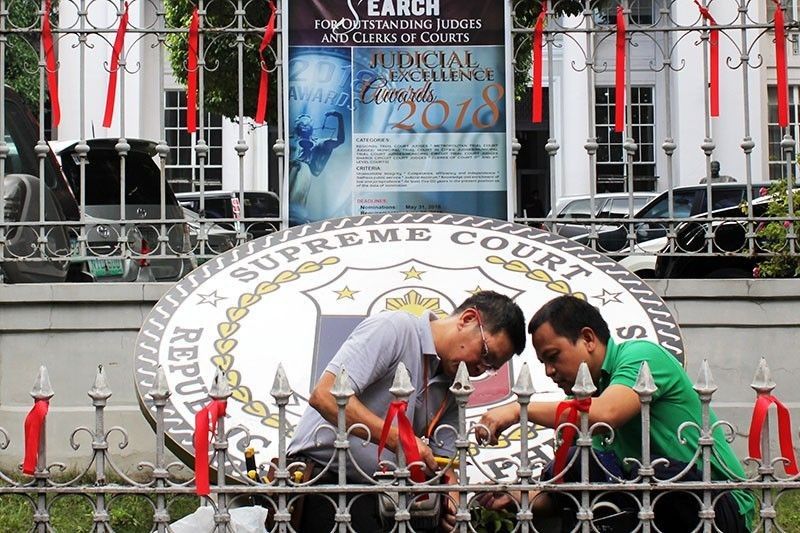 In this file photo, red ribbons are tied to the gate at the Supreme Court as a show of opposition against former Chief Justice Maria Lourdes Sereno.
The STAR/Miguel de Guzman, File photo
Another challenge vs martial law extension filed
MANILA, Philippines — Another group of opposition lawmakers on Wednesday challenged factual basis of President Rodrigo Duterte's third extension of martial law in Mindanao before the Supreme Court.
Reps. Carlos Zarate (Bayan Muna partylist), Emmi De Jesus and Arlene Brosas (Gabriela partylist), Ariel Casilao (Anakpawis partylist), Antonio Tinio and France Castro (ACT Teachers partylist) and Sarah Elago (Kabataan partylist) asked the SC to declare Duterte's year-long extension of martial law in the southern region as unconstitutional.
This is the second challenge to Duterte's extension of martial law in Mindanao until the end of 2019.
The lawmakers argued that the government "has failed to allege and prove that this specific public safety requirement has been fulfilled."
They also recalled that Duterte, in his letter to the Congress requesting for the extension, said that the narration of factual averments "merely illustrates in general terms the continuing rebellion in Mindanao."
The solons said president promised to submit a more detailed report to support their statement of continuing rebellion in Mindanao but when they convened for a special joint session, "no such detailed report or any other report was given to the members of Congress."
They also argued that the incidents that supposedly show rebellion do not endanger public safety as a ground to impose martial law under the Constitution.
"The letter does not allege that the situation has deteriorated that the civilian government no longer functions effectively requiring the exercise of the powers of martial rule to ensure public safety," they added.
Oral arguments next week
The SC en banc has earlier set Lagman's petition against martial law extension for oral arguments on January 22 and 23.
Solicitor General Jose Calida, representing the government respondents, filed his comment on the petition on Tuesday.
The government's chief lawyer insisted that rebellion still exists.
"The issue of whether such rebellion persists had been determined by the executive department and approved by the legislative department, two of the three co-equal branches of the government," the government's comment read.
The SC, meanwhile, also moved to implead both Houses of the Congress in the petition filed by Lagman.
The court also ordered the Congress to file its answer on the pending plea within five days.
While the court, in an advisory, said that it would dispense with the preliminary conference of the case initially set on Thursday, it said that the oral arguments would push through next week.