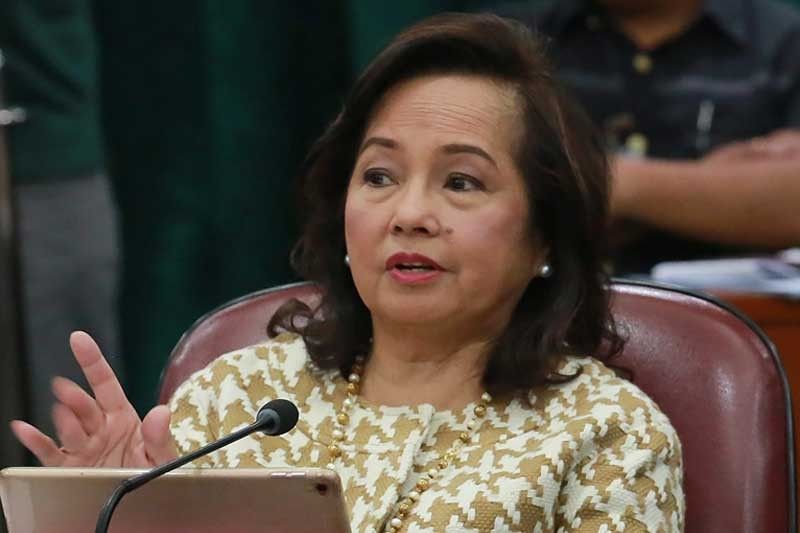 "No, definitely not," Arroyo told reporters in a chance interview here, where she distributed goods to residents of Barangay Batang First.
MIchael Varcas
Duterte won't intervene in flood fund scam probe — Gloria Arroyo
SASMUAN, Pampanga, Philippines — President Duterte has not intervened in the investigation of the rules committee of the House of Representatives on the alleged P332-billion flood control scam, Speaker Gloria Macapagal-Arroyo said yesterday.
"No, definitely not," Arroyo told reporters in a chance interview here, where she distributed goods to residents of Barangay Batang First.
"The President respects the separation of powers," the former president stressed, even as she admitted having discussed with Durterte the stalled P3.7-trillion national budget for this year.
"We did discuss the budget, it's OK, but we don't discuss things like that," she said, referring to the alleged flood control scam.
Budget Secretary Benjamin Diokno earlier served notice to the House leadership that he had been advised by the executive department to ignore the subpoena from the committee on rules. He did not specify who gave him the advice.
The rules committee is set to resume its hearing on the issue on Tuesday.
Arroyo also clarified she does not and will not micromanage legislative affairs unless there are clear violations of House rules.
"I think Nonoy can take care of it, I am not an interventionist personal on political matters," she said, referring to Camarines Sur Rep. Rolando Andaya Jr. by his nickname.
"I exercise democracy, I am open-minded. I am selectively hands on," she said as she belittled calls for Andaya's ouster by rival Rep. LRay Villafuerte.
"I am only one vote. I'll vote for Nonoy. Well, I don't know how many congressmen share that sentiment. As far as I can see, the majority still supports the incumbent," Arroyo said of Andaya.
Andaya, now on his third and last term, will be challenging in the May 13 elections the re-election bid of Villafuerte's governor-son Migz. The Villafuerte clan, starting from their patriarch Luis, has governed Camarines Sur for several decades.
Aremar execs summoned
Expected to attend Tuesday's hearing on the alleged flood control scam are the owners, incorporators and officers of Aremar Construction led by Diokno's son-in-law Romeo Sicat Jr.
Also invited as resource person was Diokno's daughter Charlotte Justin, Sicat's wife.
Another resource person summoned was Francisco Clemente of Bulacan-based CT Leoncio Construction.
The committee, chaired by Andaya, also subpoenaed 10 other resource persons, including Maria Catalina Cabral, undersecretary for planning of the Department of Public Works and Highways (DPWH); Patrick Gatan, head of the DPWH flood control management office; and Mel Georgie Racela, executive director of the Anti-Money Laundering Council (AMLC).
"Aremar Construction, which is owned by the in-laws of Secretary Diokno, cornered billions of pesos worth of projects in Sorsogon using dummy contractors, who deposited at least P70 million worth of kickbacks to the bank account of Aremar. Proof: five deposit slips of different dates and different construction firms," Andaya said in a statement yesterday.
He said the deposit slips "clearly indicate that these are proceeds from DPWH contracts, none of which Aremar won through bidding."
He said he hoped Racela could help his committee "identify who really benefitted from the public funds that found their way to Aremar Construction and its dummy contractors."
During the committee's first hearing in Naga City on Jan. 3, CT Leoncio Construction owner Consolacion Leoncio testified that it was Clemente, her liaison officer, who handled most of her company's transactions and dealt with its partners and bureaucrats.
CT Leoncio and Aremar are joint venture partners in at least four large infrastructure projects in Sorsogon.
Andaya said his committee expects "full cooperation and full disclosure from those invited to the hearing as they will be testifying under oath."
"We also expect to be provided with documentary evidence that could shed light on the anomalous budget practices of the DBM and questionable allocations for DPWH, which we uncovered during the previous hearing," he said.
He said the inquiry is the proper forum for all the invited and subpoenaed individuals to explain themselves.
"We will give them all the time needed to present their case. But we expect specific responses to specific issues. No general denials and hiding behind technicalities," he added.
Andaya pointed out that aside from contracts and transactions of Aremar and CT Leoncio, his committee would like Diokno and DPWH officials to reveal how "multibillion-peso flood control projects, which did not pass through the legal process for selection, were inserted into the national budget without the knowledge of (DPWH) Secretary Mark Villar."
As for Diokno's daughter Charlotte Justin, who is a professor at the University of the Philippines, he said they would like to know whether her annual statement of assets, liabilities and net worth included her husband's Aremar shares and income.
The budget chief had said it was the DPWH that submitted to the DBM lists of projects to be funded in the national budget. He said Villar, as DPWH head, is ultimately responsible for such listings.