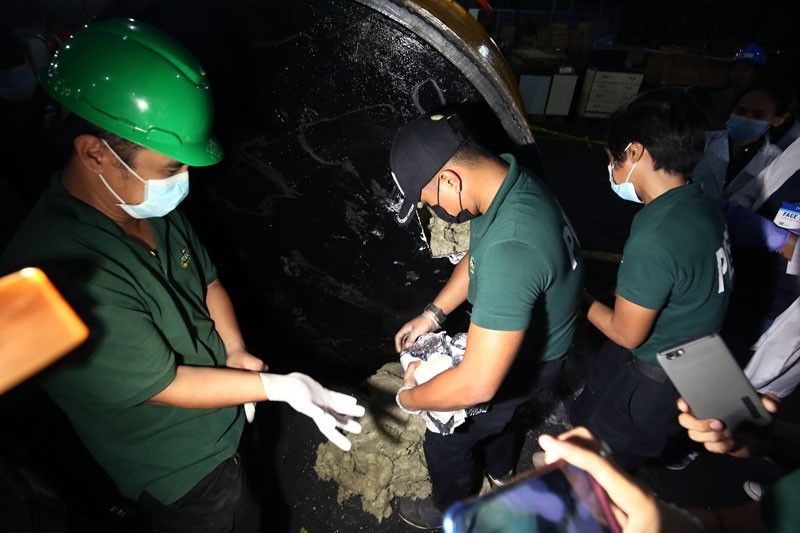 In this file photo from August, 2018, PDEA agents examine some 500 kilos of shabu hidden in magnetic scrap lifters inside a container van at the Manila International Container Terminal in Manila's North Harbor.
Miguel de Guzman
2018 a banner year for anti-drugs campaign, PDEA says
BAGUIO CITY, Philippines – Investments on time, effort and resources paid off in the battle against illegal drugs in the country, the government's primary agency against the drug trade—Philippine Drug Enforcement Agency—said in its 2018 roundup.
"(It) is certainly a banner year for the national anti-drug campaign," said PDEA Director General Aaron Aquino in a report provided by Director Derrick Carreon of the agency's public information office.
PDEA said "the revitalized interagency coordination and collaboration, the active participation of the various sectors of society, and the strengthened foreign ties, have made all these achievements possible."
PDEA tallied 6,438 anti-drug operations, 386 of which were high-impact operations, that it said disrupted the source of dangerous drugs. There were 25 percent more operations in 2018 than in 2017 and with 51-percent hike in high-impact operations to 386 from 255.
At least 5,513 drug personalities were arrested, 1,612 of whom were high-value targets. Those HVTs included 53 foreign nationals, 57 elected officials, 15 uniformed personnel, 43 government employees, 200 drug group leaders/members, 14 armed drug group members, 182 drug den maintainers, 10 "wanted-listed", 146 "target-listed", "Other HVTs" numbering to 407, and 485 "drug personalities" arrested in HIOs.
Total value of dangerous drugs seized in 2018 was P5.39 billion, a 16-percent increase compared to 2017. Majority of these were methamphetamine hydrochloride, or shabu, accounting for 655.47 kilos worth P4.86 billion.
PDEA said the P2.4 billion worth of shabu concealed inside two magnetic lifters intercepted at the Manila International Container Port on August 7, 2018 was perhaps one of the highlights of its achievements in 2018
Five shabu labs seized, 186 marijuana plantations destroyed
PDEA clamped down on at least five clandestine shabu laboratories and one chemical warehouse used in the manufacture of illegal drugs, which was more than double its achievement in 2017.
At least 186 marijuana plantation sites with 869,682 marijuana plants, 136,510 marijuana seedlings, 97.4 kilos of marijuana stalks, two kilos of marijuana seeds and two kilos of marijuana hashish worth over P201.16 million were destroyed. This was a 589-percent hike compared to 27 illegal hemp cultivation sites raided in 2017.
An increase in seizures of ecstasy tablets was also observed in 2018 with 16,713 tablets confiscated in 2018 compared to the 591 in 2017, an unprecedented increase of 2,728 percent.
PDEA attributes the achievement "to the enhanced capability of PDEA personnel to detect hidden illegal drugs, including the party drug, entering the country via mail and delivery services," citing that PDEA agents assigned in the airports and seaports have undergone x-ray cargo screening training.
Cleared barangays, harm reduction programs
At least 9,503 drug-affected barangays since July 2016 were cleared of drugs in 2018. PDEA said the activation of Barangay Drug Abuse Councils was crucial in its success.
To complement the supply reduction strategy in eliminating illegal drugs in the country, the government also launched anti-drug advocacy and drug awareness programs, and rehabilitation of drug dependents, PDEA said.
An estimated 25.84 million Filipinos were "reached" via 5,584,557 preventive education and community involvement activities such as lectures, seminars and symposia to the different sectors of society in 2018.

Recognizing that solving the drug problem entailing a holistic approach, PDEA conceptualized a harm-reduction program named "Balay Silangan", designed for drug offenders to give up their former selves and enable them to be more productive and acceptable to society. It was launched on April 25, 2018. At least 21 reformation centers were inaugurated all over the country.
Better equipment, facilities
Right at the start of 2018, PDEA provided equipment to its operating units with a total of P537,531,720 in firepower, protective, and surveillance equipment, the biggest in the agency's history of procurement.
PDEA also hiked its workforce by hiring and training 429 Drug Enforcement Officers. A second batch, composed of 161 agent-trainees, is currently undergoing six months of training and is expected to graduate in February 2019. Carreon said this has been "by far, the largest recruitment of DEOs" in the history of the agency.
PDEA also opened the six-month basic K9 Handler's Course Class 04-2018 in September. With 100 K9s and 100 K9 handlers, the batch is the biggest yet.
An enhanced K9 facility in San Jose del Monte, Bulacan was put up last September.
PDEA also established three Airport Interdiction Units, three International Airport Inter-Agency Drug Interdiction Task Groups, and 12 Seaport Interdiction Units in its regional offices in 2018, while it expanded its presence in the provinces by establishing provincial offices in 80 provinces and five districts in the National Capital Region.
PDEA also inaugurated its new Laboratory Service building at the PDEA National Headquarters in Quezon City. The world-class facility is equipped with analytical equipment that are at par with those in other countries. Apart from drug forensic examination and analysis, the laboratory was designed to enhance the safekeeping of seized drug evidence.