LIST: Route of the Black Nazarene for Traslacion 2019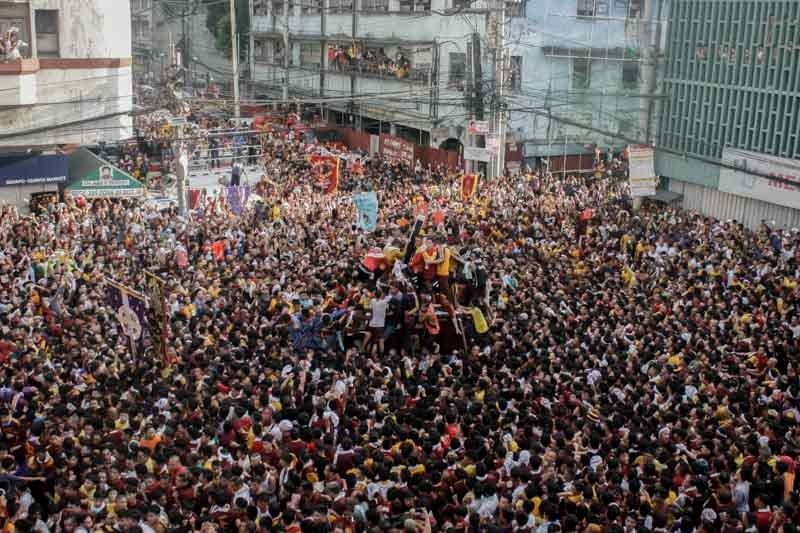 MANILA, Philippines — At least five million devotees are expected to join the annual procession of the Black Nazarene on its feast day, January 9, Wednesday, Quiapo Church officials estimated.
The life-sized image of Jesus Christ is believed by Filipinos to be miraculous.
The procession, dubbed as traslacion, is held every year to commemorate the transfer of the Black Nazarene to Quiapo from Intramuros. It spans approximately 6.1 kilometers, the National Capital Region Police Office said.
It will begin at Quirino Grandstand in Rizal Park. It will end once the statue reaches the Minor Basilica of the Black Nazarene in Quiapo. Last year, the traslacion took 22 hours to complete.
Here is the list of areas where the Black Nazarene will pass:
Quirino Grandstand (Rizal Park)
Left to Katigbak Drive thru Padre Burgos St.
Left to Taft Ave. thru Jones Bridge
Right to Dasmariñas St.
Right to Plaza Sta. Cruz St.
Left to Carlos Palanca St. thru under Quezon Bridge
Left to Quezon Blvd.
Right to Arlegui St.
Right to Fraternal St.
Right to Vergara St.
Left to Duque de Alba St.
Left to Castillejos St.
Left to Farnecio St.
Right to Arlegui St.
Left to Nepomuceno St.
Left to Concepcion Aguila St.
Right to Carcer St.
Right to Hidalgo thru Plaza del Carmen
Left to Bilibid Viejo thru Gil Puyat
Left to J.P. de Guzman St.
Right to Hidalgo St.
Left to Barbosa St. (Bautista St.)
Right to Arlegui St.
Left to Quezon Blvd.
Right to Palanca St. thru under Quezon Bridge
Right to Villalobos thru Plaza Miranda