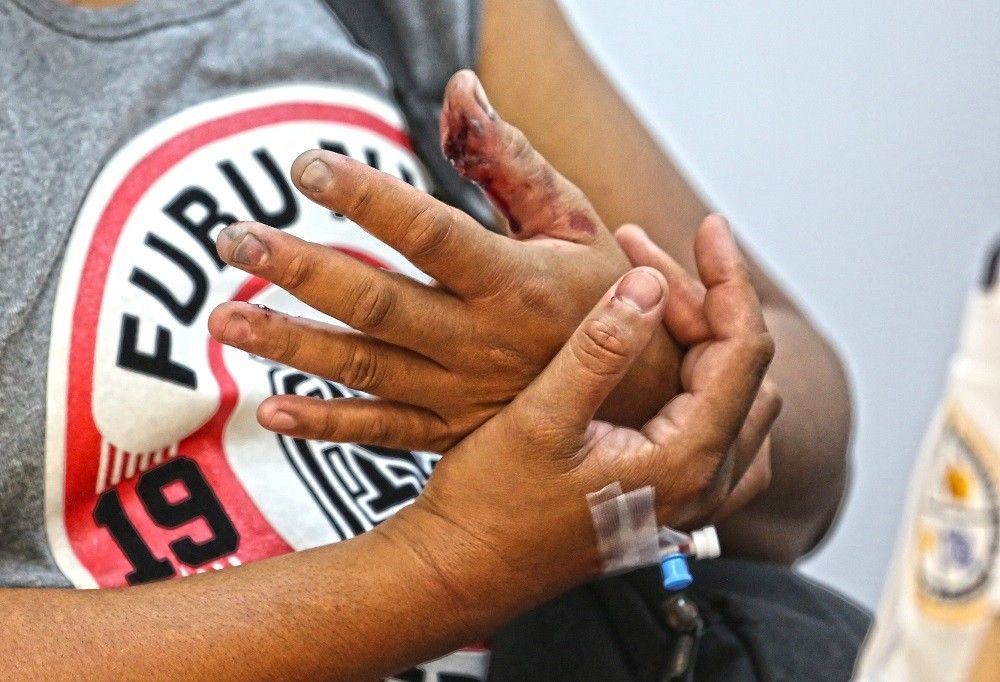 The Department of Health reports an additional 97 injuries following New Year celebrations
Walter Bollozos/The STAR
New Year firecracker injury count rises to 236
(Philstar.com) - January 2, 2019 - 2:35pm
MANILA, Philippines — From 139 injuries recorded on Tuesday, the Department of Health reported an increase of 97 more injuries for a total of 236 total firecracker and fireworks-related injuries as of Wednesday morning.
READ: Firecracker injuries rise to 139 on New Year's Day
According to the Department of Health, 35 new cases came from Metro Manila.
The following regions also reported more injuries on Tuesday:
Region I(Ilocos) – 22
Region VI (Western Visayas) – 13
Region VII (Central Visayas) – 6
Region IV-A (Calabarzon) – 5
Region III (Central Luzon) – 4
ARMM (Autonomous Region of Muslim Mindanao) – 3
Region V (Bicol) – 3
Region IV-B (Mimaropa) – 2
Region XII (Socksargen) – 2
Region II (Cagayan Valley) – 1
Region IX (Zamboanga Peninsula) – 1
Region XI (Davao Region) – 1
According to a News 5 report, kwitis caused the most accidents with 55 injuries, followed by luces with 20, Piccolo at 19, Boga at 18 and 5-star with 14 injuries.
About 180 of the victims sustained blasts or burs that don't require amputation, eight others injured required amputations while 61 others had eye injuries.
Health Secretary Francisco Duque III said yesterday that the initial injury count (139) was 68 percent less than the injury count of 428 of the same period (December 21 to January 1) the previous New Year. Taking into account the new injuries reported today, this new year changes to percentage decrease to 55 percent less than the previous year.
Duque attributed the decrease in injuries to Executive Order No. 28, signed by President Rodrigo Duterte in 2017, which gives the Philippine National Police authority to regulate illegal firecrackers and fireworks.
Senior Superintendent Cecilio Ison, PNP public safety officer, told reporters that the police had intensified operations against illegal fireworks prior to the start of the holiday season.
"But there are still many who sold underground despite the fact there are operations against illegal fireworks," Ison said in Filipino.
The Health secretary also said the "relentless rain" brought by Tropical Depression Usman was a factor in the "substantive reduction" of firecracker and fireworks injuries. — Ryan Macasero