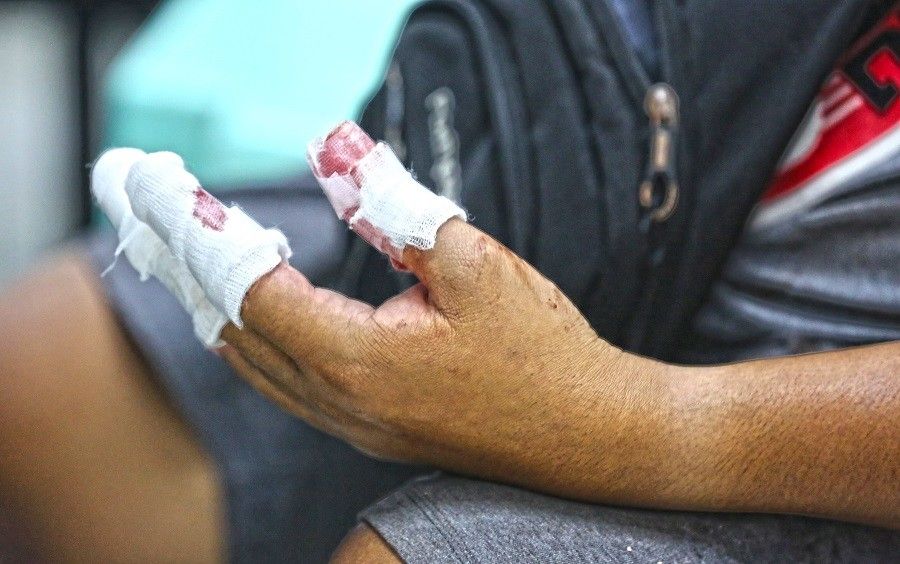 The Department of Health says firecracker-related injuries decreased by 68 percent this 2019.
The STAR/Walter Bollozos
Firecracker injuries rise to 139 on New Year's Day
MANILA, Philippines — At least 139 firecracker-related injuries have been reported so far, according to Department of Health Secretary Francisco Duque III.
This is 68 percent lower compared to injuries reported during the same period (December 21 to January 1) last year. These figures, updated as of 6 a.m., were presented to reporters during a press conference in Quezon City by Duque on Tuesday morning.
"But we also expect cases to increase with more reports coming in from other regions," the Health secretary said.
Although celebrations are over, Duque warned parents with young children to monitor them closely when they go outside.
"Most injuries at this time come from unexploded firecrackers in the street," Duque said.
"After the major revelry of 12 midnight, parents should still be on the lookout. Unexploded firecrackers may still be on the streets," he warned.
The DOH recorded no stray bullet incidence so far. However, there were at least two cases of firework ingestion.
Among the 139 injuries were 102 cases of burn without requiring amputation, five injuries caused by firework blast requiring limb amputation.
The National Capital Region reported the highest number of injuries in the country with 53, followed by Western Visayas with 26 injuries, Central Visayas with 13 injuries; and Central Luzon and Calabarzon with 10 injuries reported in each region.
Duque attributed the decrease in injuries to Executive Order No. 28, signed by President Rodrigo Duterte in 2017, which gives the Philippine National Police authority to regulate illegal firecrackers and fireworks.
The firecracker that caused the most injuries, Duque said, was Kwitis, followed by Boga, Luces and Triangle.
PNP Public Safety Officer Cecilio Ison told reporters that the police had intensified operations against illegal fireworks prior to the start of the holiday season.
"But there are still many who sold underground despite the fact there are operations against illegal fireworks," Ison said in Filipino.
The Health secretary also said the rain was also a factor in the "substantive reduction" of firecracker and fireworks injuries.
"We are gratified with the reduction, but on the other hand, there are still [injury] cases related to fireworks and many injuries," Duque said. "One injury is too much to bear."
As It Happens
LATEST UPDATE: January 3, 2019 - 5:40pm
A large majority of Filipinos will enter the new with hope rather than fear, according to a Social Weather Stations survey released Monday.
The survey conducted from December 16 to 19 showed that 92 percent of adult Filipinos will welcome 2019 with hope. This is a four-point drop from last year's record-high of 96 percent.
The latest survey also showed that 8 percent will enter the new year with fear, a four-point increase from 4 percent in 2017.
Fourth Quarter 2018 Social Weather Survey: 92% of Filipinos enter 2019 with hope
• New Year hope down especially in the Visayas
• New Year hope falls in all socio-economic classes

Ninety-two percent of... https://t.co/4MLGsLvDi5

— SWS (@SocialWeatherPH) December 31, 2018
January 3, 2019 - 5:40pm
Officials say the number of confirmed dead from a New Year's Eve gas explosion in a Russian apartment block jumped to 37 as rescuers recovered more bodies from the rubble of the partially collapsed building.
Six children were among the dead, the emergency situations ministry says in a statement, and four people were still unaccounted for. - AFP
January 2, 2019 - 6:33pm
Fourteen people are confirmed dead from the New Year's Eve explosion at a high-rise in central Russia, local officials say, as rescuers continued to pull bodies from the rubble.
The local governor's office said 14 bodies had been found and that 27 people were unaccounted for following the gas explosion in the city of Magnitogorsk, nearly 1,700 kilometres (1,050 miles) east of Moscow in the Ural mountains. — AFP
January 1, 2019 - 11:30am
The Department of Health says there is zero incidence of indiscriminate firing during the New Year's revelry.
January 1, 2019 - 11:05am
Department of Health Secretary Francisco Duque has reported 139 firecracker-related injuries, which is 68 percent lower than the 428 cases reported for the same period (December 21 to January 1) last year.
But injury reports are expected to increase later in the day, Duque says.
January 1, 2019 - 10:37am
Miserable weather hasn't stopped revelers from packing Times Square for New York City's New Year's Eve celebration.
A drenching rain fell Monday on crowds that formed hours before entertainers including Sting and New Kids On The Block were scheduled to perform. — AP