Tropical Depression Usman deaths hit 75
January 2, 2019 | 12:00am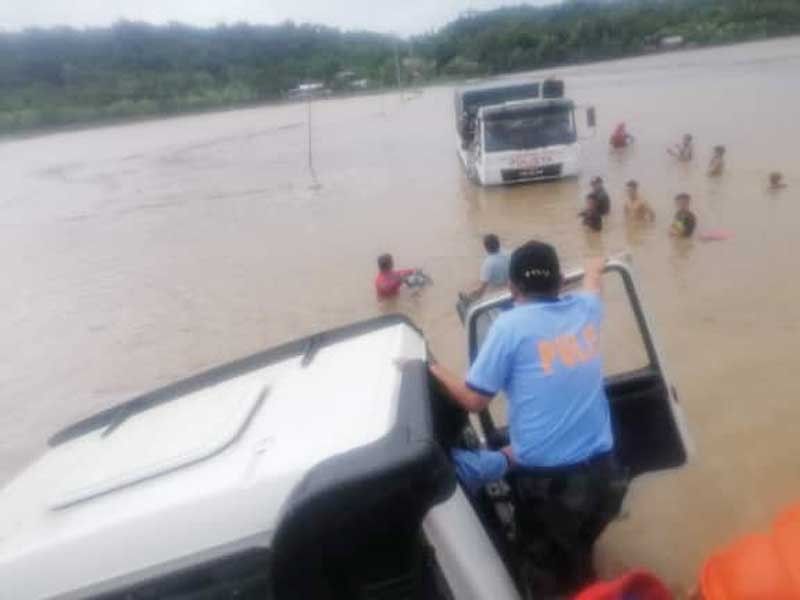 MANILA, Philippines — The number of deaths from Tropical Depression Usman continued to rise as rescuers shifted their efforts from search to retrieval operations in flooded and landslide-hit areas in the Bicol region and the Visayas yesterday.
The National Disaster Risk Reduction and Management Council (NDRRMC) reported 75 deaths while 16 persons remained missing.
Director Edgar Posadas, spokesman for the NDRRMC, said the Department of the Interior and Local Government would validate the identities of the fatalities.
Officials have declared Albay, Sorsogon, Camarines Sur and Camarines Norte under state of calamity as a majority of the fatalities came from these areas.
The NDRRMC said the other casualties were from Northern and Eastern Samar.
According to reports from different provincial disaster risk reduction and management offices (PDRRMO), 49 of the fatalities came from Camarines Sur; Albay, 15; Camarines Norte, 13, and Sorsogon and Masbate with seven each. Those missing were from Camarines Sur, 31, and Albay and Sorsogon with nine each.
Of the 49 deaths recorded in Camarines Sur, only 22 have been officially identified while 31 remain missing, Liezel Macatangay, spokesperson for Camarines Sur PDRRMO, said.
"Although we have names, we needed to validate these with their birth certificates. We do not want to release names that are not yet validated," Macatangay told The STAR.
She said 24 of the fatalities were among those buried in landslides in Barangay Patitinan, the worst-hit village in Sagñay, Camarines Sur.
Macatangay said rescuers penetrated three sitios in Barangay Patitinan – Crossing, Garang and Igot – after clearing the roads.
"We encountered difficulty because only heavy equipment such as backhoe and graders could not clear the roads leading to Patitinan," she said.
In Camarines Norte, the PDRRMO and the office of Gov. Edgar Tallado released the names of some of the fatalities: Josephine Martinez, 51; Antonette Potong, 9; Magdalena, 61; Manny, and Mark, 29, all surnamed Lagarde; Jonnel Are, Aaron Villafranca and Christian Reyes; Adrian, Joshua, Allan Jr., and Amalia, all surnamed Del Rosario, and Nica Mae Villalon, 8.
In Sorsogon, the remains of Lionel Diaz were recovered yesterday from the rubble in Barangay Osiao.
DSWD relief operations
Social Welfare Secretary Rolando Bautista went to Buhi, Camarines Sur yesterday to oversee the relief operations of the Department of Social Welfare and Development (DSWD) for the victims of flooding and landslides.
As of yesterday, a total of 47,154 families or 200,500 persons in 12 provinces in Calabarzon, Mimaropa, Regions 5 and 8 were affected by Usman.
Some 5,627 families or 20,717 individuals are housed in 145 evacuation centers, with the bulk located in the Bicol region with 3,719 families or 13,059 persons staying in 85 evacuation centers.
Around 12,033 families or 54,170 individuals are staying with their relatives and friends.
"We are exerting all efforts to reach all those who have been affected by floods and landslides, especially in the hard-hit provinces of Albay and Camarines Sur," Bautista said.
Usman damage hits P300 million
Damage to agriculture in the Bicol region due to Usman has reached P300 million, according to the Department of Agriculture (DA).
A report from the agency's Disaster Risk Reduction and Management Operation Center showed the rice sector was hardest hit with 12,858 hectares of rice fields and 7,496 metric tons of produce valued at P267 million damaged.
At least 9,622 farmers in Quezon, Oriental Mindoro, Albay, Camarines Norte, Camarines Sur, Catanduanes, Masbate, Sorsogon and Samar were affected.
Losses in high-value crops reached P31.4 million and affected 441 hectares of fruit trees, vegetable plantations and root crops in Albay, Camarines Sur, Masbate and Sorsogon.
Corn production loss was placed at nearly P1 million and affected 563 hectares in Albay, Camarines Sur and Masbate. – Cet Dematera, Louise Maureen Simeon, Victor Martin, Ramon Efren Lazaro, Janvic Mateo, Pia Lee-Brago