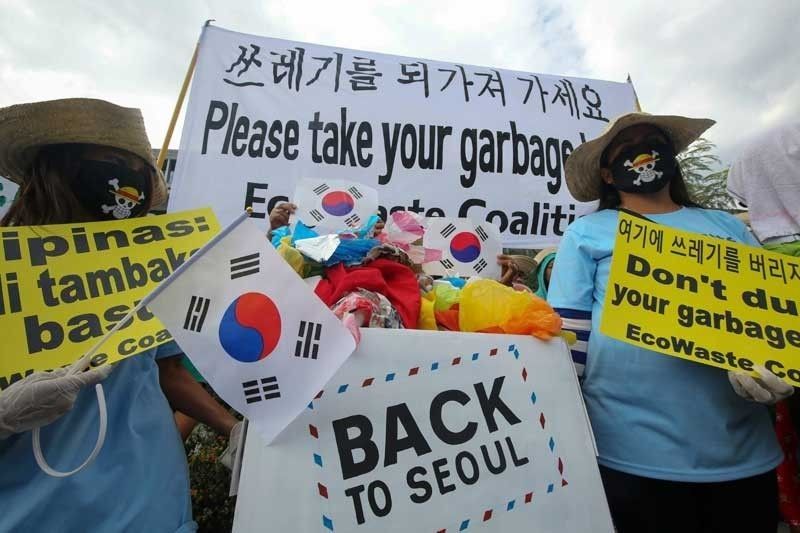 In this 2017 file photo, EcoWaste Coalition protest the tons of garbage shipped from South Korea.
The STAR/KrizJohn Rosales
Trash from South Korea to be sent back next week, BOC official says
(Philstar.com) - January 2, 2019 - 12:57pm
MANILA, Philippines — An official of the Bureau of Customs on Wednesday said the tons of garbage shipped to Mindanao last year will be sent back to South Korea next week.
"We expect the 51 garbage-filled containers stored at MICT (Mindanao International Container Terminal) to be home-bound by January 9 provided that all regulatory requirements are readily available," Mindanao International Container Terminal port collector John Simon was quoted by reports.
Before the agreement between the Philippines and the South Korea to ship back the containers of trash, the Korean Ministry of Environment last November already initiated legal procedures to take the garbage back to its country.
"The Korea Customs Service is investigating the exporter in question for the possibility of its exporting of wastes with illegitmately prepared documentation," the embassy said in November.
The trash-load from South Korea arrived in Tagaloan, Misamis Oriental in July last year.
The BOC said its document showed that the garbage shipment was consigned by South Korean company Verde Soko Philippines Industrial Corporation. It was incorrectly declared as "plastic synthetic flakes."
The shipment of 51 containers of trash from South Korea was the second big case of garbage importation to the Philippines recorded in recent years.
The shipment, which was misdeclared as plastic synthetic flakes, contained plastic, used batteries, diapers and dextrose tubes, among other hospital waste.
Between 2013 and 2015, around 100 container vans of trash were imported to the Philippines from Canada. It also took months before it was discovered. — Rosette Adel