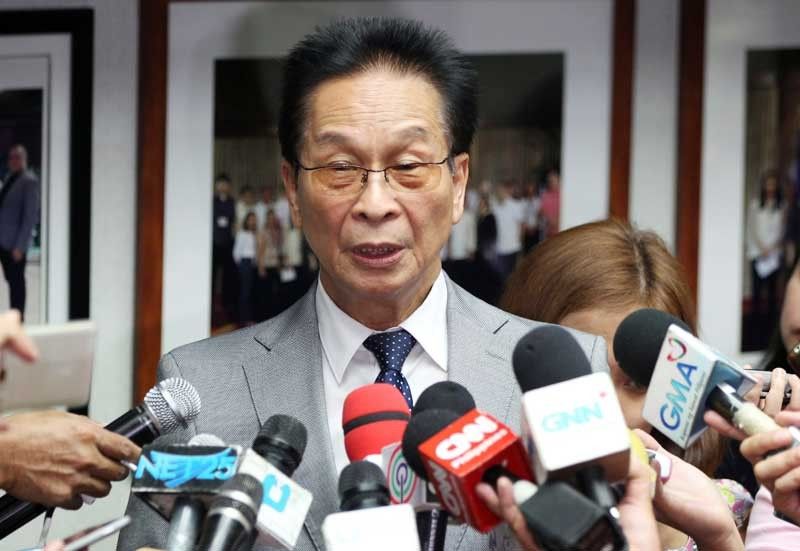 In this file photo, lawyer Salvador Panelo, presidential spokesman and chief legal counsel, talks to reporters. Panelo said Monday that Miss Universe Catriona Gray could have been influenced by the president's supposed stand on marijuana.
KJ Rosales, file
Did Catriona take cues from Duterte on marijuana? It's possible, Palace says
MANILA, Philippines — Miss Universe 2018 winner Catriona Gray's stand on medical marijuana may have been influenced by President Rodrigo Duterte's supposed position on the issue, Malacañang claimed Monday.
During the question and answer portion for the top five candidates of Miss Universe, Gray was asked for her stand on the legalization of marijuana.
Gray said she supports the use of marijuana for medical purposes but not for recreation, a position articulated previously by Duterte. She also said medical marijuana, just like liquor and cigarettes, should be used in moderation.
"Catriona Gray's position on the legalization of marijuana for healing purposes could have been influenced by PRRD's stand on the matter or she could have come up with that conclusion after considering the pros and cons of the issue," Panelo said in a statement, referring to the president by his initials.
RELATED: Blunt joke: Duterte only kidding about using marijuana
Duterte's shifting positions on marijuana
The use of marijuana is illegal in the Philippines but some sectors think it should be allowed to treat diseases.
It is unclear what Duterte's stand on medical marijuana is as it has changed over time.
Earlier this month, Duterte said he used marijuana to keep himself awake during the Association of Southeast Asian Nations meet in Singapore. The president later on claimed he was just joking to get the attention of his audience.
In defense of the joke, Panelo said that: "The president has issued a statement on that. He said for medical purposes, to heal, he's in favor, but not for use other than that."
But a report by state-run Philippine News Agency in May quoted Harry Roque, presidential spokesperson at the time, as saying the president is against the legalization of marijuana even for medical use.
"In no certain words, he told me that he is against it, because you cannot control it if you allow the planting of marijuana," he said in an event in the Cordillera.
While still president-elect, Duterte said he is not opposed to the legalization of marijuana for medical use.
"Medical marijuana, yes, because it is really an ingredient of modern medicine now," he told reporters in May 2016 when asked about his stance on legalizing marijuana.
"There are medicines right now being developed or already in the market that (have) marijuana as a component but used for medical purposes," he also said.
He clarified, however, that he is against recreational use of caannabis: "If you just smoke it like a cigarette, I will not allow it ever."
"It remains to be a prohibited item and there's always a threat of being arrested. If you choose to fight the law enforcement agency, you die," he added.