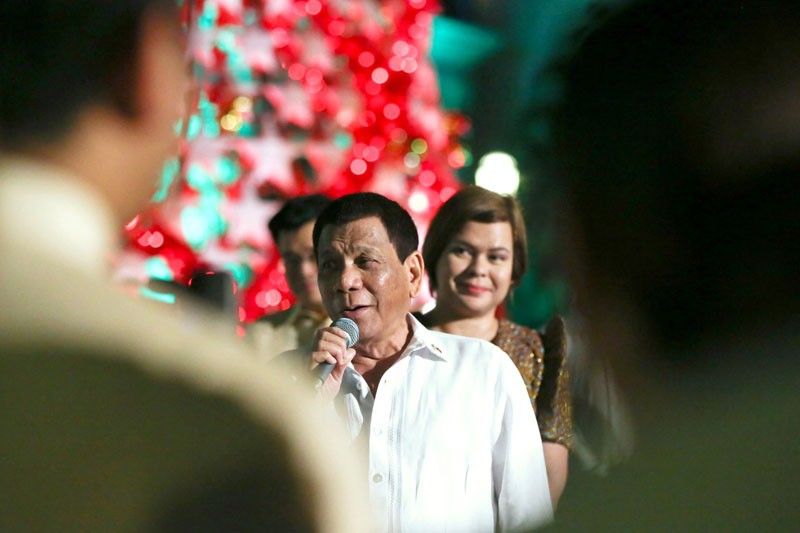 President Duterte sings as his daughter Davao City Mayor Sara Duterte-Carpio looks on during the Christmas tree-lighting ceremony at the Malacañang grounds the other day.
Palace defends Duterte's marijuana joke
MANILA, Philippines — Malacañang yesterday defended President Duterte's statement about "taking marijuana," saying he was just joking.
Presidential spokesman Salvador Panelo reiterated Duterte's admission on Monday night that his lighthearted disclosure was meant to attract audience attention.
"Everybody is entitled to a joke," Panelo said, as he defended the President against critics who said Duterte was not setting a good example to children who might have heard his statement.
"Even Presidents are entitled to jokes. He has set a good example by being a good leader. One joke will not make him a bad leader," Panelo said.
He said children – if they have watched or heard the President's latest remark — are "incapable of understanding whether the statement was a joke or not."
"If they are incapable of understanding, there's no harm, they do not understand it anyway," Panelo said.
Panelo downplayed criticisms arising from Duterte's musings.
"The President has issued a statement on that. He said for medical purposes, to heal, he's in favor, but not for use other than that. Now with respect to the joke, you cannot deprive any person – not because he is the President – to crack jokes," he said.
Panelo said Duterte is fond of catching the attention of his audience, especially when an event is turning to be a bore.
"He does it because usually events are boring. So he gives some jokes to make us laugh," he said.
"First of all, marijuana is not a stimulant to make you awake – it's the opposite. So it's obviously, wala na kaagad (bereft of) logic. Nagpapatawa talaga siya (He was just trying to make the audience laugh). The fact alone na nagtawanan iyong mga tao, eh 'di talagang joke nga (that the people are laughing, it was indeed a joke)," Panelo said, adding he supports the use of marijuana for medical purposes.
"There have been researches. Some countries have legalized marijuana… like Canada. In some states in the US ginagamit talaga iyon, pero siyempre controlled iyon (it is being used, but of course it's controlled), regulated," he said.
At a ceremony on Monday, Duterte explained why he missed many key meetings during the Association of Southeast Asian Nations summit in Singapore.
Duterte said he had to take marijuana to stay awake and cope with the toxic schedule.
"But at my age, I am not really bothered because I take marijuana to stay awake," he said.
Later that night, Duterte said he deliberately dropped the marijuana comment as a joke.
"It was a joke, of course it was a joke, but nobody can stop me from just doing my style," he said, adding that anybody who took it seriously was "stupid."