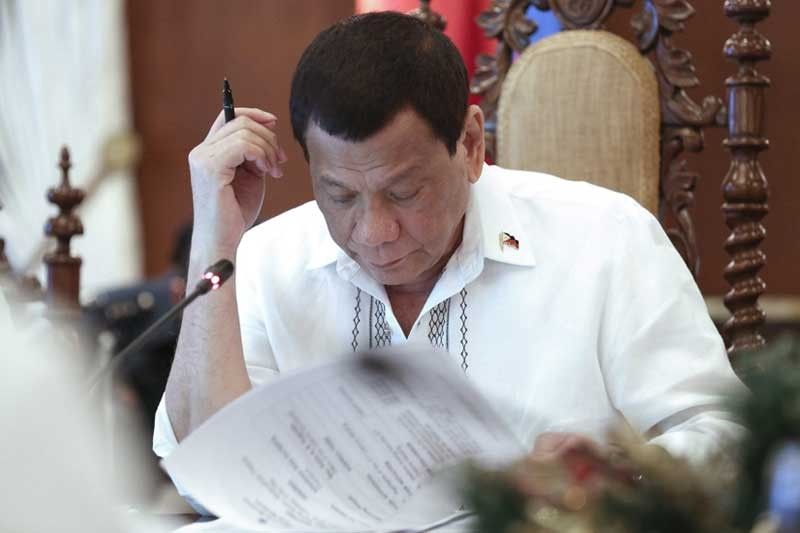 The creation of the task force is contained in Executive Order No. 70, which also institutionalizes a "whole-of-nation approach" in attaining an "inclusive and sustainable peace."
Duterte signs 'whole-of-nation' EO vs insurgency
Alexis Romero
(The Philippine Star) - December 11, 2018 - 12:00am
MANILA, Philippines — President Duterte has formed a national task force that would work out a mechanism to help end the decades-old communist insurgency, as the fate of the peace talks with the rebels remains uncertain.
The creation of the task force is contained in Executive Order No. 70, which also institutionalizes a "whole-of-nation approach" in attaining an "inclusive and sustainable peace."
"There is a need to create a national task force that will provide an efficient mechanism and structure for the implementation of the whole-of-nation approach to aid in the realization of the collective aspiration of the Filipino people to attain inclusive and sustainable peace," the order dated Dec. 4 read.
The approach aims to address the root causes of insurgencies, internal disturbances, tensions and other armed conflicts and threats by prioritizing and harmonizing the delivery of basic services and social development packages in conflict-affected areas and vulnerable communities.
The task force, which was directed to ensure the efficient and effective implementation of the approach, was placed under the Office of the President.
The president will serve as its chairman while the national security adviser will serve as vice chair.
It will be composed of the secretaries of interior and local government, justice, defense, public works, budget, finance, agrarian reform, social welfare, education and Presidential Communications Operations Office; the directors general of the National Economic and Development Authority, National Intelligence Coordinating Agency and Technical Education and Skills Development Authority; the presidential adviser on the peace process, presidential adviser for indigenous peoples' concerns, the chiefs of the armed forces and the police, the chair of the National Commission on Indigenous Peoples and two representatives from the private sector.
The private sector representatives will be appointed by the president and will serve a one-year term.
The task force is expected to formulate and start implementing a peace framework within six months. It will also evaluate, modify or integrate policies, programs and activities contained in the framework.
The task force will also develop strategic communication, advocacy and peace constituency plans in case of ceasefire. It will also craft capacity-building measures to enable local chief executives and local peace bodies to engage in and facilitate local peace engagements or negotiations and interventions.
"The framework shall be responsive to local needs and sensitive to realities on the ground. To this end, the framework shall include a mechanism for localized peace engagements or negotiations and interventions that is nationally orchestrated, directed and supervised, while being locally implemented," the order read.
President Duterte terminated the peace talks with the rebels purportedly in response to the rebels' insistence on a power-sharing agreement that the Chief Executive said is prohibited by the Constitution.