Schools network rejects AFP claim of communist recruitment
December 9, 2018 | 12:41pm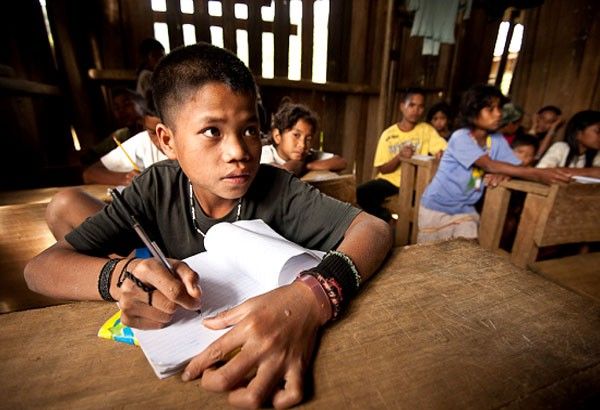 MANILA, Philippines — The Save Our Schools Network on Saturday denounced what it said were the military's "fabricated lies" against Lumad schools, which the government has painted as recruitment areas for the communist New People's Army.
The statement was released as the Armed Forces of the Philippines stood by its claim that schools like Salugpongan Community Learning Center in Talaingod, Davao del Norte that provide education to indigenous peoples' communities are being used to allegedly radicalize Lumad youth into joining the NPA and the Communist Party of the Philippines.
"The AFP keep on repeating lies just to make it the truth but the Filipino people are wiser than that. The Filipino public is not buying the AFP's deviousness. They want us to veer away from their real agenda and that is to extend Martial law in Mindanao and continue with plundering Mindanao's vast resources," Eule Rico Bonganay, a member of SOS Network said in a release. Bonganay is also secretary general of children's rights group Salinlahi.
In an undated statement on its website, the AFP said that it stands by its statement linking Rep. France Castro (ACT Teachers) and former Rep. Satur Ocampo (Bayan Muna) to the CPP-NPA. Castro, Ocampo, and 16 others were arrested and charged last week for failing to show documents that the 14 minors they were traveling with when stopped at a checkpoint were there with their parents' consent.
RELATED: Duterte's red-tagging endangers activists – militant groups
It claimed that party-list groups affiliated with national democratic activist group Bagong Alyansang Makabayan "are known CPP-NPA front organizations operating under the umbrella of the National United Front Commission of the CPP." The military also said the arrest of Castro, Ocampo and the others show "that the activities of Ocampo and Castro in Talaingod is part of a bigger machinery and scheme involving what the CPP-NPA has dubbed as 'Lumad schools'."
The AFP claimed that "Ocampo and Satur kidnap IP children away from their families to be used as mascots for their international solidarity works."
AFP: Schools at 'center of CPP-NPA exploitation'
The AFP statement also listed schools—including Salugpongan, "Tribal Filipino Program in Surigao del Sur", and Alternative Learning Center for Agricultural and Livelihood Development—that it said "are at the center of CPP-NPA exploitation of the native Mindanawons who are being radicalized at a very young age by CPP-NPA supporters who pose as concerned teachers."
In October, the AFP also named colleges and universities in Metro Manila where films on martial law were supposedly being shown to students to recruit them into communism. The announcement, as well as the military claim of the existence of a "Red October" plot that failed to materialize, was met with denials from school administrations and condemnation from the art and film making communities.
RELATED: AFP 'red-tagged' schools using unverified information
In a series of interviews in early 2018, a volunteer teacher at Alcadev—one of the schools in the AFP list—said that subjects taught at the schools include Math and Science. Students are also taught History, sewing and basic carpentry, reading and writing in English and Filipino, and scientific and sustainable agriculture.
Harassment at Lumad schools
Salugpongan, Tribal Filipino Program of Surigao del Sur and Alcadev have reported being harassed by military and paramilitary forces this year and in 2017.
In 2015, tribal leaders in the Alcadev school were murdered on school grounds. The alleged leader of the paramilitary group linked to the killings has since been seen at checkpoints in Lianga, Surigao del Sur as well as in activities and videos denouncing the IP schools.
"We, in SOS Network, have documented 535 cases of attacks on Lumad schools under the Duterte administration's reign of terror and martial law in Mindanao," Bonganay said Saturday.
SOS Network said that "on the 28th of November, teachers and students fled Sitio Dulyan, Barangay Palma Gil in Talaingod, Davao del Norte because of threats of being killed by the para-military group ALAMARA at the instigation of the 56th [Infantry Battalion] of the AFP." Castro, Ocampo, and the others said that it was against this kind of harassment that they were "rescuing" the minors from.
RELATED: DepEd: No order to close down Lumad schools
Rorelyn Mandacawan, a student of Salugpongan, is quoted by SOS Network as saying the schools "are manifestations of our unity. We treasure it because it teaches us not just how to read and write but to love our ancestral land and defend it from those who want to steal it away from us."
Mandacawan claimed in the SOS Network release that security forces "are the ones who bomb our communities, kill our families and tribe members, displace us from our homes and ancestral land, coerce our fellow Lumad to forcibly close our hard-earned treasure and that is our school."
Investors on ancestral domain
In February, President Rodrigo Duterte said he would take care of looking for investors for ancestral domain, saying "you have been given ancestral domain. The problem is, you aren't using it."
Among the areas he mentioned that he wants opened to investment are Mount Talomo — part of the Apo-Talomo mountain range in the Davao region — the Anda Valley Complex in Surigao del Sur and Mount Kitanglad in Bukidnon.
"If you say you don't want to mine, then don't. No mines. If you say it will pollute your area, we'll block it," he also said. He said, though, that IPs who agree to have mines put up in their ancestral domains are free to do so.
"It's impossible not to mine. But if you say you don't want it, I won't coerce you. I will ban it," he said.
Under the law, IPs have the right to decide for themselves how their ancestral domain will be used and developed. Activities like mining, which some Lumad communities oppose, require free and informed prior consent from the IP community.
Competing claims on who is the rightful representative of an IP group complicates issues on the use of ancestral domain.