Duterte's red-tagging endangers activists – militant groups
October 18, 2017 | 9:11am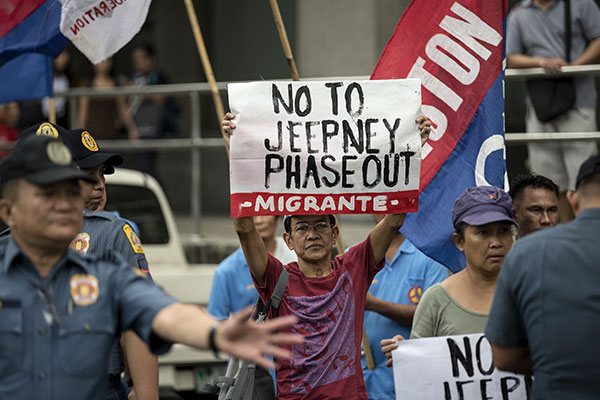 MANILA, Philippines — Militant groups slammed President Rodrigo Duterte's pronouncement that protesting groups are in conspiracy with the communists, saying his statement endangers the lives of activists.
In a televised speech in Pili, Camarines Sur on Tuesday, Duterte accused transport group Piston, human rights group Karapatan and labor group Kilusang Mayo Uno of committing rebellion.
"Itong Karapatan, itong KMU, itong Piston, they are just the legal fronts of the Communist Party of the Philippines... It's a one big conspiracy but they are at the same time—all of them—are committing right now rebellion. Tulungan lang yan sila," Duterte said.
He added: "It's a one big conspiracy, mayroon sila, kita mo yung Piston may star pa ng... that's the logo of the communists."
READ: Duterte says transport strike group 'committing a rebellion'
Bagong Alayansa Makabayan Secretary General Renato Reyes Jr said Duterte's pronouncement puts the lives of activists in danger.
"These are very dangerous pronouncements coming from no less than the Commander-in-Chief," Reyes told Philstar.com in an online exchange.
Reyes also said that Duterte's claim that the protesting groups has no basis because the activists he mentioned are "unarmed and are not engaged in armed struggle."
Piston National President George San Mateo also said the president is putting the lives of his members in danger.
"The president is accusing us without giving evidence and without due process. Violation of our right to due process [is a violation of] basic human right," San Mateo told Philstar.com.
Duterte's attacks came amid Piston's two-day nationwide strike. Unfazed, the president said he would not change his mind to modernize the country's transport system.
Jeepney drivers who continue to defy the transport modernization plan would be arrested, he said.
The chief executive repeatedly accused left-leaning groups and the Liberal Party of conspiring with the communists to oust him from office.
READ: Duterte warns 'communist front' Piston of arrest
Red-tagging, red-baiting
Reyes said Duterte's pronouncement suggested that he was ordering the state forces to persecute activists or file false charges against them.
"Is Duterte now signalling to the AFP to shoot activists? Is he setting the stage for a crackdown on a legal activists through the filing of trumped-up charges?" he said.
"The last time a President did this kind of red-tagging, hundreds of activists were killed and arrested, in one of the worst period for human rights in the Philippines, between 2005-2008," Reyes noted.
Red-baiting, as defined by the International Peace Observers Network, is the practice of publicly and detractively classifying government-critical individuals and organizations as communist terrorists, state enemies or subversives.
The term red-baiting stemmed from the political campaign against communist elements in the United States during the 1950s.
The Bayan secretary general was referring to former president Gloria Macapagal Arroyo's administration.
During her term, Arroyo institutionalized a counter-insurgency campaign called Oplan Bantay Laya which tagged organizations critical of the government like Bayan, KMU, among others as "communist fronts."
According to the Karapatan 2009 Report on the human rights situation in the Philippines, there were a total of 1,188 victims of extrajudicial killings and 205 who have been forcibly disappeared since Arroyo assumed office in 2001.
Then United Nations Special Rapporteur on EJKs Philip Alston criticized the practice.
Alston called on Arroyo to "take concrete steps to put an end to those aspects of counterinsurgency operations which have led to the targeting and execution of many individuals working with civil society organizations."