For Lumad schools, even holding class is a struggle
MANILA, Philippines — President Rodrigo Duterte, a year ago, threatened to bomb Lumad schools—volunteer-run schools for indigenous peoples' communities in remote parts of Mindanao—for, he said, indoctrinating children into socialism.
"I will use the armed forces, the Philippine Air force. I'll really have those bombed... because you are operating illegally and you are teaching the children to rebel against government," he said in remarks that were later walked back after criticism from rights groups and from representatives of the communities themselves.
Maligayang pagtatapos sa mag-aaral sa Manluy-a Tribal Community Learning Center. pic.twitter.com/p7H88KXoZg

— TRIFPSS Inc. (@TRIFPSS_Inc) March 31, 2018
Often set up in what the Department of Education calls Geographically Isolated and Disadvantaged Areas that government schools may not be able to reach, the Lumad schools provide lessons in numeracy, literacy and skills like carpentry, sewing and agriculture.
"Don't fool me. You teach nothing there but socialism and killings," the president said in July 2017 before the Armed Forces of the Philippines said it would not take the statement as an order.
Education, not assimilation
But indigenous peoples' education—and the Lumad schools—is not new, nor necessarily a form of rebellion. It requires, however, a shift in perspective that is, in a way, a revolution away from a one-size-fits-all curriculum.
One way to look at IP education, Maria Lourie Victor with the Department of Education's Indigenous Peoples Education Office said, is through the monggo and gumamela.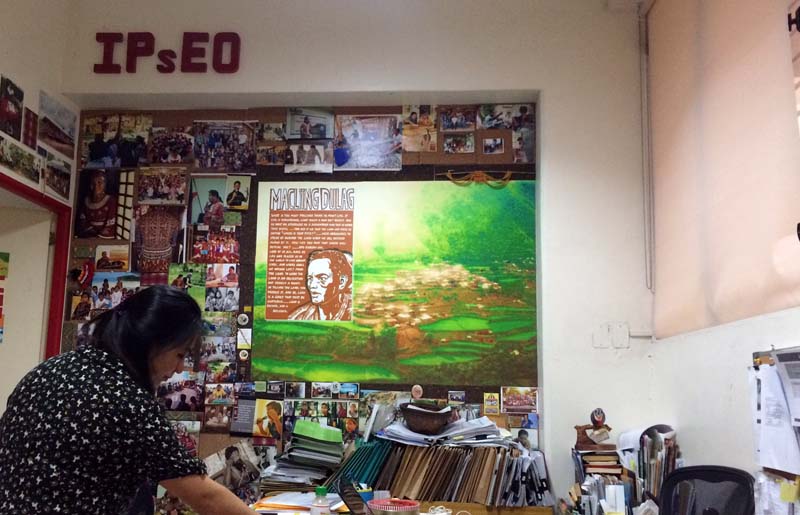 The Department of Education recognizes that some learners are better served through options outside the mainstream. Aside from the Alternative Learning System, DepEd also has an office devoted to IP Education. Philstar.com
For generations of Filipino students, they were the go-to learning aids for lessons on plants. Their use, though, takes for granted that these are available and familiar across the country's more than 7,000 islands.
Victor said in an interview with Philstar.com that although the old curriculum worked, it was prescriptive and not always culturally appropriate.
Beyond the choice of teaching aids, she said, the old curriculum risked erasing an IP group's own culture and history.
She explained that while all students in the mainstream system learn about Lam-ang and other characters from Filipino epics and legends, "you need the flexibility to work with other stories" from the community so these will not be sidelined and forgotten.
She writes in "Indigenous Peoples Education: From Alienation to Rootedness" that a less responsive curriculum influenced by the "colonial view that education should be used to 'civilize' and assimilate" may lead learners to seeing their own culture as irrelevant and their community as something to escape from.
Consultations between the Catholic Church's Episcopal Commission on Indigenous Peoples and 45 Indigenous Peoples Apostolates in the early 2000s found that although IP communities need education, they faced hurdles—aside from the distance, many also face discrimination and are stereotyped as "slow" learners—getting it through the mainstream school system.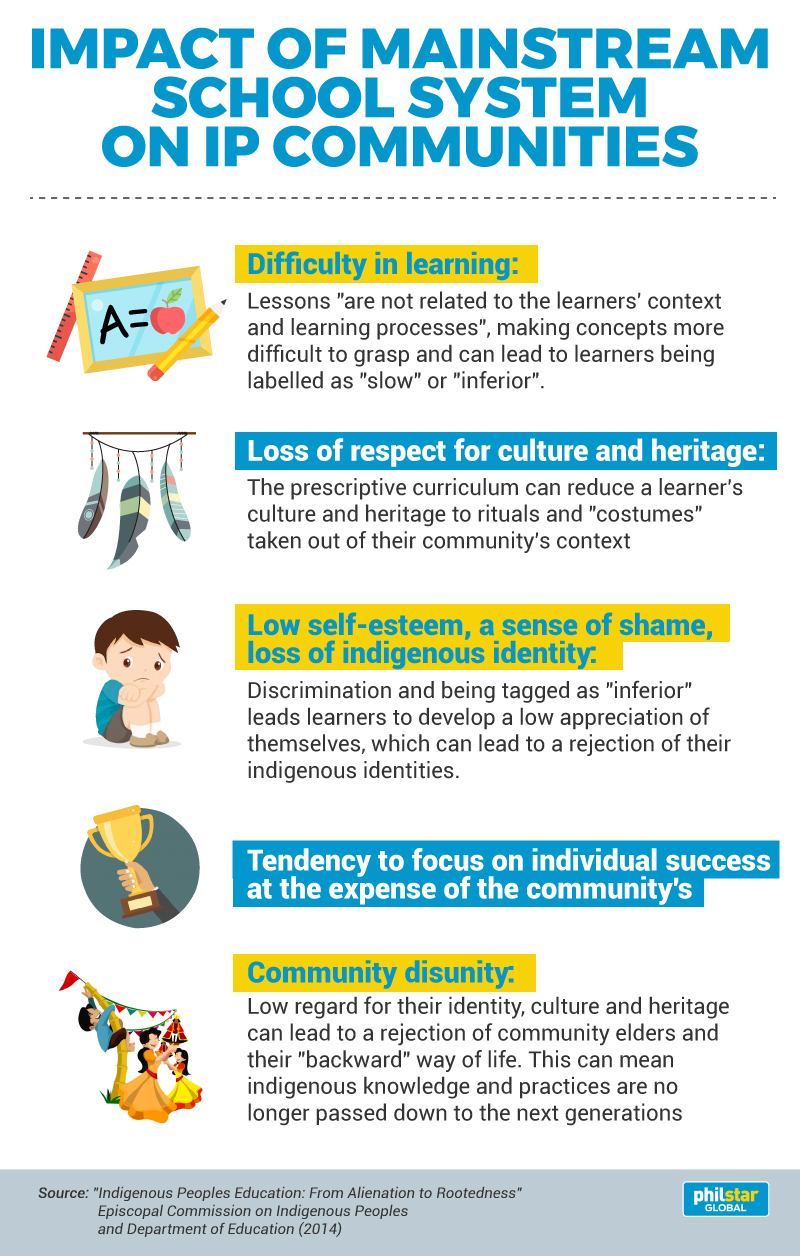 Lumad march prompts 'localized' lessons
Manilakbayan 2015 — a caravan and march to bring the capital's attention to people's issues like education and landlessness — led to the DepEd resolving to develop a more culturally appropriate educational system for IPs in an initial 300 priority sites in 2016, Victor says.
Although there is a core curriculum, this is "localized" through consultations with members and elders of the IP communities.
A lesson on body movements, Victor said, may be taught to learners in a Muslim IP community one way while learners in the Cordillera region or in Manila may have a different approach. Despite this, the competency behind the lesson will be the same.
"It's not about uniformity [of lessons and learning], it's more about equality," Victor said.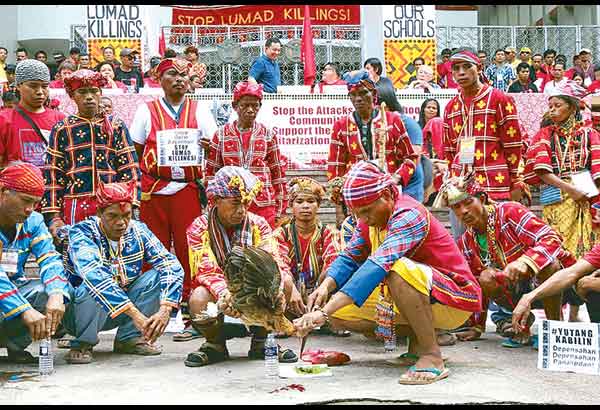 Lumads marched to Manila in 2015 to call the capital's attention to issues in their areas. File photo
A lesson on medicinal plants could also be tailored to a specific community. "Maybe the community has other plants that are different from what the DepEd knows," Victor explained.
Lessons like these are an opportunity for knowledge to be passed down from elders, who are seen as education partners and resource persons.
The DepEd already has around 500 "contextualized" lesson plans and is in a continuing process of consultation that Victor described as a "consent seeking and sustaining dialogue."
Among the fruits of that dialogue is an understanding that IP rituals should not be reenacted as a school activity and that IP attire should only be worn in their proper context because "being an IP is not a role or a costume."
'Land is life'
More central to being an IP, according to studies presented at the Second National IP Education Convention in 2007, is the belief that "land is life and is sacred… where the ancestral domain is classroom and teacher at the same time."
This can be seen in the adoption by the Alangan Mangyan-run Tugdaan Mangyan Center for Learning and Development of "Valuing Land and Environment" among its Eight Basic Operational Principles.
The Pamulaan Center for IP Education in the University of Southeastern Philippines in Davao City, which offers pre-school to tertiary education, uses a similar eight-point framework.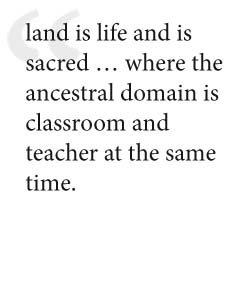 The school, which began as a non-formal education program in 1988, says in a DepEd published monograph that it "engages in activities that promote a life-giving relationship with the ancestral domain to sharpen students' awareness of their environment, nurture love for the land and nature, and develop responsibility for protecting and sustaining the environment."
The school's Environment and Resource Management Program, which includes a farm laboratory on sustainable agriculture, was created in response to encroachment into the Alangan Mangyan's ancestral domain, parts of which are threatened by leases and mining permits and by illegal fishing and logging.
Disputes on Lumad land
The belief in land is life may be a factor in how the Lumad schools have been tagged as supposed NPA front organizations.
Chad Booc, a volunteer teacher at Alternative Learning Center for Agricultural and Livelihood Development (ALCADEV) in Lianga, Surigao del Sur said both the IP community the school serves and the communist rebels oppose the entry of mining and other big business into ancestral land.
"In the 1980s, logging companies entered the Yutang Kabilin (ancestral domain) of the Lumad. The Lumad fought for their land with their lives," he said in Filipino.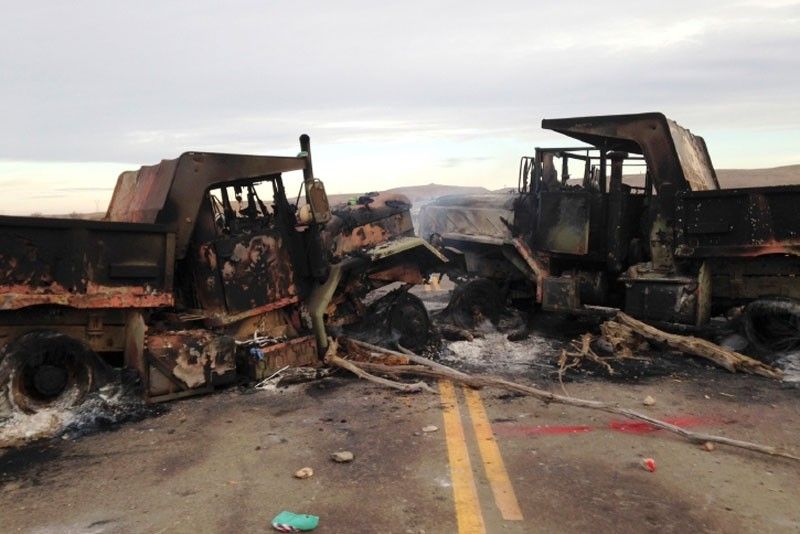 The NPA are known to have destroyed heavy equipment in the past in what the government says is part of its extortion of businesses. The NPA was tagged in the destruction of construction equipment in Davao City in April. AP/James MacPherson, file
Booc has himself been accused of being an NPA by a soldier who added him on Facebook. "[He] even asked me to surrender. He offered me a job and told me if I could hand over a rifle, they would reward me with cash and a house."
In early February, Lumad group Kusog sa Katawhang Lumad sa Mindanao called President Duterte's statement that he would look for investors to develop land held by IPs "a total sell-out." They said that the move would open their ancestral lands to exploitation and could expose their people to abuse.
RELATED: Killings, land grabs threaten Filipino indigenous peoples
The Palace defended the plan, saying development would reduce poverty and reduce NPA influence in those areas. The NPA has been known to attack mining firms and destroy heavy equipment, which the government says is part of its extortion activities and hampers development in the regions.
Carlos Conde, a researcher for Human Rights Watch's Asia Division warned that "[g]overnment plans to improve the lives of the Lumad are unlikely to succeed so long as indigenous communities live in fear of violence, exploitation and abuse."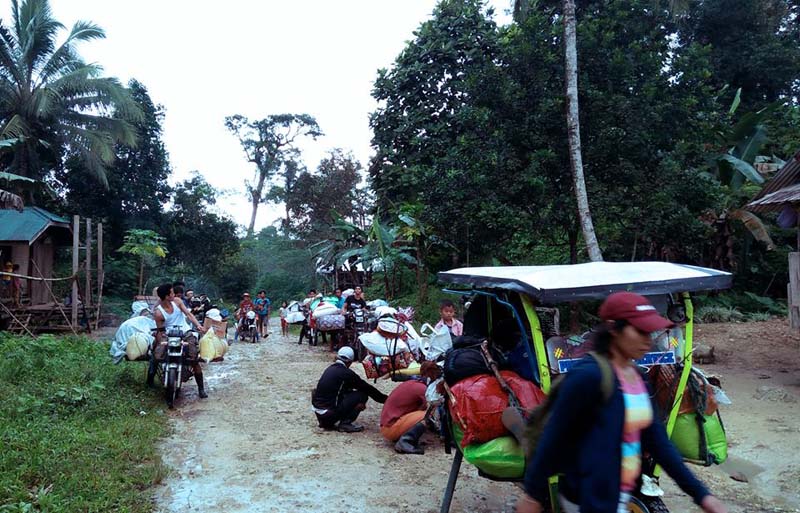 Around 758 people from two towns in Surigao del Sur evacuated their homes in February to avoid getting caught in clashes between the military and the NPA. Higala Friends of the Lumad in Caraga, file
Manobo group Malahutayong Pakigbisog alang sa Sumusunod (MAPASU, or Persevering Struggle for the Next Generation), which has also been accused of supporting the NPA, said in December 2017 that members of the community are "constantly driven away from our ancestral lands... to clear all resistance to the entry of logging companies in the past, and now [to] coal."
Lt. Col. Harold Cabunoc, commander of the 33rd Infantry Battalion, said in February that disgruntled Lumads had been recruited and organized against the Dawang coffee plantation in ancestral domain that straddles the provinces of South Cotabato and Sultan Kudarat.
He said the NPA used "child warriors bearing spears to attack and cut down the coffee trees" and surround a militia detachment guarding the plantation.
Conde said that the land disputes are part of a dynamic where "Lumad communities often suffer from the military's abusive presence, which makes them more susceptible to recruitment by the NPA. The military, in turn, accuses the rebels of exploiting the Lumad and taps them to fight the NPA."
That same dynamic is blamed for the deaths of Manobo leaders Dionel Campos, Aurelio Sinzo and ALCADEV tribal school director Emerico Samarca in September 2015.
Samarca was found dead in a classroom, hogtied, stabbed and with his throat slit while Campos and Sinzo were reportedly gunned down in front of the community.
The killings were blamed on the Magahat-Bagani, a group that the military allegedly organized and armed. The AFP denied having any involvement with them and with the murders.
It took the community a year to return to their homes after the killings.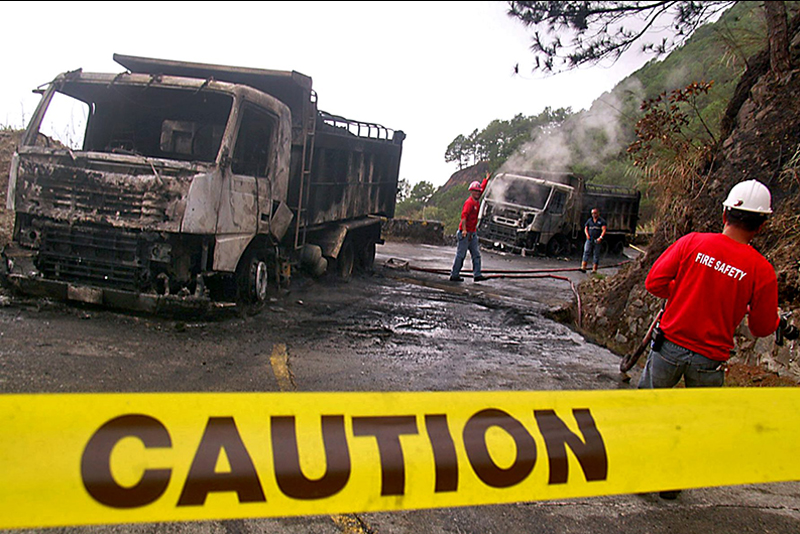 The NPA are known to have destroyed heavy equipment in the past in what the government says is part of its extortion of businesses. In this file photo, fire safety officers stand next to mining trucks said to have been burned by NPA rebels in Itogon, Benguet. Andy Zapata Jr.
Lumad schools still under threat
Three years after the killings and about a year since the threat to bomb the Lumad schools, the Save Our Schools Network in Davao said 72 schools were unable to hold classes in June because of harassment and because of the presence of military units in their areaa.
According to Rius Valle, SOS spokesperson, around 2,000 Lumad students could not attend classes in Salupgongan Learning Center (Lianga, Surigao del Sur), Mindanao Interfaith Services Foundation Inc. Academy (Compostela, Compostela Valley) and Center for Lumad Advocacy Networking and Services Inc. Lumad Schools (Davao del Norte and Sultan Kudarat) and other schools because of military encampents nearby.
SOS said six students were also forced to drop out of the Salugpongan school "after the military duped them to join or enroll in Technical Education and Skills Development Authority, but instead were detained and subjected to forced surrender." Residents were also reportedly warned that enrollment in the Lumad school would disqualify them from the government's conditional cash transfer program.
Also in June, six teachers with Tribal Filipino Program of Surigao del Sur (TRIFPSS) in San Miguel, Surigao del Sur were reportedly taken by soldiers while at a Parent-Teacher Community Association meeting and brought to talk to officers of the 36th Infantry Battalion.
"The Duterte administration does not only deny these children their right to education, they subject these Lumad and Moro children to state violence with the continuous attacks on Lumad schools," Rep. France Castro (ACT Teachers) said in response to the reported arrest and to the reports of harassment.
As an agricultural community school, students of ALCADEV learn not only inside the classroom but also in our farms and communities where they take part in actual production. #TatakALCADEV#SaveLumadSchools pic.twitter.com/qj7yczH1oM

— ALCADEV Lumad School (@alcadevinc) July 2, 2018
MAPASU, meanwhile, said personnel of the Army's 75th Infantry Battalion have harassed and disrupted community life since entering the area without consent in June.
It said soldiers "entered the houses of two residents in the community. A group of soldiers patrolled the area and went around the community asking residents for their names and enlisting them as [militia] recruits without consent."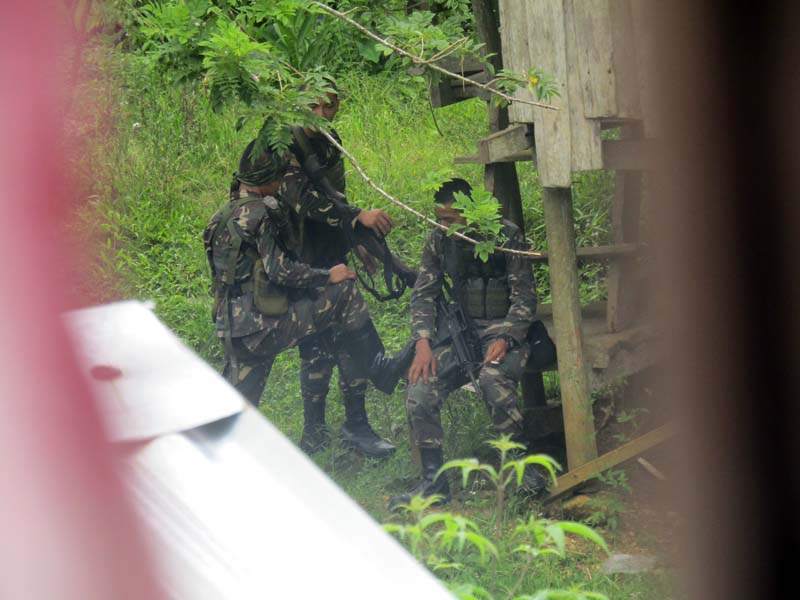 Soldiers of the 75th Infantry Battalion have disrupted life in Barangay Diatogon, Manobo group MAPASU said. The 401st Infantry Brigade said the troops are in the area to protect residents from the NPA and that their presence was requested by the barangay and town governments. Photo provided by MAPASU
Military: Lumad schools teach students to rebel
In an online exchange with Philstar.com, the Civil-Military Operations unit of the Army's 401st Infantry Brigade, which the 75th IB is part of, said that soldiers have established a detachment in the area as requested by the barangay and town councils of Lianga. MAPASU has started a petition against the detachment, saying the community was not consulted despite being the most affected by the presence of the military.
"It aims to protect the people in the area from the terrorist Communist Party of the Philippines-New People's Army and other threats," the 401st Brigade said, adding Barangay Diatogon "is a known CPP-NPA influenced area, being adjacent to the Andap Valley complex where CPP-NPAs held several of their anniversaries in the past."
The brigade said military checkpoints are part of its routine security measures. "As of now martial law checkpoints are still in place to ensure the safety of the people."
The brigade also said that allegations linking the Lumad schools to the communist rebels come from "former NPAs who returned to the government who studied in ALCADEV and TRIFPSS schools."
"According to them, they were recruited by the CPP-NPA while studying in the said schools. They also revealed that, ALCADEV and TRIFPSS teachers taught their students to rebel against the government. They were also required to participate in mass demonstrations against the government," it also said.
ALCADEV: We teach literacy, agriculture
ALCADEV volunteer Booc said that the allegation is similar to one made by a supposed "rebel returnee" during a Senate hearing into the Lumad killings in 2015.
The man—since seen with the military at a checkpoint in late 2017 that hampered the entry of food aid to residents displaced by military operations—claimed to have studied "livestock and agronomy" at ALCADEV in 2003 before joining NPA offensives. ALCADEV only began operations in 2004 and, in any case, Booc said, the allegation isn't true.
"I teach Math and Science for Year I, II, III at ALCADEV," Booc said in an online exchange with Philstar.com. Booc is among 23 staff members, including agriculturists and office staff, who try to meet the needs of 200 students.
Students at ALCADEV are also taught History, sewing and basic carpentry, reading and writing in English and Filipino, and scientific and sustainable agriculture.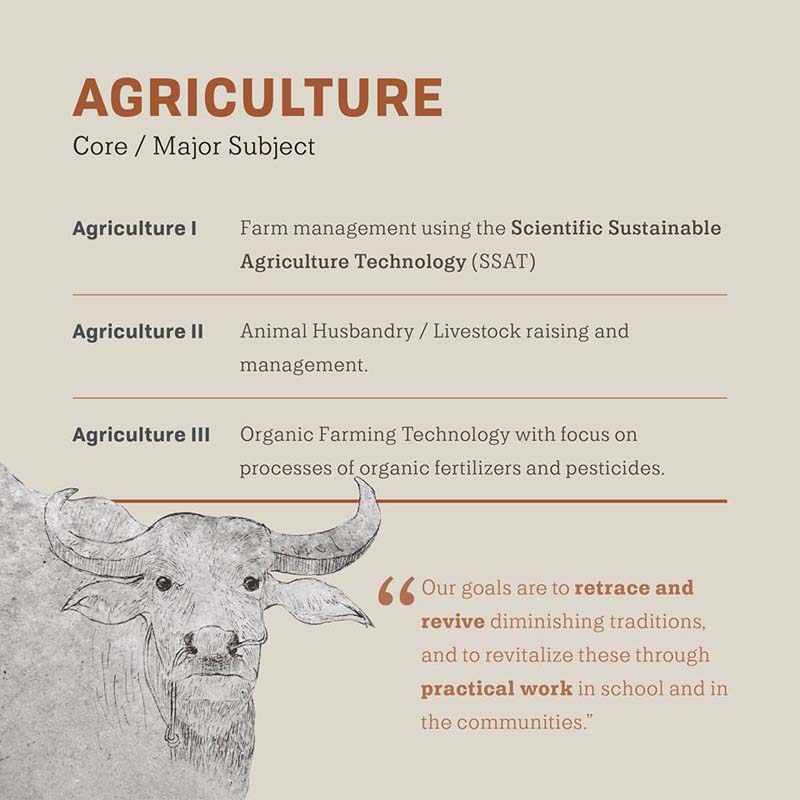 Alternative Learning Center for Agricultural and Livelihood Development teaches its students literacy, numeracy, life skills and other lessons. They have been accused of teaching children to rebel against the government. Image from Alcadev
Learning is validated through the DepEd's Alternative Learning System Accreditation and Equivalency Test, which assesses the competencies of learners who did not attend or did not finish in the formal education system.
The DepEd, on its website, said the ALS was set up "to provide all Filipinos the chance to have access to and complete basic education in a mode that fits their distinct situations and needs." The program is a parallel learing track that acknowledges that not all Filipinos have access to the formal system, despite their having a right to education.
Teaching, and preparing ALCADEV graduates for accreditation is just part of the job, Booc said. "We are also farmers, nurses, doctors, guidance counselors, community organizers, fishermen, cultural workers... Everything that we can do for the community, and everything that needs to be done, we do."
Better futures, regular childhoods
The Lumad children do not set out wanting to be guerrillas when they grow up, Noelle Capili, an activist with youth group Anakbayan who plans to volunteer at ALCADEV, told Philstar.com in an online exchange.
She said that the children she has talked to when Lumad representatives come to Manila are diligent students and "they have so many dreams they want to reach." She said one wants to be a teacher and go back to the community to serve in that way.
She said another wants to be a lawyer after seeing the bloody dispersal of farmers and activists in Kidapawan City in 2015 and the killings in Lianga that same year.
"I have a feeling that they can reach those goals and I want to be among the teachers who will help them discover where they want to go in life," Capili, who is considering teaching Filipino or Economics but not Math, said in Filipino.
Aside from helping the Lumad children secure a better future, Capili said she hopes they can also get a better present, or a childhood not affected by militarization.
"Ever since militarization started, they cannot do even simple things like swim in the river," she said. She added she wants to change the impression and expectation of some that "Lumad ka lang, dapat wala kang alam (You are just a Lumad, you should stay ignorant)."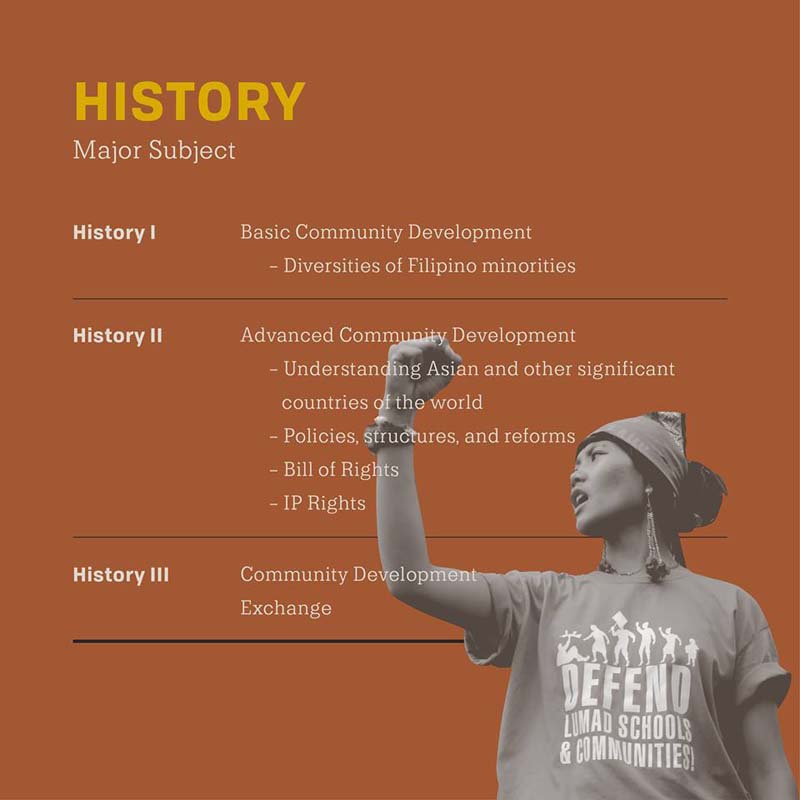 Alternative Learning Center for Agricultural and Livelihood Development teaches its students literacy, numeracy, life skills, and other lessons. They have been accused of teaching children to rebel against the government. Image from Alcadev