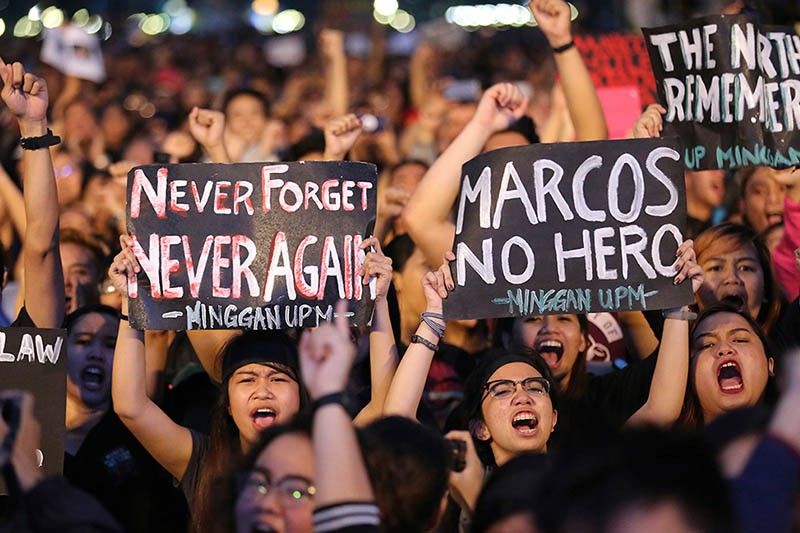 In this November 25, 2016 photo, thousands of Filipinos protested against the hasty burial of Philippine dictator Ferdinand Marcos in a heroes' cemetery, in a growing political storm that's lashing the president who allowed the entombment.
AP/Aaron Favila
Artists, filmmakers condemn AFP's 'vilification' of film showings
MANILA, Philippines — Film and artistic groups decried a claim by the Armed Forces of the Philippines that film screenings on martial law are being used to recruit students for a supposed communist-led move to overthrow President Rodrigo Duterte.
Artist group DAKILA and the Directors Guild of the Philippines, Inc. stressed that the malicious red-tagging of students, schools and creative avenues like film screenings threatens the right to freedom of expression.
"This clearly impinges on our right to freedom of expression, speech and assembly and endangers all of us—as artists, as audiences, as students, as educators, as parents and as citizens," DAKILA executive director Rash Caritativo said.
"Cinema is a crucial element of any healthy democracy. Not only does it entertain or promote cultural identity, it more necessarily functions as a mirror reflecting a society's humanity, or inhumanity, to itself and this way contributes to genuine nation-building," DGPI's board of directors said.
The statements are part of growing backlash against a claim by Brig. Gen. Antonio Parlade Jr., AFP assistant deputy chief of staff for operations, that educational institutions are being used as venues for recruitment for a so-called "Red October" plot.
Parlade said martial law films were being used to "incite students to rebel against the government, incite resurgence of the First Quarter Storm experience among students, while projecting President Duterte as the new Marcos."
Films as weapons to spark discourse, educate public
The organizations stressed that film screenings on social issues educate students and encourage critical thinking among the viewers.
"In these trying times, where truth is easily subverted, cinema plays an important role in assuring that freedom is protected. Let us remain vigilant to make certain that art is not silenced," DGPI said.
Active Vista executive director Leni Velasco called art and education "ultimate weapons to reflect on our social conditions and shape our genuine path to national development."
"By attacking learning institutions and artistic endeavors as a form of expression and reflection, what this government wants is to keep our people divided, sow fear and silence voices of dissent. This 'red-tagging' is clearly the tool of tyrants who are scared of the growing people's resistance against dictatorship," Velasco said.