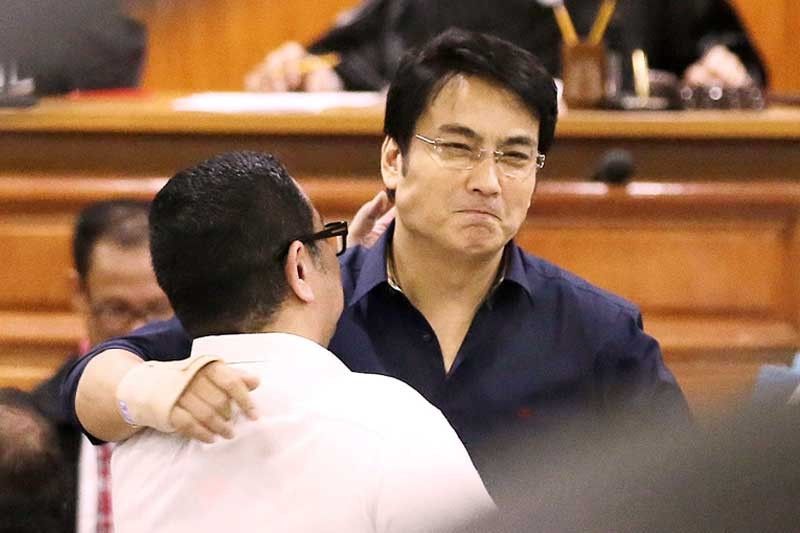 Former senator Ramon 'Bong' Revilla Jr. hugs his lawyer during the promulgation of the plunder case at the Sandiganbayan yesterday.
AP Photo/Aaron Favila
Sandiganbayan acquits Bong Revilla of plunder
Napoles, Cambe get life; Bong must return P124 million?
MANILA, Philippines — His signatures on questionable documents may have been faked by a trusted aide and could not, by itself, be used as evidence of multimillion-peso fund misuse, the Sandiganbayan said yesterday, as it acquitted former senator Ramon "Bong" Revilla Jr. of plunder and ordered him released from police custody.
In a 3-2 vote, the Sandiganbayan First Division acquitted Revilla of plunder but convicted his former staff member Richard Cambe and pork barrel scam mastermind Janet Lim-Napoles, who were sentenced to reclusion perpetua or a maximum of 40 years imprisonment.
Revilla's wife Bacoor City Mayor Lani Mercado and children Jolo, Bryan, Luigi, Viktoria Gianna and Franzel Loudette witnessed the reading of the verdict on his case early yesterday at the Sandiganbayan.
Later, at around 5:30 p.m., Revilla – accompanied by his family and some supporters – left the Philippine National Police custodial center at Camp Crame after receiving a release order from a court sheriff.
"For failure of the prosecution to establish beyond reasonable doubt that accused Ramon 'Bong' Revilla Jr. received, directly or indirectly, the rebates, commission and kickbacks from his PDAF (Priority Development Assistance Fund), the Court cannot hold him liable for the crime of plunder. Accordingly, he is acquitted," First Division clerk of court Estela Teresita Rosete announced, reading the dispositive portion of the court's decision.
The First Division's decision also stated that "accused are held solidarily and jointly to return to the national treasury" the amount of P124.5 million in civil liability.
It was, however, not clarified if the order to return P124.5 million in civil liability also covers Revilla.
"Under the law, every person criminally liable is civilly liable. If he is not criminally liable, how can he be civilly liable? So, we will have to look at the decision very well and see what the basis of the civil liability is," one of Revilla's lawyers, Ramon Esguerra, said.
In a chance interview with reporters, Associate Justice Geraldine Faith Econg, the ponente or writer of the decision, admitted that it was not categorically specified in the decision who among Revilla, Napoles and Cambe must return the amount. She said the former senator's camp may file a motion for clarification.
Following his acquittal, Revilla proceeded to the First Division Office of the Clerk of Court to post P480,000 bail bond for his 16 counts of graft still in connection with the pork barrel fund scam.
Aside from Econg, the other Sandiganbayan magistrates who voted for Revilla's acquittal were Associate Justices Edgardo Caldona and Georgina Dumpit-Hidalgo, while Associate Justices Efren de la Cruz and Ma. Theresa Dolores Gomez-Estoesta voted for conviction.
The court also ordered Cambe's and Napoles' transfer to the New Bilibid Prison in Muntinlupa City and Correctional Institutional for Women in Mandaluyong City, respectively.
Revilla and Cambe had been detained at the PNP Custodial Center at Camp Crame since the filing of the plunder and graft cases against them by the Office of the Ombudsman in June 2014.
Napoles, meanwhile, is detained at Camp Bagong Diwa in Taguig City.
"God is good. After more than four years and six months, finally I'm free to go. Truth prevailed. I'm thankful there is still justice in the country," Revilla said as he was being led out of detention.
No proof
The cases stemmed from Revilla's alleged misuse of his PDAF or pork barrel when he was senator. Prosecutors had accused then senator Revilla of channeling pork funds to "ghost" livelihood projects implemented through Napoles' bogus foundations.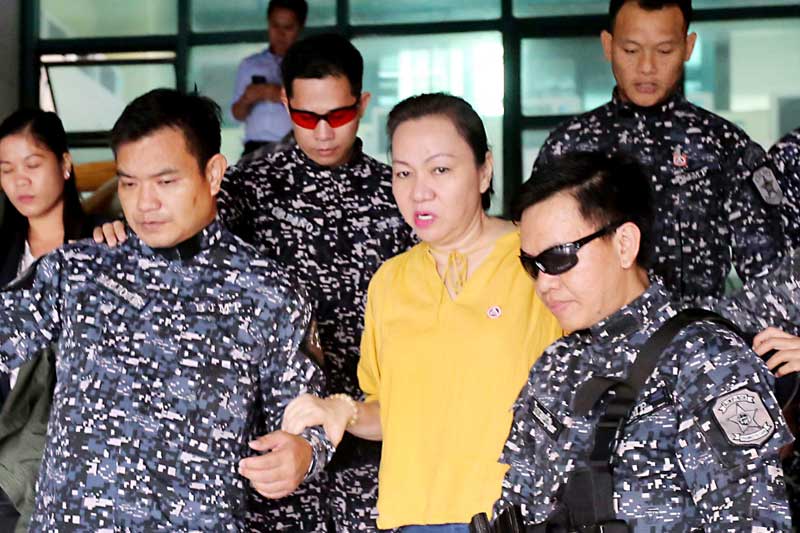 Janet Lim Napoles was found guilty and sentenced to life in prison.
The ombudsman said Revilla, through Cambe, received from Napoles a total of P224.5 million in kickbacks or commissions in exchange for the allocation of P517 million worth of his PDAF to the latter's bogus non-government organizations (NGOs).
Cambe, appearing despondent after the promulgation, refused to speak to media, while Napoles' lawyer Stephen David vowed to file a motion for reconsideration.
In its 186-page decision, the First Division said that while the prosecution was able to establish that the transactions with the Napoles-linked NGOs were "sham," it was not proven that Revilla had knowledge or had given his authority to such transactions.
"Not a single direct evidence was presented to establish that... Revilla received the rebate, commission or kickback in connection with his PDAF project," the First Division's decision read.
The court noted that whistle-blowers Benhur Luy, Marina Sula and Mary Arlene Baltazar, who were all former employees of Napoles, positively identified Cambe as the one whom they transacted with in connection with Revilla's PDAF.
"Cambe's participation was clear, but whether Cambe carried out the tasks Revilla chose not to do by himself or he did it for Revilla was not sufficiently established. It is also not clear that Cambe's participation proceeded from Revilla's order and authority," the decision read.
"The fact that Cambe has been under Revilla's employ for a long time is not sufficient to establish authorization from the latter," it added.
The First Division also noted Sula's and Baltazar's recantation and admission that they had never personally seen Revilla receiving any kickbacks from Napoles or from any of her aides.
Sula, in her testimony on June 28, said Revilla was not aware of the forging of his signatures on various letters endorsing the release of his PDAF to Napoles' bogus NGOs.
Sula said it was primary state witness Luy who had forged Revilla's signature without the knowledge or consent of the latter.
"The consequence of this factual finding that the purported signature of accused Revilla is a forgery is a great blow to the prosecution," the First Division said.
"They (endorsement letters bearing Revilla's supposed signature) are the only evidence that would be considered as Revilla's links to Napoles and of his involvement in the scam," the court added.
Mixed feelings
Revilla's acquittal drew mixed reactions from his former Senate colleagues.
Sen. Gregorio Honasan welcomed Revilla's acquittal and expressed belief the latter's case was politically motivated.
"If these (political persecution) can happen to high officials, can you imagine what is inflicted on ordinary citizens?" Honasan told reporters.
He said the acquittal allows the nation to move on and that the rule of law finally prevailed in Revilla's case.
Sen. Panfilo Lacson said he was happy for Revilla as a former colleague even as he lamented the ruling was a blow in his campaign against pork.
"As a strong advocate against the pork barrel system, I feel weak and defeated," Lacson said.
He stressed he respects the magistrate decision "for they, more than anyone, have better appreciation of the evidence."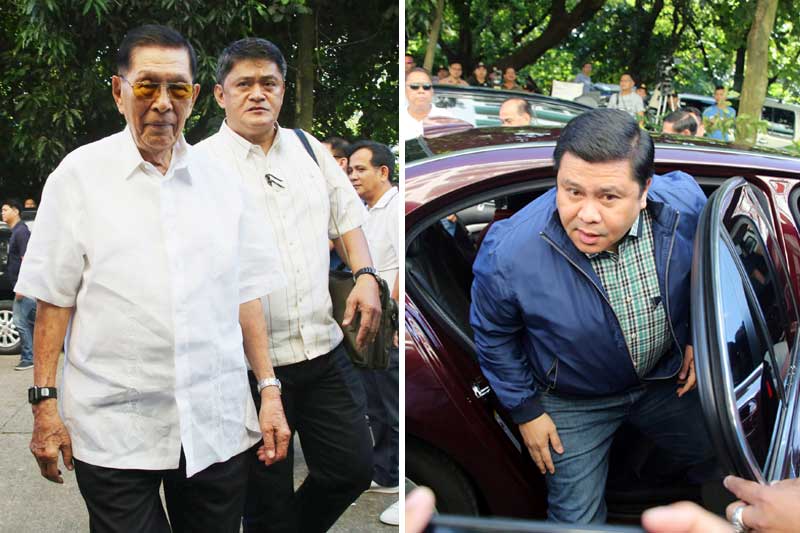 Former senators Juan Ponce Enrile and Jinggoy Estrada arrive at the Sandiganbayan for the promulgation of judgment on former senator Ramon Revilla Jr. yesterday. Michael Varcas
"At the end of the day, life goes on. (The) same is true with our individual battles," Lacson said.
Senate President Vicente Sotto III said the acquittal would boost Revilla's bid to be senator again. "I will most probably see him back in the Senate next year," Sotto said.
Sen. Richard Gordon declined to comment on the issue, saying he has not yet examined the decision. He lamented the pork barrel issue has given congressional allocation a bad name.
"The lesson is make sure you do it right, (where) the money is put where it was intended for, make sure that it is clearly being used not by the senator but by the government," Gordon said.
Sen. Francis Pangilinan, president of the Liberal Party, said he felt indignation upon learning of Revilla's acquittal.
"How can the briber be guilty but the one who received the bribes was not guilty? It's difficult to understand the decision," Pangilinan said in a statement.
'Confused, bewildered'
Former president Benigno Aquino III said the Sandiganbayan ruling left him "confused and bewildered instead of enlightened."
"His co-accused were found guilty. That fact proves a crime was committed… There's enough evidence to convict the two… not enough to convict the third," Aquino said over the phone.
He said officials themselves endorse programs and projects for PDAF funding – being the only ones with authority to do such task. Thus, he said, it was confusing that the Sandiganbayan had found sufficient basis to convict Napoles and Cambe but not Revilla himself. Aquino was a senator before he became president.
"This one set of acts… with a single purpose," he said.
Aquino added lawmakers themselves would have to identify beneficiaries of their pork barrel funds and Revilla should have complained early on if he had suspected his staff of faking his signature or using his name to commit fraudulent activities. "So how is this possible?"
Asked to comment on the fact that former senators implicated in the scam are out of detention, he said: "I am glad it is not my job to explain the unexplainable." Former senators Juan Ponce Enrile and Jinggoy Estrada had also been implicated in the scam.
For Reps. Antonio Tinio and France Castro of ACT Teachers, Revilla's acquittal was a reflection of the Duterte administration's insincerity in its anti-corruption campaign.
"This acquittal reflects the hypocrisy and insincerity of President Duterte's campaign against corruption, where big fish are allowed to wriggle free. Larger piranhas embroiled in charges of corruption are simply let go," they said.
The President, they added, should "make sure that those charged with corruption serve their time and pay for their crimes against the people."
They also lamented that the pork barrel system is still very much alive under the Duterte administration.
'Best Christmas gift'
Revilla's brother Cavite Rep. Strike Revilla said the Sandiganbayan decision was the family's "best Christmas gift."
"The Revilla family and the people of Cavite welcome the decision. We are very happy that truth prevailed. We thank the Sandigan for being fair," the congressman said.
"We thank our God, the people of Cavite and our supporters for this wonderful present," he said.
Lakas-CMD, chaired by the former senator, said the development is likely to boost Revilla's comeback bid.
"His passion and dedication to serve the people will bring positive change and help improve the country's good governance, policies and lawmaking process," party president Martin Romualdez said.
Manila Mayor Joseph Estrada said Revilla's acquittal bodes well for his son Jinggoy.
"It's an answered prayer. It's really a very happy and merry Christmas for Bong and his family," Estrada said in a telephone interview with The STAR.
"Jinggoy was first granted bail because, as I have heard, the evidence is weak. That is why he was given bail," Estrada said. – With Aurea Calica, Paolo Romero, Christina Mendez, Jess Diaz, Jose Rodel Clapano, Romina Cabrera