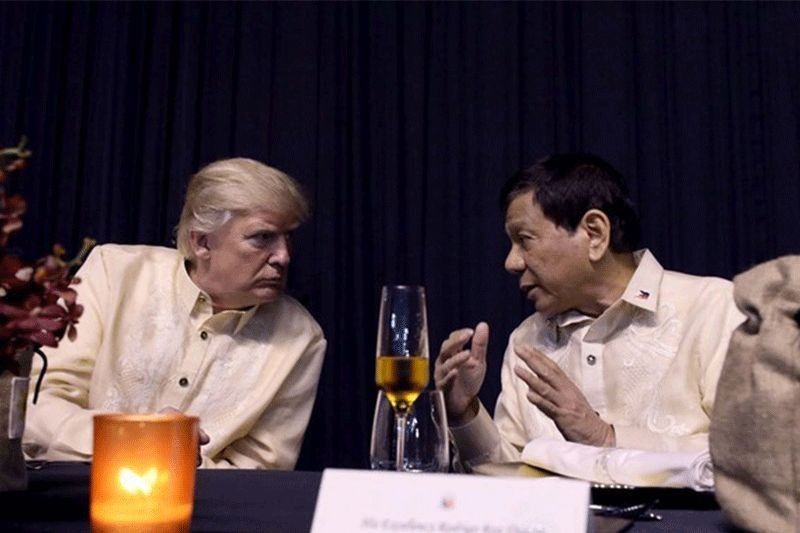 FILE — US President Donald Trump and President Rodrigo Duterte are seatmates at the ASEAN 2017 gala dinner in Manila.
Presidential Photo
Duterte visit to US appropriate after return of Balangiga bells — Romualdez
(Philstar.com) - December 6, 2018 - 12:10pm
MANILA, Philippines — Visiting Washington at a time that the Balangiga bells have been returned to the country would be appropriate for President Rodrigo Duterte, Ambassador to the United States Jose Manuel Romualdez said.
The Balangiga bells, which were taken by American soldiers as war booty in 1901, are expected to arrive in Manila on December 11.
"I think the president realizes that this is a very good gesture on the part of the US and I'm sure that he will take that into account that going to the US this time would be appropriate," Romualdez said in an interview with CNN Philippines' "The Source."
US President Donald Trump has been inviting Duterte to the White House as early as May 2017 when the two leaders had a "friendly" phone conversation after the closing ceremonies of the Association of Southeast Asian Nations Summit in Manila.
Foreign Affairs Secretary Teodoro Locsin Jr. earlier said that Duterte would only accept the invitation of Trump until the Balangiga bells are returned to the Philippines.
Last month, a military ceremony was held at the F.E. Warren Air Force Base in Wyoming to formally begin the repatriation of the church bells.
Romualdez pointed out that Duterte wanted to have a specific purpose whenever he goes abroad as he does not enjoy traveling.
"First of all, he doesn't really enjoy traveling so when he does he feels that there should be a purpose for it. I mean a specific purpose or there is a reason for him to travel and you know, going to the United States and if he's going to Washington DC it's a 21-hour flight," the envoy said.
"I think that this is a good reason for him to now go to the United States," he added.
Asked of the president's travel to the United States would be anytime soon, Romualdez said he does not think so.
"Well, he did say that if he goes he just said that does not like the cold so hopefully, that's a hint that he will go to the United States within summer time," Romualdez said. — Patricia Lourdes Viray