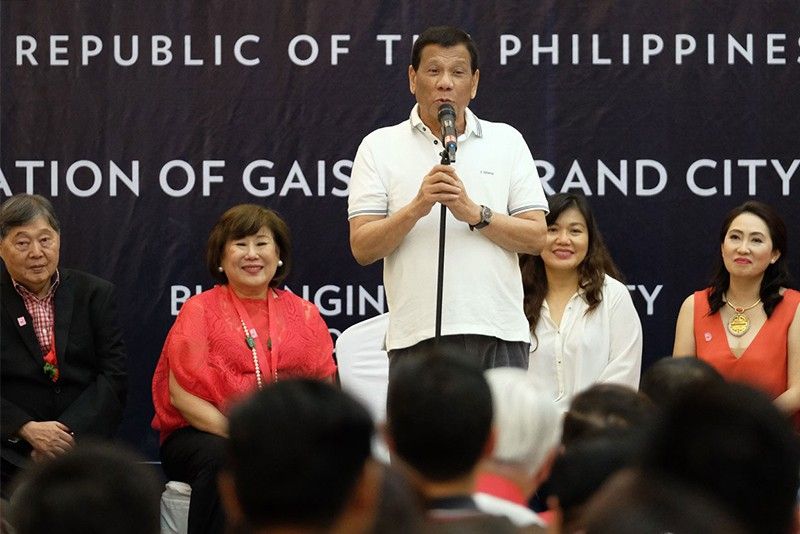 President Rodrigo Roa Duterte delivers his speech during the inauguration of the Gaisano Grand Citygate Mall at the Buhangin District in Davao City on October 19, 2018.
Presidential photo/Kiwi Bulaclac
Duterte threatens drug importers: I will kill you
(Philstar.com) - October 20, 2018 - 3:04pm
MANILA, Philippines — President Rodrigo Duterte on Friday threatened to kill narcotics importers amid reports saying tons of smuggled illegal drugs are now allegedly being sold in the local market.
In a speech in his hometown of Davao City, the firebrand leader said drug rings have ceased to build laboratories in the Philippines because of his strong campaign against narcotics.
"Don't underestimate me, I already warned you. You drug importers, I will really kill you," Duterte said in his native Visayan dialect.
"'Told you before do not destroy my country and do not destroy the young people of my country now... Make a mistake, I will kill you. Period. I don't give a sh*t about human rights," he added.
The president issued the warning after tons of illegal drugs reportedly slipped through the Bureau of Customs.
Duterte, who is notorious for his defiance of international pressure, was elected by a landslide in 2016 on a brutal law and order platform.
Human rights watchdogs say most of the fatalities in the government's anti-narcotic drive are extrajudicial killings committed by cops, something the Duterte administration has vehemently denied.
Despite instigating a chilling war on drugs, multi-billion peso worth of methamphetamines, or "shabu" as it is known, have been shipped to the country and some authorities believe tons have already made their way into the streets. — Ian Nicolas Cigaral