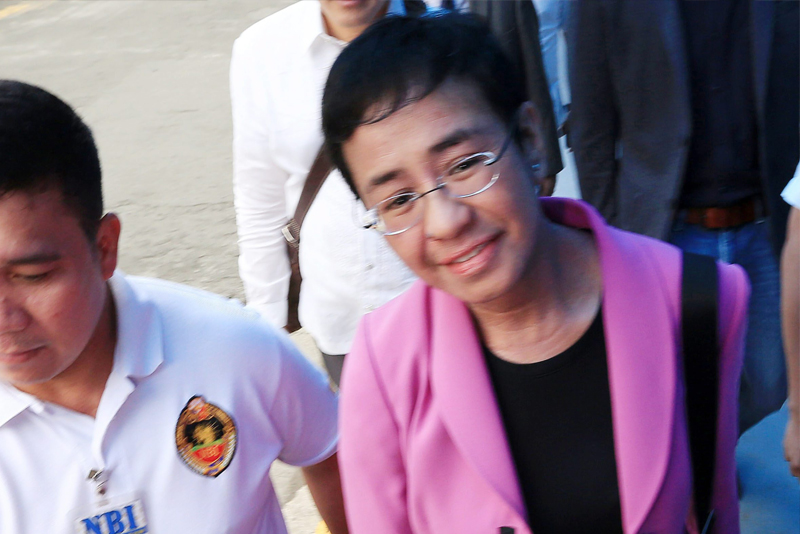 In this January 23, 2018 file photo, Rappler chief executive officer Maria Ressa arrives at the NBI headquarters in Manila for a separate cyberlibel case.
Edd Gumban, file
DOJ files fifth tax evasion case vs Rappler
MANILA, Philippines — The Department of Justice filed another tax case against online news site Rappler and its Chief Executive Officer Maria Ressa.
According to the charge sheet made public on Thursday, Rappler is accused of "failing to supply correct and accurate information in the quarterly value-added tax return of RHC (Rappler Holdings Inc) for the second quarter tax year of 2015."
It added, "by then and there, failing to report therein the total quarterly sales receipts coming from the issue and sales receipts and coming from the issue and sale by RHC of Philippine Depository Receipts (PDRs)."
They accuse Rappler of acting as a dealer in securities when it sold the PDRs worth about P2.4 million.
Prosecutors computed that unpaid taxes on the PDR sales therefore amount to a deficiency of P294,258.58.
They recommended bail of P60,000 for Ressa.

Ressa may face two separate warrants of arrest due to cases filed separately at the Regional Trial Court and Court of Tax Appeals.
READ: DOJ indicts Rappler on tax evasion charges
"We continue to tell the story of the nation," Ressa was quoted as saying in a Rappler story on the fresh case. "These cases will not intimidate nor distract us from holding public officials to account through our stories."
Rappler faces a P133.84-million tax evasion charges filed by the BIR last March.
Both complaints filed described Rappler as a "dealer in securities," a charge that Ressa denies.
Their lawyer Francis Lim said in the same statement that the case "has no leg to stand on because it presumes — wrongly — that Rappler is a dealer in securities that profited from a sale."
Lim said that the capital raised from the issued PDRs is not yet booked as income by Rappler, "and therefore not taxable."
He added, "the resolution will have a chilling effect on those who have raised and will raise capital through the issuance of PDRs and is a blow to the development of our already capital markets."
(Disclosure: The author was an employee of Rappler from 2013 to 2016)