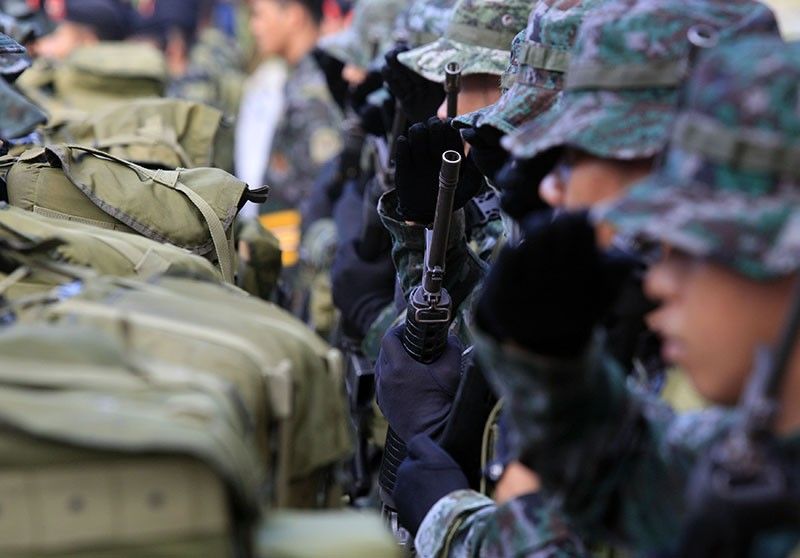 President Rodrigo Duterte, through Executive Secretary Salvador Medialdea, issued Memorandum Order 32, directing the deployment of more soldiers and cops in Samar, Negros Oriental, Negros Occidental and Bicol region to "suppress lawless violence and acts of terror."
The STAR/Edd Gumban
Groups raise alarm on Duterte's order to send more troops in parts of country
MANILA, Philippines — The order to send more military and police troops to areas in Southern Luzon and Visayas shows the current administration's alleged motive of installing dictatorship, activist groups claimed.
President Rodrigo Duterte, through Executive Secretary Salvador Medialdea, issued Memorandum Order 32, directing the deployment of more soldiers and cops in Samar, Negros Oriental, Negros Occidental and Bicol region to "suppress lawless violence and acts of terror."
The memorandum also reinforces guidelines for the implementation of a national emergency on account of lawless violence, which was issued in 2016 after a blast in Davao City that killed at least 14 individuals.
Kabataan party-list on Friday party-list slammed the order.
"This is no less than a de facto martial law, a recent move in the wave of attacks of the state against the people. We call on the people to heighten the resistance and broad unity against this continued campaign of terror," it said.
Rights group Karapatan, for its part, said the order is a "trademark dictatorial move."
In issuing the document, the Palace cited "a number of sporadic acts of violence" happening recently in these areas."
"Such tired old lines have already been used to justify and prolong the martial law declaration in Mindanao, where many reported violations on human rights are shrugged off by this regime as non-existent," Karapatan secretary general Cristina Palabay said.
She added: "[The memorandum] adds another weapon in the current administration's arsenal of directives that will certainly up the level of state terrorism against the people, especially in Samar, Negros Oriental and Occidental and in Bicol,"
'Lawless violence'
In a separate statement, presidential spokesperson Salvador Panelo cited the incidents of "lawless violence" in the four areas that were considered in issuing Memorandum Order 32:
Samar
Ambush of soldiers providing relief to victims of a typhoon in northern Samar
Armed attack at the police station in Lapinig
Ambust attack against the 63rd Infantry Battalion in Matuguinao
Attack on the former mayor of San Jose de Buan
Negros Oriental
Torching of heavy equipment in Manjuyod
Assault on police detachments
Killing of a police chief in Guihulngan
Negros Occidental
Massacre of nine sugar workers in Sagay
Attack against the 62nd Infantry Battalion while conducting clearing and combat operations in preparation of the barangay and Sangguniang Kabataan elections in Kabankalan
Bicol region
Ambush of the convoy of Food and Drug Administration director-general Nela Charade Puno in Camarines Sur
Firefights in Lagonoy, Camarines Sur
Clash in Bato, Camarines Sur
"All these measures are being undertaken pursuant to the constitutional command to the president to serve and protect the people," Panelo said.
The memorandum was issued one month before the end of martial law declaration in Mindanao.