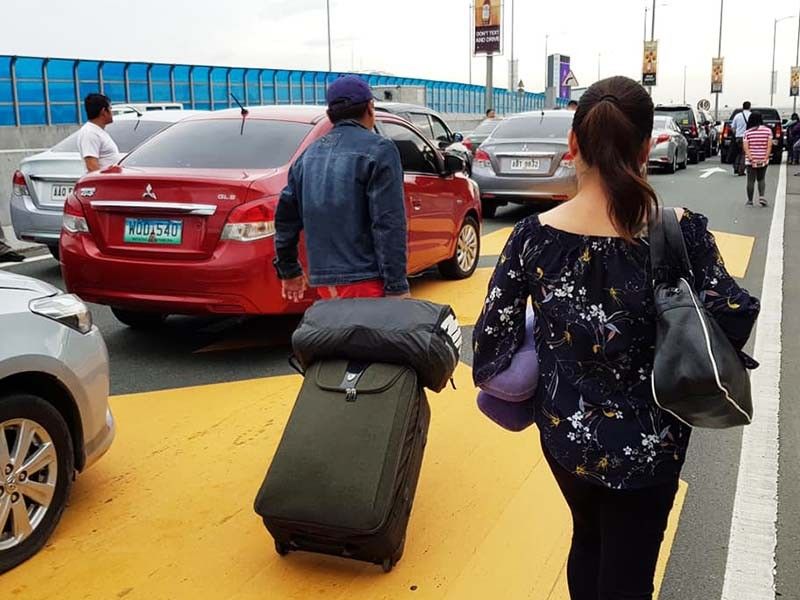 Passengers walk and carry their luggage as vehicles were cramped and stuck at the highway on their way to Ninoy Aquino International Airport on Nov. 20, 2018.
Facebook/Rex Varona
Red, red roads: Xi's visit causes metro gridlock
MANILA, Philippines — Amid the rolled out red carpet for Chinese President Xi Jinping, several Filipinos took to social media to complain about heavy traffic and inconvenience caused by the Chinese leader's state visit to the country.
In a Facebook post on Tuesday afternoon, migrant group volunteer Rex Varona shared photos of the traffic situation in Skyway were vehicles cramped and stuck at the highway on the way to Ninoy Aquino International Airport as he claimed the expressway was locked down to pave way for Xi and his entourage.
He cited that many passengers were forced to walk while carrying luggage along the Skyway so they can catch their flights.
"20 Nov 2018, Skyway. Kilometric line of cars stuck at the Skyway on way to NAIA because the expressway was unceremoniously locked down 'so that the Chinese President Xi can pass.' No advisories. No one knows for how long," Varona wrote.
"Sacrifice the welfare of thousands, for the convenience of one. #Kowtow #NoPublicAccountability," he said.
Varona's post earned both approval and disapproval from netizens. Some agreed with the inconvenience sacrificed by the public for Xi's visit while others countered him saying there were advisories ahead of the visit.
"Alam [niyo] nman pag [may] mga bisita ganyan ang ginagawa [nila]pinapasara mga kalsada [hindi naman] na bago yan. [May] advisory din nman sila kailangan mo [na lang [mag-anticipate] ng oras mo [para hindi] ka malate sa lakad mo or [talagang wala] kang alam sa [nangyayari] sa bansa [natin]..#ganyansaPinas," online user Bhet Dela Cruz said.
Xi arrived in the country at around 11:50 a.m Tuesday for his two-day state visit. He will leave Manila for China on Wednesday afternoon.
READ: Xi's here: Chinese president arrives in Manila for first state visit
The Chinese leader is staying in Shangri-La at the Fort, Bonifacio Global City, Taguig City.
A day before his visit, the Manila Police District and Metro Manila Development Authority issued separate traffic advisories and warned the public of temporary road closures and rerouting schemes in Manila and Taguig City.
https://t.co/cIjIkc4qb8 #mmda pic.twitter.com/g17D3zkq7K

— Official MMDA (@MMDA) November 20, 2018
The Malacañang also released the schedule of activities of Xi while he's in the country with most of it slated in Manila and Taguig City. However, for security purposes, members of the press did not disclose the time of his official activities.
Despite these advisories, several Filipinos still experienced the heavy traffic in areas, included and not included in traffic schemes prompting public outrage.
If you're thinking about taking buendia towards moa right now then don't. Chaos thanks to #XiJinping #traffic #manila pic.twitter.com/rlLBOklKAG

— Frank (@Amadeus_IOM) November 20, 2018
PRC flag along the streets of Manila and the almost midnight traffic nightmare Xi Jinping's visit caused in the busy business districts of BGC and Mckinley. #XiJinping #XiPHVisit pic.twitter.com/XZ4b7JtZ16

— Juan Pablo A. (@Thejuanpablo) November 20, 2018
Some lamented how President Rodrigo Duterte previously cursed Pope Francis for the inconvenience he experienced during the papal visit on Jan. 15, 2015 while he was silent on Xi's visit.
Duterte on traffic regarding the arrival to the Philippines of the following people:

Pope Francis: *curses*

Xi Jinping: *crickets*

— Kevin Quilantang (@KevinSquila) November 20, 2018
In January 2017, Japanese Prime Minister Shinzo Abe also made a two-day official visit in Manila and Davao City. However, the event did not draw reports on traffic or rerouting schemes.