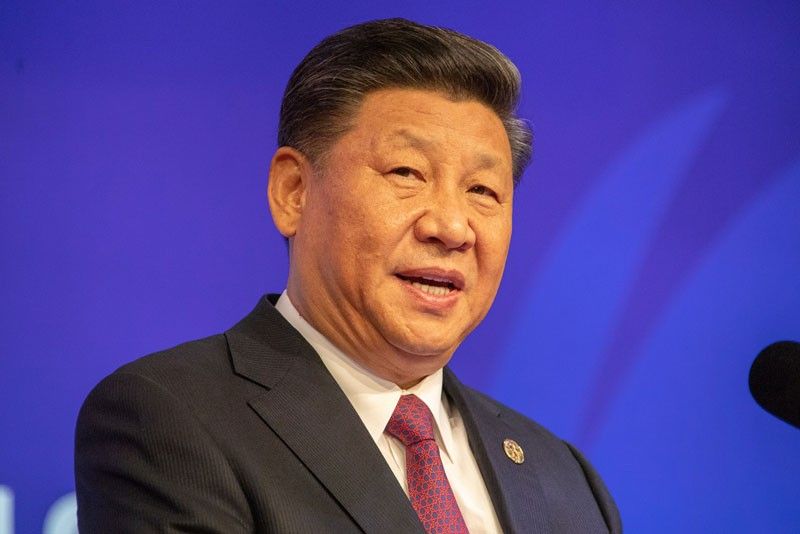 The visit is considered to be a turning point in the history of the two countries, presidential spokesman and chief legal counsel Salvador Panelo declared in a statement yesterday.
apec.org
'Powerful' Philippine alliance seen with China
DAVAO CITY, Philippines — As Chinese President Xi Jinping arrives to a red carpet welcome for a two-day state visit in Manila today, Malacañang looks forward to a "powerful alliance" with China against threats to security that include terrorism and the drug menace.
The visit is considered to be a turning point in the history of the two countries, presidential spokesman and chief legal counsel Salvador Panelo declared in a statement yesterday.
"We laud President Xi for China's continued efforts to promote peace and stability in our region, through dialogues and consultations in handling the South China Sea issue, as we share his aspiration to bring our nations' relationship to a higher level of collaboration. Indeed, amity solves international disputes and even forges a more powerful alliance between both countries against threats to security, including terrorism, violent extremism, criminality, and the drug menace," the statement reads.
Panelo said President Duterte and the entire Filipino nation look forward to the Chinese leader's visit in the Philippines, a country that Xi described as a "beautiful land."
"Owing to President Duterte's cautious, pragmatic and diplomatic yet independent foreign policy, we anticipate more opportunities to forge better cooperation and friendship with China," he added.
Duterte maintained a friendly stance with China since assuming office in 2016, a deviation from the policy of his predecessor Benigno Aquino III who pursued an arbitral case against Beijing over its expansion in disputed territories in the West Philippine Sea.
Panelo said the story of the Philippines' relationship with China dates back to pre-Spanish times. He also said that China is now considered a top trading partner of the Philippines – it being a leading export market for the Philippines and one of its largest tourist origins.
Security at the Ninoy Aquino International Airport and the periphery has been tightened and some of Manila's streets are closed to regular traffic.
Chief Superintendent Benigno Durana, spokesman for the Philippine National Police, said that although there are no security threats during the visit, the police remain ready for any eventuality.
Around 5,500 policemen will be deployed for the visit as Director Guillermo Eleazar of the National Capital Region Police Office warned that a "no permit, no rally" policy will be strictly enforced.
"There would be no warning anymore. Once they would show up to conduct a protest rally, we would disperse them with no question asked," Eleazar said.
Manila Mayor Joseph Estrada ordered the suspension of classes in all levels and work in government offices to ease traffic congestion while the Supreme Court also ordered the suspension of all Manila court proceedings.
Xi will be welcomed at the airport by Foreign Affairs Secretary Teodoro Locsin Jr. and other top government officers, including Manila International Airport Authority (MIAA) general manager Ed Monreal.
He is expected to visit Malacañang Palace and the Rizal Monument for a wreath-laying ceremony. A state banquet will also be tendered for him and his delegation.
Xi is also scheduled to meet tomorrow Senate President Vicente Sotto and former president and now Speaker Gloria Macapagal-Arroyo in Taguig City.
Some senators said Duterte should try to secure clear commitments and categorical statements from Xi on critical issues such as the dispute over the South China Sea, joint oil exploration and the war against illegal drugs.
"I don't mind working with China to improve the situation in the South China Sea; we should be very careful in allowing a state corporation in China to be the third telco in the country – it has serious national security implications; and we should be very careful in contracting loans from China," Senate President Pro Tempore Ralph Recto told reporters. He said many countries that have secured loans from China had some bad experiences.
Sen. Joseph Victor Ejercito said securing solid assurances from Xi on the South China Sea is important as the dispute is also affecting the country's investment climate.
"At the same time, China claims to be a friend, they want to do a lot of our big projects but what is worrisome are the strings attached," Ejercito said, adding that Duterte should also get assurances on China's support for the war on drugs as many of the foreign traffickers arrested here are from the mainland.
Sen. Sonny Angara also looks forward to "any possible partnership with respect to West Philippine Sea and the fast-tracking of infrastructure projects all over the country" as Sen. Joel Villanueva has suggested that Duterte press for closer economic cooperation to create more jobs.
For Sen. Gregorio Honasan, chairman of the committee on national defense and security, Duterte could also ask Xi for commitment to respect territorial integrity, discuss possible joint exploration, and the extension of programs to develop the country's information and communications technology sector.
Arroyo and other House leaders said the state visit would enhance the warmer bilateral relations between the Philippines and China.
"Our evolving relationship is part of a history that dates back to previous leaders of our two countries, so it has a deep foundation," Arroyo said.
Camarines Sur Rep. LRay Villafuerte said the Philippines has gained a head start in promoting a deeper economic integration with China following Duterte's bold and prescient move to rebalance foreign policy towards Asia.
For Isabela Rep. Rodito Albano III, the visit – the first in 13 years – will definitely "be very good for the country" as Rep. Johnny Pimentel of Surigao del Sur hopes the visit will "bring in more Chinese investments especially that China is the second largest economy in the world."
Jobs for Filipinos
Meanwhile, the Department of Budget and Management said China is open to hiring about 10,000 overseas Filipino workers (OFWs) through a government-to-government arrangement.
In yesterday's Pandesal Forum in Quezon City, Budget Secretary Benjamin Diokno said China has expressed willingness to hire OFWs, including those who had jobs in the Middle East, for domestic work.
According to him, Filipinos will be hired as domestic helpers for expatriates currently residing in China, assuring them of better compensation if they are hired.
"In fact, (there is) fear of some people that those who are working now in Hong Kong will transfer to China because the terms will be much, much higher," Diokno added.
Data from the Bangko Sentral ng Pilipinas showed that the OFWs sent $21.2 billion in personal remittances during the first eight months of the year. This is 2.4 percent higher than the $20.72 billion posted in the same period last year.
Cash remittances, as of August, also grew by 2.5 percent to $19.06 billion compared with the $18.6-billion remittance recorded for the same period a year ago.
The Department of Labor and Employment, which yesterday released the signed joint implementing guidelines on the deployment of Filipino teachers to China, clarified that Filipino public school teachers will not be among those that would be deployed to the mainland.
Under the guidelines, only teachers in private higher education institutes and who have obtained a degree in education shall qualify to work as English teachers in China. They must also have passed the licensure examination for professional teachers, not been charged or convicted of any crime and have no mental disease or pernicious habits such as drug addiction.
Labor Secretary Silvestre Bello previously reported that China intends to hire about 2,000 English teachers.
As agreed by both countries, China will ensure strict implementation of the standard employment contract including wages, hours of work and provide the Philippine Overseas Employment Administration with a list of duly accredited tertiary education institutions. – With Paolo Romero, Edu Punay, Janvic Mateo, Delon Porcalla, Mary Grace Padin, Rudy Santos, Non Alquitran, Romina Cabrera, Mayen Jaymalin, Rey Galupo
Related video: