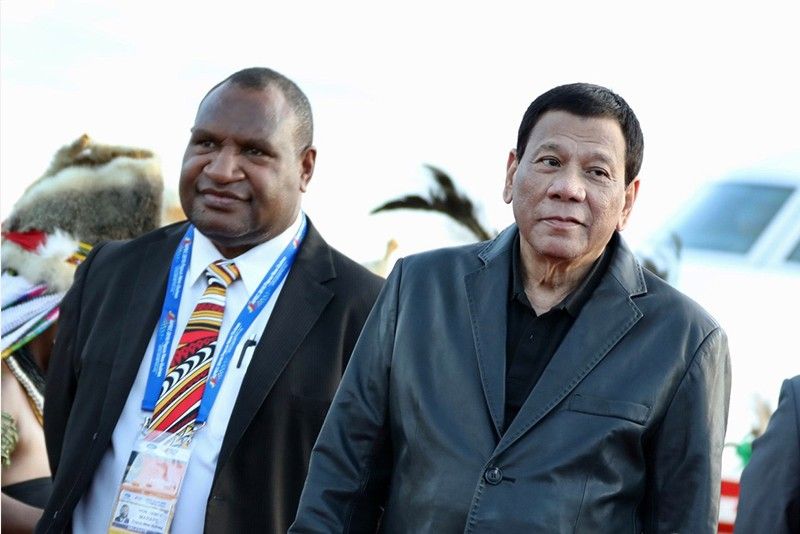 President Rodrigo Roa Duterte arrives at Jacksons International Airport in Port Moresby, Papua New Guinea on November 16 to participate in the Asia Pacific Economic Cooperation (APEC) Economic Leaders' Week.
Presidential photo/Richard Madelo
Duterte on skipping ASEAN-Australian breakfast summit: What will they feed us? Kangaroo?
(Philstar.com) - November 17, 2018 - 12:06pm
MANILA, Philippines — President Rodrigo Duterte on Friday sought to defend his decision to skip a special summit between Southeast Asian nations and Australia, amid criticisms that he is lazy and speculations he is seriously ill to perform his duties.
Duterte was the only head of state who was absent during a breakfast summit between Southeast Asian leaders and Australian Prime minister Scott Morrison last Wednesday. It was the first event on the second day of the 33rd Association of Southeast Asian Nations summit in Singapore.
The president likewise missed a special summit with South Korea also on Wednesday, as well as the working lunch for ASEAN leaders and the gala dinner. Malacañang said Duterte was absent because "he took power naps to catch on sleep."
Speaking to the Filipino community in Papua New Guinea, Duterte said he was a no-show at the ASEAN-Australia breakfast summit because he is not a morning person.
"I don't understand Australia. They invited us for an 8:30 a.m. informal breakfast meeting. I told the soldiers, why would I attend the event when, first of all, I don't eat breakfast. It's true, I need sleep," Duterte said in Filipino.
"Second, it's an informal meeting. What will they feed us if it's informal? Kangaroo? We're in Singapore, that's why I said I won't go there," he added in jest.
Duterte, who is known for having an unusual working schedule that typically starts mid-afternoon, has a record of skipping summit sessions.
Former Australian Prime Minister Malcolm Turnbull earlier described Duterte as "not an enthusiastic attender of international conferences."
Turnbull made this statement upon confirming that the Philippine leader would not be attending the special summit in Sydney last March. Australia was among the countries that condemned Duterte's deadly drug war during the United Nations Human Rights Council meeting in Geneva last year.
The Palace had said they find it "amusing" that some are "making a big fuss" of the president's skipping "a few" meetings in the ASEAN summit.