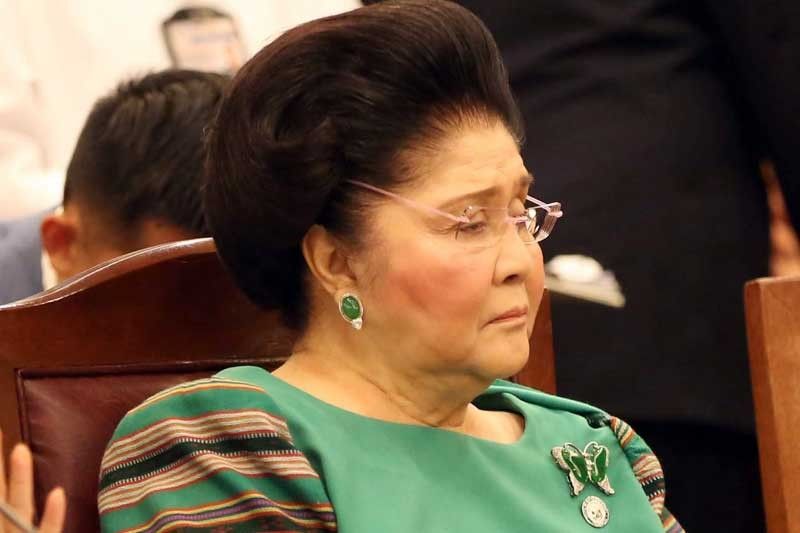 In a 53-page decision, the Supreme Court Third Division denied the Petition for Review on Certiorari filed by the late former solicitor general Frank Chavez against former first lady Imelda Marcos.
The STAR/Boy Santos
No special treatment for Imelda, says Albayalde
MANILA, Philippines — Speaking to reporters at the Philippine National Police Academy in Cavite Friday afternoon, police chief Oscar Albayalde said that they would give no special treatment to Imelda Marcos, who was convicted on plunder charges by the Sandiganbayan.
"We will wait for the order of the court. If there is really an order by the court to arrest her, then we will gladly abide by the order of the court," Albayalde told reporters in a mix of Filipino and English.

The anti-graft court found the wife of late dictator Ferdinand Marcos guilty beyond reasonable doubt on seven counts of graft. She was sentenced to imprisonment for a term of six years and one month to 11 years for each count, or a total of 42 years and seven months to 77 years. The Ilocos Norte representative turned 89 last July.
READ: Imelda Marcos found guilty of 7 counts of graft

"If she will be detained with us, she will be treated as a normal detainee," Albayalde said. "We won't give any special attention there. But of course, females would be seperated from the males... and Mrs. Marcos is a little elderly," he added. "And if the court says she'll be at our hospital (under hospital arrest), that's also possible."
While human rights groups are wary that President Rodrigo Duterte — who has been vocal in his admiration of the former dictator Marcos and his family— might pardon the former first lady; Malacañang Palace said on Friday that they would not meddle in the affairs of the court.
READ: Decades-old Imelda charges show justice is 'frustrating,' 'a victim'

"The executive branch is not in the business of exerting undue interference or influence in the affairs of another separate and independent branch of the government," the Palace said of the Sandiganbayan's decision.

READ: Palace:we respect court ruling vs ex-first lady Imelda Marcos
Marcos said Friday afternoon that she would file a motion consideration on her conviction.