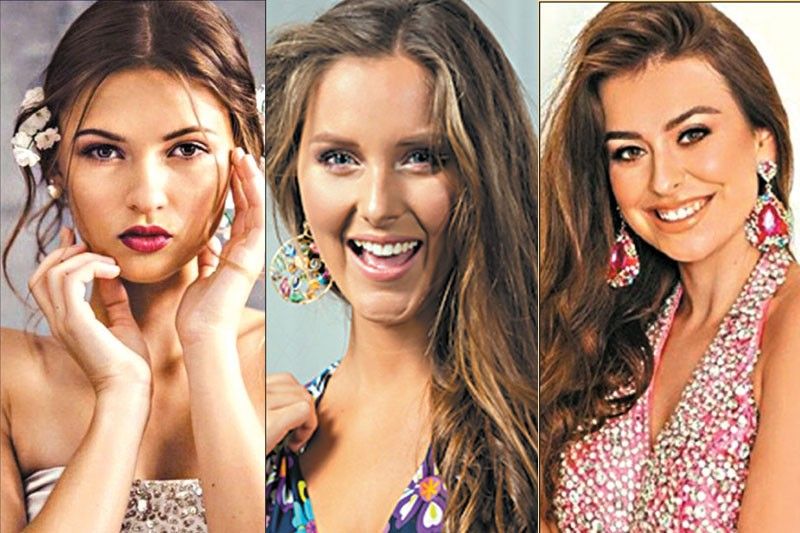 Photo combo shows Miss Earth 2018 contestants (from left) Guam's Emma Mae Sheedy, Canada's Jaime Yvonne VandenBerg and England's Abbey-Anne Gyles-Brown, who have opened up on social media about being sexually harassed by a pageant sponsor during the competition recently held in the country. Vandenberg left the Philippines early and was not able to finish the competition. Sheedy, who identified the sponsor on Instagram, said he grabbed her bare backside during the national costume competition.
Miss Earth candidates cry sexual harassment
MANILA, Philippines — Three Miss Earth 2018 candidates have alleged in their respective social media accounts that a pageant sponsor sexually harassed them during the recently concluded beauty contest held last Nov. 3 in Pasay City.
Miss Canada Jaime VandenBerg, Miss England Abbey-Anne Gyles-Brown and Miss Guam Emma Mae Sheedy said they were excited to compete in an international pageant in the Philippines, not expecting that an unfortunate incident would take place.
VandenBerg said she left Miss Earth because she "did not feel safe" under the care of the organization.
"The second day of the pageant I felt uncomfortable because a sponsor from the first night was given my phone number, without my consent, and was calling me asking for my hotel and room number. I gave my phone to a team manager so that she could resolve the issue, but it did not work. He showed up to almost all of my events, telling me he could take care of my needs and asked for sexual favors in exchange to get me further in the pageant. I was disgusted. He showed up to a hotel some girls were staying at and when I ran into him he continued to ask for my room number. I was lucky I wasn't staying at that hotel. After so many strange calls, I recognized his phone number and was able to block it," VandenBerg wrote on her Instagram post.
She added, "At an event at the Manila Yacht Club he took all of the delegates in my group to his yacht and had some girls take sultry photos. Again, I was disgusted. Later in the pageant we had another sponsor event at the Manila Yacht Club and he was telling girls he could take them to Boracay, as long as we didn't tell anyone. A group of us left to sit outside as we did not feel comfortable. He followed us out and was upset we were not dancing with him. The team mangers laughed and told us to be nice. Eventually we were allowed to go and sit on the bus because we refused to go back to his yacht. Six girls and myself left because we felt unsafe at that event. I asked many times why more girls weren't given the option to leave but was never given an answer."
She said that a few of them were given the opportunity to bring their concerns to Lorraine Schuck, founder and executive vice president of the production that runs the pageant. She said she "went through almost two weeks of sexual harassment before anything was done about it."
Sheedy posted on Instagram that a "specific sponsor from the Manila Yacht Club became a problem for many of the delegates, Amado S. Cruz," including herself.
"I was pulled aside multiple times to be invited to Boracay, private islands and into his house and insisted that I and 'the latino women' dance for him," she wrote.
"Cruz grabbed my bare backside at the National Costume Competition where I was able to push him away, but he consistently told me not to tell anyone about any of the instances. At the Manila Yacht Club, Amado S. Cruz ensured that the team managers and security personnel were separated in another room, this is where he made many girls uncomfortable. A group of us left the room because we felt uncomfortable, but… Cruz followed us and insisted that we stay inside to dance with him," she said.
"We asked our team managers to bring us to the buses, which took over 20 minutes for them finally to do. Later on that night @missjaimeyvonne and @Miss.Earth.England spoke on the phone with Lorraine Schuck, the Vice President of Miss Earth, who assured them that Amado S. Cruz would not be at any other event. From the moment the pageant started until coronation night… Cruz was at every event and dinner he could physically get to. Since other delegates have posted, multiple other queens from past years have come out about the same behavior. I want to help put a stop to this sponsor being a part of the Miss Earth International Pageant because he has become a problem for years," she added.
Gyles-Brown said she was "approached by a sponsor on many occasions who asked for sexual favors in exchange for the Crown."
According to her, the incident happened at Manila Yacht Club on a sponsored evening meal. The same sponsor also "tried to find out what hotel and room" she was staying in. She then approached their Team Manager "to express their disgust only to be laughed at."
She "felt traumatized by this experience and had many sleepless nights."
"I approached Lorraine Schuck who … informed me that the sponsor would be removed from all contact with contestants but this did not happen. As other groups experienced the same issue. Myself and @missjaimeyvonne removed ourselves from this uncomfortable environment and sat on the bus away from further exploitation," she added.
On the other hand, Miss Cuba Monica Aguilar refuted any sexual harassment allegations on her social media post and said she "felt safe the entire month under the care of her team managers."
"I can confirm there was no sexual harassment happening in any shape or form. Yes, some of the sponsors did ask us if we wanted to extend our visas to go to Boracay after the pageant, but no one promised to get us further in the competition through 'sexual favors'," she said.
"In conclusion, sexual harassment was not present in any shape or form, and the team managers did an outstanding job at keeping us safe. The Miss Earth Organization, especially Peachy and Lorraine, have done everything in their power to keep us safe and I think the world, or the earth rather, needs to know what really went on," she added.
Shuck told The STAR the issue was immediately and properly addressed, and was "puzzled" why the candidates said the organization did not take action when the Miss Earth organization immediately "banned the sponsor from the event."
"The sponsor was banned from the event on Oct. 14, right after that the candidate reported such incident. I told Cruz not to attend any further events for the pageant or even go near the candidates," she said.
"This is the first time that such complaint surfaced. We will be more careful who we are dealing with and be stricter. I told the candidates not to be afraid to come out or report any incidents that would make them uncomfortable. We fully support the Miss Earth delegates. If there's any complaint, we will help them," she added.
The STAR tried to reach Cruz for comment but did not get response as of press time.