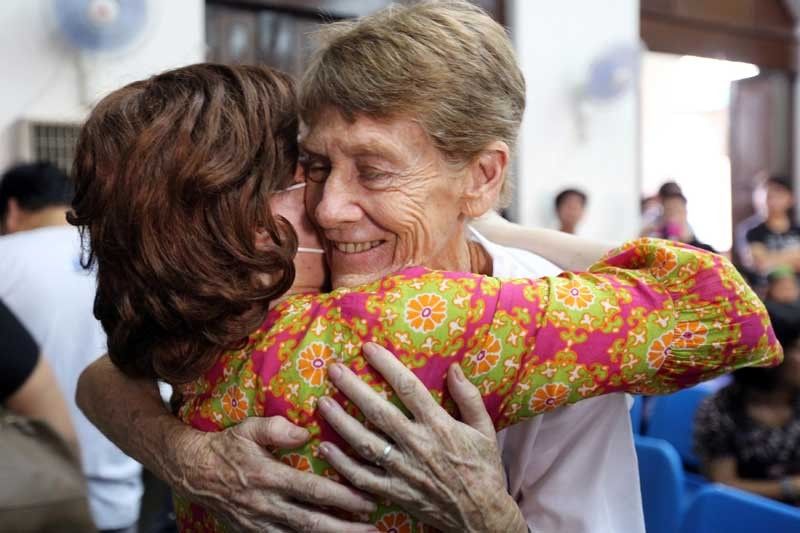 Australian missionary Sister Patricia Fox gets a hug from a supporter at the St. Joseph Church in Quezon City, where a mass was held prior to her departure.
Boy Santos
Goodbye: Sister Fox urges unity for reforms
MANILA, Philippines — On her last day in the Philippines, Australian missionary Sister Patricia Anne Fox urged Filipinos not to lose hope and instead unite to attain genuine reforms in the country.
"The big challenge is not to lose hope, to know that if we all move together, we can bring about change," she said at a press conference at the St. Joseph College in Quezon City where she attended a thanksgiving mass organized by her supporters.
Fox left the country yesterday bound for Australia after nearly six months of battling government efforts to have her deported.
"We can't be defeated since we are fighting for the masses and justice will prevail and the guilty will be held accountable," Fox said in Filipino.
The Bureau of Immigration (BI) had dismissed the appeal for reconsideration of the agency's earlier order to deport Fox, 71, whom the BI deemed an "undesirable alien" for joining partisan political activities. Fox was told to leave the country by Nov. 3.
Despite the deportation order from the BI, Fox had applied for renewal of her visa, which expired last Sept. 6.
Her appeal filed with the Department of Justice against the BI deportation order was, however, junked.
President Duterte had earlier accused Fox of insulting his administration in protest rallies and said she had "a foul mouth."
Fox called on different groups to unite for a common goal that will benefit the country.
"I think that's the challenge, all the sectors, the church. Everybody needs to come out together and say this is what we want for our society," said Fox.
Fox is still at a loss on why Duterte wants her out of the country, which has been her home for the past 27 years.
"Until now I don't know why Duterte does not like me," she remarked, eliciting laughter from the audience.
She urged Duterte to listen to the plight of ordinary folks and their sentiments against the government.
She assailed immigration authorities for following Duterte's illegal orders.
BI spokesperson Dana Sandoval yesterday said that Fox's name has long been included in the bureau's blacklist and she would no longer be allowed to return to the country.
"She was blacklisted already because of her deportation (case) and not as a consequence of her missionary visa. But if her appeal (in the deportation) is granted (by the DOJ) it (her blacklist) will be reversed." Sandoval added they would "wait for the decision of the DOJ on her deportation" to know if she can still return to the Philippines.
Sandoval also clarified that the BI is not singling out Fox. "It was simply a case of a foreigner who violated Immigration laws."
The BI also said that Fox was the subject of a deportation order because she violated the conditions of her stay and was categorized as an undesirable alien.
Malacañang stood firm yesterday that foreigners who engage in partisan politics have no place in the country.
"The departure of Sister Patricia Fox is a timely reminder to all foreigners who stay or sojourn in this country that they are not entitled to all the rights and privileges granted to the citizens of the Philippines, including the absolute exercise of political rights inherently exclusive to Filipino citizens," presidential spokesman Salvador Panelo said yesterday.
Panelo pointed out the provisions under Operations Order No. SBM 2015-025 issued by the BI, approved by former justice secretary and now detained Sen. Leila de Lima.
"Undeniable is the fact that Sister Fox joined protest rallies," the Palace official said, adding that Fox has publicly acknowledged that joining these activities is part of her advocacy.
Fox also lamented the lack of support from the Catholic Bishops' Conference of the Philippines (CBCP) on her plight.
"There are individual bishops who have come out strongly saying they are supporting me but as a body, I think they found it difficult to come out with a statement," she said.
One of Fox's lawyers, Maria Sol Taule, said they will continue with the Australian's legal battles, stressing the people who oppressed the missionary will be held accountable for their actions.
The volunteer lawyers who defended Fox yesterday vowed to meet again after "we would have exorcised the evil that has possessed the intolerant and bigoted in power."
In an open letter to Fox, her volunteer lawyers Taule, Edre Olalia, Ephraim Cortez, Jobert Pahilga and Katherine Panguban noted: "It is more than six months of living on the edge since you were deceptively invited by Immigration officers and deprived of liberty for being an 'undesirable alien,' a label farthest from what you are: soft-spoken, frail, geriatric, low profile yet so passionate, human, humane and lovable, you could be everybody's sweet doting grandmother."
"You have inspired us immensely and taught us many lessons and values we should all have learned in grade school," they said.
Cristina Palabay, secretary-general of the human rights group Karapatan, denounced the Duterte regime's contempt for those who promote genuine peace and social justice in the Philippines.?"Sr. Pat's exemplary service to the Filipino people, through her missionary work among the country's poor communities, cannot be denied. She supported the peasants in their fight for genuine agrarian reform and stood with those dispossessed of land and social services. She studied and understood the plight of indigenous peoples in their struggle against discrimination and state violence," said Palabay.?The group said only those who detest the poor would want Sr. Patricia Fox out of the Philippines. – With Evelyn Macairan, Rhodina Villanueva, Ding Cervantes