Duterte admits 'militarization of government'
November 2, 2018 | 12:00am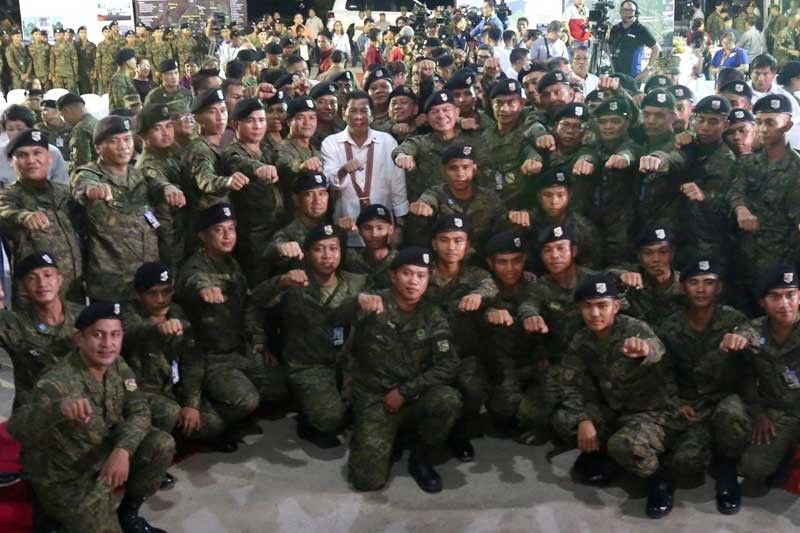 MANILA, Philippines — Claims that the government is being militarized under his watch are correct, President Duterte said, stressing this was his way of preventing corruption from rendering him inutile.
Duterte has drawn flak for appointing retired military officers to posts unrelated to national security.
Opposition lawmakers said the appointment of retired soldiers to key posts makes the bureaucracy vulnerable to incompetence because the appointees are not suited for the tasks at hand.
But Duterte, who recently ordered the military to take over what he described as a "corrupt" Bureau of Customs (BOC), said his appointment of "honest" men from the military would help him stamp out corruption.
"I will not sit as President and let you render me inutile as you continue with your corruption there in Customs right in front of me. P***** i** niyo (Sons of b******). Now you have a problem. They say it's militarization of the government. Correct," Duterte said during the distribution of land certificates in Cagayan de Oro last Wednesday.
Duterte also admitted only a few people with no military background have remained in his administration.
He justified anew his preference for military men, saying they obey orders promptly unlike some civilians in the bureaucracy who question their superiors.
"They will really do it. You know, that's why I like military men. There are very few of us remaining who are (not from the military). Almost everyone is from the military except for me, Dabs (Presidential adviser on overseas Filipino workers and Muslim concerns Abdullah Mama-o) and (Executive Secretary Salvador) Medialdea," he said.
Duterte said soldiers are used to working under harsh conditions and can perform their tasks despite the risks they face.
"The salaries of the military and the police have been doubled. But I'll ask you now, what's the job of the military? Fight the enemies of the state and die. That's their job," Duterte said.
"Now if there's a flood... who would you call? When the digging starts – you can see it on TV – who dug through the landslides in Cebu? Who? The military. They are utility boys. They are the first to die. They are the ones whom you call to pave the road if no one else is there to pave it. If there's a civilian who would help with the digging, it would only be up until a certain point," he added.
"You instruct the military to take turns sleeping and continue digging. That's their job. So that's why most of the people I face are generals."
Duterte also noted that former military officials – interior and local government officer-in-charge Eduardo Año and Environment Secretary Roy Cimatu – led the rehabilitation of world famous tourist spot Boracay.
"Do you think Boracay would have been cleaned up if it weren't for Año and Cimatu?" the President said.
Duterte also praised housing chief and retired military general Eduardo del Rosario, who oversees efforts to rebuild areas affected by the Marawi siege.
"Would the project in Marawi have been done so quickly if I hadn't assigned Del Rosario? He's a military man who was also assigned in Davao. Would there still be money? I've been in government for a long time so I know how funds can be manipulated," Duterte said.
"The temptation to earn more money is really there. But if you tell the military, 'Do that without corruption. Finish it in 60 days,' then it's done."
Duterte has ordered a revamp in Customs' leadership as the bureau is mired in controversy over the entry of about P11 billion worth of shabu in the country.
He appointed former customs commissioner Isidro Lapeña as chief of the Technical Education and Skills Development Authority but officials insisted the reassignment was not related to the controversy.
The President also relieved all heads of customs units and directed the military to take over their functions. A former military chief, Rey Leonardo Guerrero, succeeded Lapeña as customs commissioner.
Presidential spokesman Salvador Panelo previously said the military takeover at the BOC would remain as long as it is necessary and the President is satisfied that everything is in order at the bureau.
Duterte said his order to cleanse the customs bureau of corrupt personnel has something to do with the legacy he would leave behind.
"I will not end my political career by leaving people something to talk about, particularly corruption. Bureau of Customs... do you want to apply? There are plenty of available positions in the Bureau of Customs now," he said.
The Department of Trade and Industry (DTI) supports Duterte's move to place the BOC under the military to help curb corruption within the agency.
"I believe military will be there to help in the enforcement and adding better controls, lessening or eliminating corruption without affecting the smoother workflow and processing of documents in the BOC," Trade Secretary Ramon Lopez told reporters yesterday.
The country's largest business organization, the Philippine Chamber of Commerce and Industry (PCCI), in a statement said it also welcomes Duterte's initiative as it may trigger an overhaul of the system with the BOC, perceived to be the most corrupt agency of government.
While the business group supports what it called Duterte's bold initiative, PCCI said it is hopeful the move would not affect trade and transactions with the BOC.
Philippine Exporters Confederation Inc. president Sergio Ortiz-Luis Jr. said yesterday the group is hopeful the military personnel who will be assigned at the BOC would help in trade facilitation, especially now that there are a lot of shipments expected for the Christmas season. – With Louella Desiderio