Benigno Aquino III, Leni Robredo endorse opposition Senate 12
October 25, 2018 | 12:00am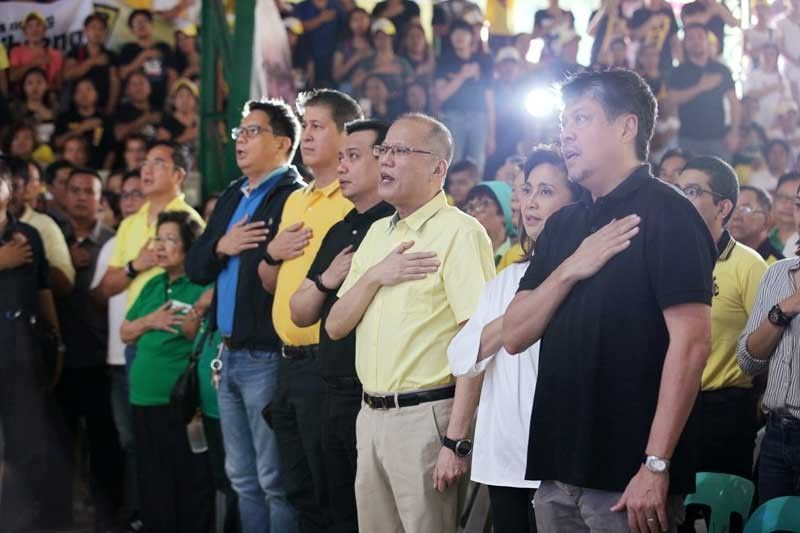 MANILA, Philippines — Betting on their good and clean track record, Vice President Leni Robredo yesterday expressed confidence in the victory of candidates of the opposition coalition in the May 2019 senatorial elections.
Robredo, who chairs the Liberal Party, led the presentation of the Oposisyon Koalisyon (OK) slate in Barangay Parang, Marikina City.
The opposition candidates include former senator Mar Roxas, former Quezon congressman Erin Tañada, Maranao advocate Samira Gutoc-Tomawis, Magdalo Rep. Gary Alejano, human rights lawyer Jose Manuel "Chel" Diokno, election lawyer Romulo Macalintal, incumbent Sen. Paolo Benigno "Bam" Aquino IV and former solicitor general Florin Hilbay.
Of the eight candidates, only Aquino, Tañada and Roxas belong to LP. Roxas was not able to attend the event because he is abroad, according to Aquino.
"The eight candidates whom we will field come from different backgrounds but their capabilities are beyond question," the Vice President said in a speech delivered in Filipino.
Robredo admitted that these candidates are not as popular as some others, but she believes they will win as long as the public would unite for them, relating her own experience in the 2016 national election.
"Many are saying that this will be a tough fight for them. But I think I'm the best example. Many have said that I didn't have the chance (to win the vice presidency). But because the people united for me, the one percent to vice president became possible," she said, referring to her initial ratings in surveys prior to the May 2016 polls.
Apart from Robredo, former president Benigno Aquino III, Sen. Antonio Trillanes IV, Sen. Risa Hontiveros, Albay Rep. Edcel Lagman and Marikina Rep. Miro Quimbo also attended the event.
Robredo said the opposition remains "very alive" despite being supposedly threatened by the present administration.
"In spite of the hardship they face in being part of the opposition now, they still choose to stand firm and continue the fight. Many are saying that the opposition is silent but it is very much alive," she said.
For his part, former president Aquino called on voters to look not on the popularity but the good and clean track record of the opposition candidates.
"We're showing eight individuals whom we can be proud of, who have dreams for our country," he said.
Hilbay, who served as solicitor general under the previous administration, led the Philippines' case against China before the Permanent Court of Arbitration in The Hague over disputed territories in the West Philippine Sea. The Philippines won the case.
Hilbay topped the Bar in 1999.
As a human rights lawyer, Diokno vowed to improve the present justice system.
Diokno chairs the Free Legal Assistance Group and is the founding dean of the De La Salle University College of Law.
Macalintal, a veteran election lawyer, vowed to strengthen the government's support and benefits given to senior citizens.
Gutoc-Tomawis, a Marawi civic leader, vowed to push for women's rights empowerment in the Senate.