No fashionista look for Panelo during press briefings
October 22, 2018 | 6:51pm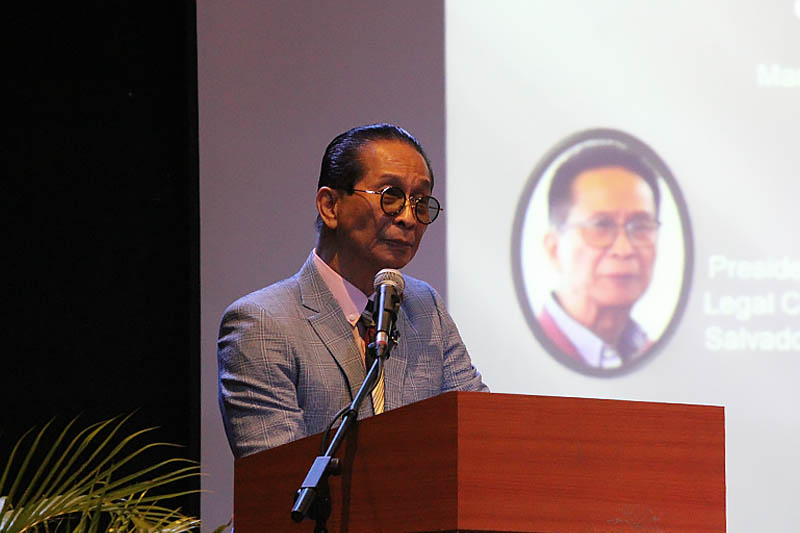 MANILA, Philippines — Presidential spokesman Salvador Panelo has decided to shed off his fashionista image, at least during his press briefings in Malacañang.
Panelo, known for his independent fashion sense, has decided to wear either a coat and tie or barong Tagalog when facing Palace reporters to be more lawyer-like.
"Kumbaga, kung humaharap ka sa korte, kailangan iyong suot mo ang dapat mong isuot (It's like when you're facing the court. You have to wear the appropriate attire)," Panelo told radio station dzXL Monday.
Panelo, also the president's chief legal counsel, said he wears the clothes he likes to wear during weekends.
Before he was named presidential spokesman, Panelo would often visit the Malacañang press working area wearing a leather jacket, tattered jeans and pinky rings. He was also seen wearing a shawl and boots when reporting for work.
Panelo's displays his unique fashion taste even during foreign trips. He wore a leather jacket and tattered jeans during President Duterte's visit to Malaysia in 2016.
Last year, Panelo chatted with reporters while wearing a purple hat, a purple tie and a purple shawl.
Panelo's unconventional fashion sense has inspired the creation of Twitter account "What Sal Panelo Wore (@whatsalwore)." The account described Panelo as "the most fashion-forward Cabinet secretary of the Philippines."
Duterte has ribbed Panelo about his outfit during some of his public engagements. The president always describes Panelo as a "fashionista" during his meetings with overseas Filipino workers.
Such elegance #RedCarpet #Fashion #SALtorialist #whatsalwore #SONA2017 pic.twitter.com/S3MSmQFaV8

— What Sal Panelo Wore (@whatsalwore) July 24, 2017
Earlier this month, Duterte said Panelo would look good as a press secretary.
"Perhaps I'll assign in temporary or in added function. Sal Panelo will just make announcements. With all sartorial elegance, medyo maganda siguro tingnan (it would be good to look at)," the president told Palace reporters last October 9.