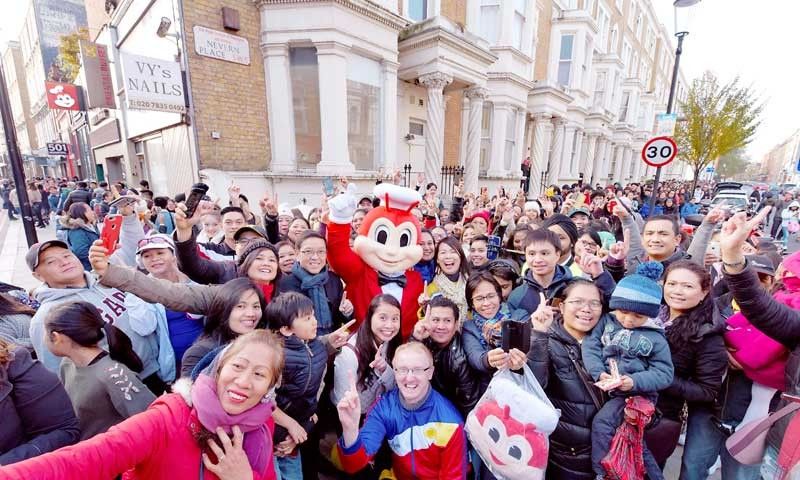 Customers queue for up to 18 hours as the first Jollibee opens in Earls Court, London yesterday. Photo shows Jollibee Foods Corp. CEO Ernesto Tanmantiong and Jollibee posing for a group selfie with customers outside the store.
London lines up for taste of Jollibee
LONDON – There's nothing like a taste of home for excited Filipinos who lined up outside the first Jollibee store in the United Kingdom, which opened its doors to the public at Earls Court yesterday.
The milestone opening brings Jollibee Foods Corp. (JFC), the largest restaurant company in Asia, a step closer to its vision of becoming one of the top five restaurant companies in the world.
It also fortifies JFC's ambitious goal to open more stores around the European continent following the opening of its store in Milan, Italy in March.
In the early hours of opening day, Filipino customers, some waiting for more than 18 hours, were seen queuing in front of the Jollibee store just to have a taste of the fried chicken and spaghetti they may have so craved and enjoyed back home.
One of those who patiently waited for Jollibee's doors to open was Michael Sison, who came in as early as 4 p.m. the day before opening day to be first in line.
Sison, who immigrated to the UK nine years ago, camped outside for more than 18 hours.
"My daughter motivated me to do this. She told me she wants me to be part of Jollibee history here in the UK by being the first customer. I am also craving for burger steak and Chickenjoy. Iba talaga ang lasang Pinoy at customer service (Pinoy taste and customer service are really different)," Sison said.
Another excited customer, Gina Perez Pangan, said she and her friend decided to spend their day off from work to join the group of Filipinos eager to enjoy Chickenjoy and other classic meals such as Jolly spaghetti with its signature sweet-style sauce.
"The opening of Jollibee store in London is like having a part of our country here. We miss home, but Jollibee is like an antidote to our homesickness," she said.
"Europe is a key growth market for us at Jollibee," said Ernesto Tanmantiong, chief executive officer of JFC. "We opened our first store in Milan last March, and it has been packed with customers. We are excited to open our first store in London and see the same kind of success with customers coming back over and over for their fill of Chickenjoy and Jolly spaghetti."
He said JFC is planning to open 50 stores across Europe in the next five years, with 25 in the UK alone.
The other half will be scattered across the continent with Madrid or Barcelona in Spain as the next targets. The aggressive move is part of the company's accelerated expansion plans around the globe.
"Over the last few years, we have been blown away by the warm reception to our store openings in different countries. I would like to invite the London community to experience Jollibee for themselves and discover why people are willing to queue up for hours – even in the coldest weather – for Chickenjoy and our other favorites," said Dennis Flores, JFC president and head of International Business for Europe, Middle East, Asia and Australia.
Located at Earls Court, the store is within an area with the largest Filipino community in London. The number of Filipinos living in London alone is estimated at 125,000.
Jollibee has also penetrated markets in Asia specifically Vietnam, Brunei, Singapore and Hong Kong.
Also launching this month is the company's first store in Manhattan, the second branch in New York. Jollibee is also expected to expand to Malaysia – with its first store in Kota Kinabalu before year-end. Jollibee also has plans to open in Rome and Guam soon.
In North America, Jollibee is building on 2017's double-digit growth sales – the highest in history, even outpacing the US restaurant industry's growth rate – with its opening in the Greater Toronto area and in new states in the US in 2019.
The fastfood chain, which is the flagship brand of JFC, has around 1,300 stores worldwide.
JFC operates 14 brands with more than 4,000 stores across 20 countries. It has seven wholly-owned brands (Jollibee, Chowking, Greenwich, Red Ribbon, Mang Inasal, Yonghe King and Hong Zhuang Yuan), two franchised brands (Burger King in the Philippines and Dunkin Donuts (in certain territories in China), 85 percent ownership in US-based chain Smashburger and 60 percent ownership in SuperFoods Group that owns Highland Coffee and PHO24.
JFC has investments in Titan Dining LP, the ultimate holding company of Tim Ho Wan Pte Ltd., the master franchisee of Tim Ho Wan in the Asia Pacific region excluding Hong Kong.
JFC also recently entered into a joint venture agreement to open Panda Express in the Philippines.