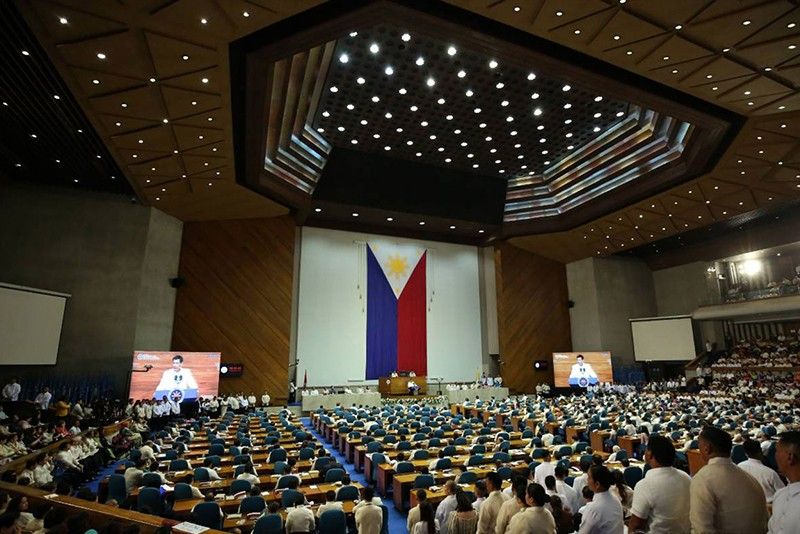 President Rodrigo Roa Duterte delivers his third State of the Nation Address at the Joint Session of the 17th Congress at the Session Hall of the House of Representatives Complex in Constitution Hills, Quezon City on July 23, 2018.
Presidential photo/Karl Norman Alonzo
SWS: Satisfaction with top state institutions 'good' in Q3
(Philstar.com) - October 20, 2018 - 11:24am
MANILA, Philippines — Public satisfaction with chief government institutions under the administration of President Rodrigo Duterte firmed up in the "good" territory in the third quarter, a new Social Weather Stations poll found.
Net satisfaction — used by the pollster as a rating of the government institutions' performance — rose by seven points to 48 for Senate, by 11 points to 36 for the House of Representatives, by 12 points to 31 for the Supreme Court, and by six points to 32 for the Cabinet.
Based on methodology of the September 15-23 SWS survey of 1,500 Filipino adults, a score of 70 and above is considered excellent, 50 to 69 is very good, 30-49 good and 10-29 moderate.
The seven-point rise in public satisfaction with the Senate was due to double-digit increases in Balance Luzon and Mindanao that offset decreases in other areas.
By class, the Upper House received its highest satisfaction score from the "masa," or class D. But satisfaction ratings of the Senate hardly moved among the very poor and fell by 16 points among the rich, or classes ABC.
On the other hand, the Lower House's overall satisfaction rating was propelled by increments in the Balance Luzon and Mindanao that cushioned the two-point drop in Visayas and 10-point fall in Metro Manila.
Like the Senate, those who belong to class D gave House lawmakers their best score. But satisfaction rating of the lower chamber has soured by 16 points among the upper classes while it was almost steady among the very poor.
Meanwhile, the 12-point improvement in the Supreme Court's net satisfaction rating was due to sharp double-digit spikes recorded in all geographical areas except in Mindanao, where it managed to post a single-digit increment of nine points.
Satisfaction with the country's top court rose among the very poor and the "masa," but drastically slipped by 34 points among classes ABC.
Lastly, the SWS attributed the six-point surge in net satisfaction score of the Cabinet to improvements registered in Balance Luzon, Mindanao and Visayas that was countered by a five-point slump in Metro Manila.
By class, satisfaction with Duterte's alter-egos rose among class D but fell among the very poor and the rich. — Ian Nicolas Cigaral