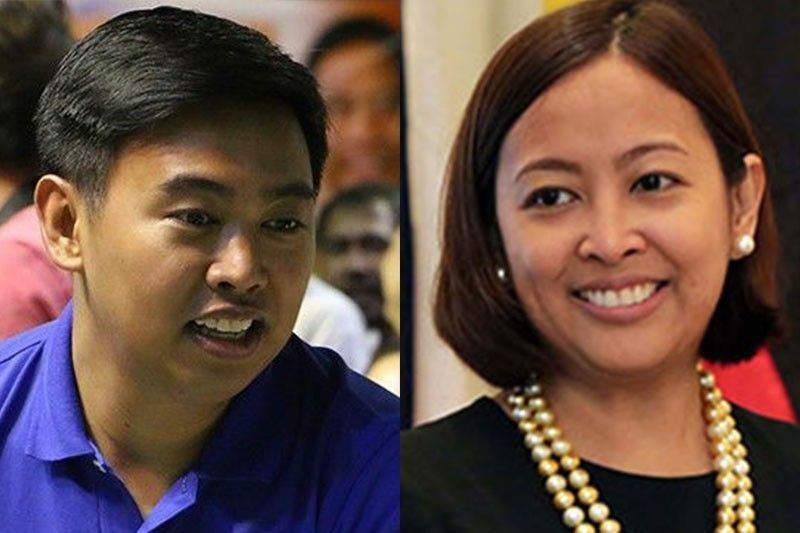 Former Makati Mayor Junjun Binay is ready to challenge his sister Abigail Binay for the mayoral race in the 2019 elections.
Philstar.com/Jonathan Asuncion, File | STAR/Ernie Penaredondo, File
Ex-VP Binay: Makati people, not me, will decide if they want Abby or Junjun as mayor
(Philstar.com) - October 15, 2018 - 12:14pm
MANILA, Philippines — Former vice president and family patriarch Jejomar Binay said he would let the people of Makati decide who is more worthy to lead their city.
Two of his children, incumbent Makati Mayor Abigail "Abby" Binay-Campos and youngest Jejomar "Junjun" Binay Jr., are locked in a public spat for the mayoral seat in Makati, the clan's bailiwick.
Last week, it was said that the former vice president would step in and discuss the matter within their family.
On Monday, the elder Binay said in Filipino: "I am respecting their decision to run for the mayoral seat of Makati. I did not decide on who between them is worthy of becoming the mayor."
"The people of Makati will decide on that," he added in a statement.
The family patriarch also said that both of his children "proved that they have the capacity and experience to serve the government."
He added that the camps of his children have arrived on an agreement to practice civility and sobriety and to focus on their platforms for the people of Makati while campaigning.
Abby is running under the United Nationalist Alliance, her father's political party, while Junjun is a candidate of his local party, Una ang Makati.
Abby tells Junjun: Let me have my chance
Abby turned emotional when asked to give a message to Junjun in an interview on ANC's "Headstart" on Monday morning. She recalled that she has been with Junjun "through all the joy and sorrow... in all crises he has been through, personally and politically."
"I was standing up for him. I'm the elder sister. I wish he would give me a chance," Abby said while her tears welled up.
"He had his turn it doesn't make sense that when he was mayor, that I want to run for mayor. It's [inconceivable] for us to clash," the incumbent Makati mayor said in a mix of English and Filipino.
Junjun said last Friday that his elder sister has destroyed their family's brand of public service. He also said that 13 councilors "bolted away" from Abby when she took over as Makati mayor in 2016.
Abby, meanwhile, refuted Junjun's statement that there was an agreement that she would serve as Makati mayor for one term only.
She said that she would not have "worked this hard, put in so many projects" if she would not run for another term.
Their spat, Abby said, would "divide" their family even after elections.
She said that she only wants her brother to give her a chance. "That is all," she added.