Areas in Quezon City flooded after torrential rainfall surpassing 'Ondoy' record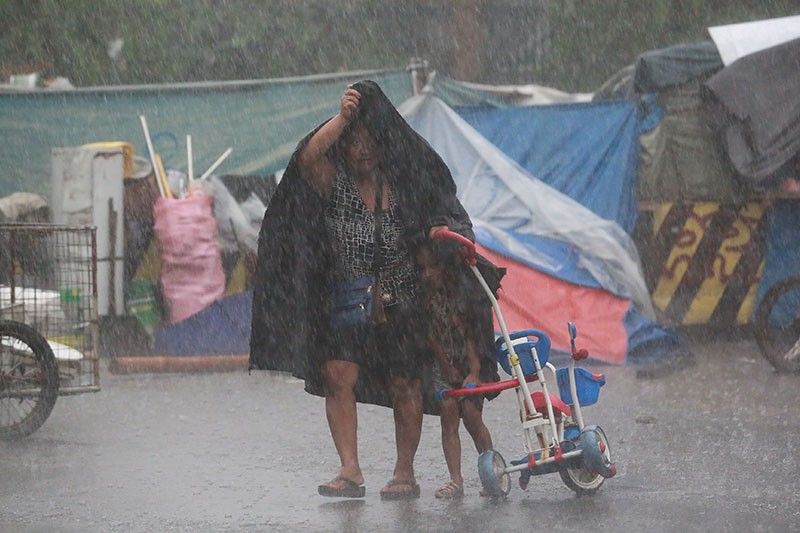 MANILA, Philippines (Updated Oct. 3, 2018; 3:35 p.m.)— Torrential rains poured in Metro Manila, particularly Quezon City, on Tuesday afternoon, flooding several areas in the city.
In a 1:55 p.m. thunderstorm advisory, state weather bureau PAGASA said that heavy to intense rainshowers with lightning and strong winds would be experienced in Metro Manila, especially Caloocan, Malabon, Navotas, Valenzuela, Quezon City and Pasig, within the next two hours.
PAGASA told Philstar.com that 78.3 millimeters per hour of rain, classified as torrential, the highest rainfall intensity categorized by the state weather bureau, was measured in Quezon City.
Floodwater made its way inside the ground floor of Farmers Plaza in Cubao, Quezon City around 3 p.m.
Shenik Quirabo Magsilang, a shopper who was at the mall at that time, told Philstar.com she last remember flooding inside the Farmers Plaza during "Ondoy," which poured 56.83 mm/hr of rainfall in Metro Manila causing a deluge in September 2009.
Magsilang said she decided to stay inside the mall despite the flood as she was on the upper level.
"Mabaho lang talaga amoy poso negro (It was just stinky. Smells like a septic tank)," she added.
The mall's management said the water was removed within an hour after the heavy rains ended.
"The management immediately began dewatering operations to ensure resumption of normal operations for our lessees and mallgoers," it said in a statement Wednesday.
An armored van was also seen submerged in Panay Ave. in Quezon City following the sudden downpour this afternoon. Another video shared online showed orange road barriers floating on the flooded P. Tuazon Boulevard in Cubao, Quezon City causing traffic buildup in the area.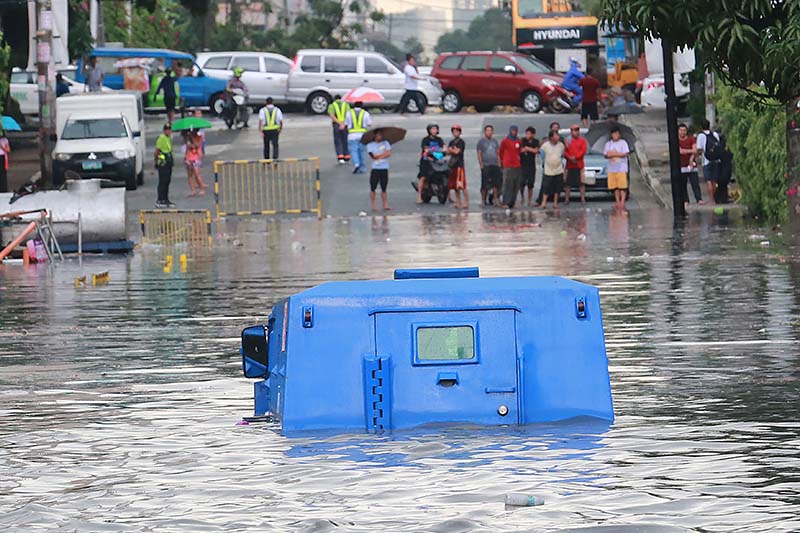 An armored van was submerged in floodwater in Panay Ave. in Quezon City. The STAR/Michael Varcas
The downpour also caused flooding in the city's thoroughfares such as EDSA Quezon Avenue, EDSA Kamuning, Aurora Boulevard, Tomas Morato Exit and Panay Avenue, among others.
PAGASA said the thunderstorm was only concentrated in Quezon City. The next highest amount of rainfall they recorded was only at two millimeters per hour in Port Area, Manila.
The state weather bureau said the downpour was due to the trough or the extension of Typhoon Queenie (international name: Kong-rey).
"Queenie" was last seen 1,130 kilometers east of Tuguegarao City, Cagayan with maximum sustained winds of up to 200 kilometers per hour near the center and gusts of up to 245 kph.
It will leave the Philippine area of responsibility by Friday. — Gaea Katreena Cabico with Mikas Matsuzawa