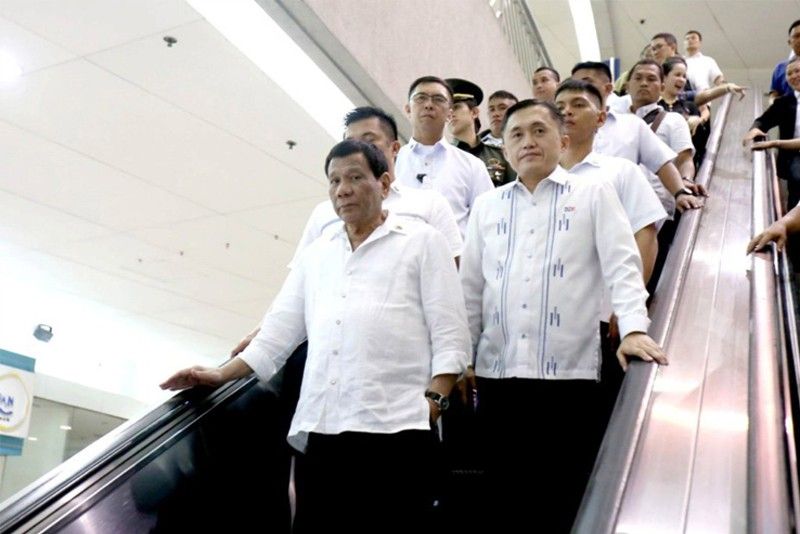 President Rodrigo Roa Duterte arrives at the World Trade Center Metro Manila in Pasay City to view the exhibits in the third series of Defense, Security, and Crisis Management Exhibition and Conference of the Asian Defense & Security (ADAS) 2018 on September 26, 2018. Joining the President is Secretary Christopher Lawrence 'Bong' Go of the Office of the Special Assistant to the President.
Presidential photo/Arcel Valderrama
SWS: Majority of Pinoys find Duterte 'bastos' for insulting God, making rape jokes
(Philstar.com) - September 29, 2018 - 2:38pm
MANILA, Philippines — Majority of Filipinos consider President Rodrigo Duterte's highly controversial "God is stupid" remark and joke about Davao City rape cases "vulgar," a Social Weather Stations survey released Saturday found.
Based on the results of a September 15 to 23 SWS poll of 1,500 adults, 83 percent of respondents qualified that Duterte's disparaging remarks about God were "bastos."
Meanwhile, 63 percent also believe that the foul-mouthed leader's recent joke about rape cases in his hometown of Davao City was "bastos" as well.
Duterte, who is known for his crude language, earlier sparked public outrage in Asia's biggest Catholic nation after he called the Christian God a "stupid son of a bitch" for creating Adam and Eve only to allow temptation to destroy the purity of His work.
Amid simmering backlash, Duterte vowed to immediately resign if Christians can prove that their God exists through a selfie. He later apologized to God.
More than a month after insulting God, Duterte stirred a hornet's nest anew after he made light of reported rise in rape cases in Davao City, saying the spike in numbers was inevitable due to the many beautiful women in the locality that he governed for more than two decades.
According to the same SWS poll, satisfaction with Duterte dramatically fell among those "calling him vulgar."
But overall, his net satisfaction — used by the pollster as a rating of the president's performance — returned to the "very good" territory after posting a nine-point increase to +54.
READ: Duterte's satisfaction rating rebounds to 'very good' in Q3: survey
— Ian Nicolas Cigaral