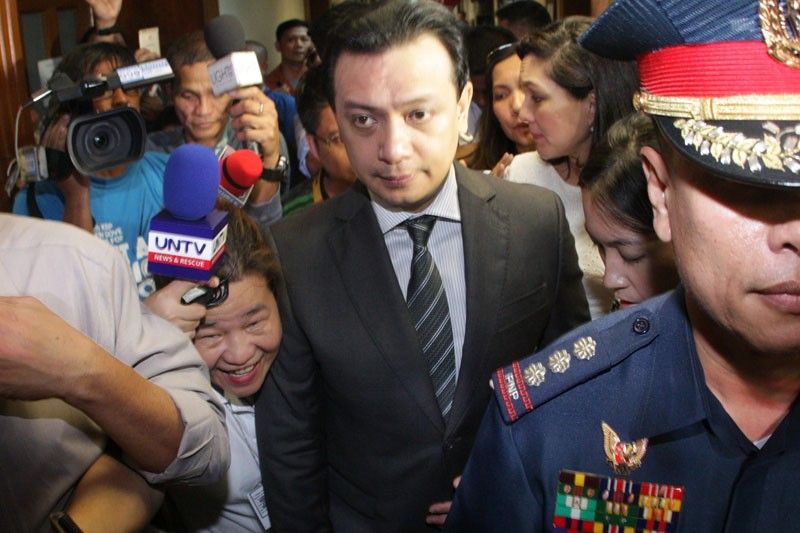 "Officially, we no longer have a democracy," Trillanes told reporters before law enforcers led by National Capital Regional Police Office chief Director Guillermo Eleazar picked him up from the Senate yesterday.
File
Democracy died today – Trillanes
Marvin Sy
(The Philippine Star) - September 26, 2018 - 12:00am
MANILA, Philippines — Sen. Antonio Trillanes IV described the order for his arrest as the "defeat of democracy in the country."
"Officially, we no longer have a democracy," Trillanes told reporters before law enforcers led by National Capital Regional Police Office chief Director Guillermo Eleazar picked him up from the Senate yesterday.
"For all intents and purposes, darkness and evil prevailed in our country," he said.
President Duterte may have secured a small victory, according to the opposition senator who was arrested on revived charges of rebellion.
Hours after he posted bail on the charges at the Makati Regional Trial Court Branch 150, Trillanes returned to the Senate and held a brief news conference.
Trillanes told reporters that he was disappointed with how the judiciary has seemingly succumbed to pressure from the executive branch with the issuance of the warrant against him.
Trillanes noted that another set of charges is being revived against him, this time on coup d'etat, a non-bailable offense.
Trillanes is facing separate charges of coup d'etat at the Makati RTC Branch 148 for leading the Oakwood mutiny in 2003. The court has yet to decide on the Department of Justice (DOJ)'s motion for warrant of arrest and hold departure order.
"As it is, I am hoping for a miracle from (Makati RTC) Branch 148. We're slightly more hopeful but we have to expect the worst," Trillanes said.
He said Duterte was "obviously using his powers" to pressure the courts.
"We continue to hope but we see this fading fast. We expected the judiciary to do the right thing, to give justice, because this is wrong no matter how you twist this," he added.
He said there are many legal remedies available to him but they are being "twisted" by the administration.
"It's the way things are now. Even God is being cursed now. Ordinary Filipinos are now doing what should not be done. He (Duterte) is demonizing institutions while protecting his partner drug lords and smugglers," he said.
Trillanes said evil never triumphs and in spite of these small victories, it will be defeated.
"When you are up against a demon, you should expect evil at every turn. But we all know that the weapon against demons is prayer. I know many of our people are praying for me and this is giving me strength," Trillanes said.
"If you manage to get rid of me, someone else will take my place. In the end you will lose and you will have to come face-to-face with all the sins that you committed," he added.
Trillanes said he would remain at his office where he has been holed up since Sept. 4.
He said he would stay in his office until the final resolution of his cases and his petition before the Supreme Court seeking to nullify Duterte's proclamation voiding his amnesty grant.
The former Navy officer has been taking refuge in the Senate to avoid arrest before the warrant was issued.
Trillanes said he expects more harassment in the days ahead.
Running roughshod
Trillanes earlier told a news conference that he would agree to be arrested following the issuance of the warrant.
"This case goes beyond me. It is clear that I did not commit any crime because I was granted amnesty seven years ago. This is clearly a case of harassment by Mr. Duterte against his critics in politics, against those who speak the truth," he added.
Trillanes said he could still be locked up by authorities for other reasons, considering Duterte's zeal to have him and other critics jailed.
Trillanes made good on his promise to honor the judicial process once a warrant is issued against him.
He yielded to a team of policemen led by Eleazar who personally went at the Senate to bring the senator to the Makati RTC.
"Like what I said before, I will go with the arresting team if there is a warrant, no matter how unjust that warrant may be," he said.
Trillanes maintained the rebellion and coup-related cases against him were all extinguished after Aquino issued Proclamation 75 that granted amnesty on him and his fellow rebel officers.
Trillanes lamented that despite all the documents and other evidence he presented to show the amnesty proclamation covering him was legal and valid, Makati RTC Branch 150 still issued the warrant for his arrest.
"It's very clear there are iron-clad processes that cannot be broken, like amnesties and dismissal of cases, but Duterte is obsessed so he runs roughshod over laws," Trillanes said.
Before leaving for the Makati RTC, Trillanes first presided over a hearing of the Senate committee on social justice, welfare and rural development of which he is vice chairman.
He also had his attendance taken at yesterday's plenary session before heading for the Makati RTC where he posted bail later in the day.
Trillanes was picked up by a police team led by Eleazar and the court sheriff at the Senate shortly before noon.
It was the first time that Trillanes stepped out of the Senate after Duterte issued Proclamation No. 572 voiding the amnesty granted to the opposition senator and ordering his arrest.
Trillanes returned to the Senate later in the afternoon after the Makati RTC allowed him to post bail.
Trillanes thanked Senate President Vicente Sotto III and the police team for making the process orderly.
Trillanes' legal counsel Florin Hilbay described the arrest order as "a clear political persecution to the highest level."
"We have so many urgent problems that this administration must face and address," Hilbay said. – with Paolo Romero