Fact-checking Enrile's tete-a-tete with Bongbong Marcos
September 21, 2018 | 12:30pm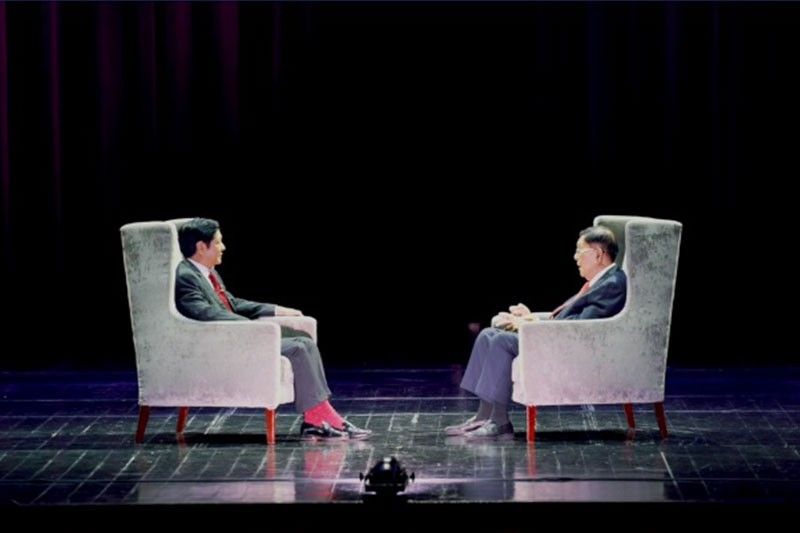 MANILA, Philippines — A night before 46th anniversary of the declaration of Martial Law in the Philippines, the only son of ousted dictator Ferdinand Marcos released a video of a one-on-one dialogues with former Senate President Juan Ponce Enrile, his late father's Defense minister.
In an attempt to clear his father's name, former Sen. Ferdinand "Bongbong" Marcos Jr. asked Enrile, implementor of martial law, questions about the events that led to Proclamation 1081.
Enrile, who staged his own assassination attempt to justify the declaration of martial law, made contentious claims during his talk with the strongman's son.
No arrests?
Claims that thousands people have been arrested during martial law were not true, according to Enrile.
"That we had 70,000 arrested, which was not true! Maybe if they will include people who violated curfew and jaywalkers, maybe you can reach that number... Of course, if you are a member of the rebel group or a war lord or someone who violated criminal law you had to be arrested whether you have Martial Law or not."
In a report published in 1982, Amnesty International reported that over 50,000 people were arrested under emergency regulations in the first three years of martial law. Almost all of whom were detained without charge or trial.
"The Amnesty International mission which visited the Philippines in November to December 1975 was officially informed that 6,000 people were still detained as of May 1975. The 1975 mission found that 71 of 107 prisoners interviewed alleged that they had been tortured," Amnesty International said.
'No one was arrested for political belief'
"Name me one person that was arrested because of political or religious belief during that period. None. Name me one person that was arrested simply because he criticized President Marcos. None."
Enrile further claimed that former Sen. Jovito Salonga and Sen. Jose "Pepe" Diokno were arrested for a while but were also released.
This is a plain contradiction of his own statement that nobody was arrested for their political beliefs during martial law.
In its "Declaration of Martial Law" article, the Official Gazette listed Sens. Benigno Aquino Jr., Jose Diokno, Francisco Rodrigo and Ramon Mitra Jr. as those who have been arrested immediately after the declaration of martial law as they were considered "threats" to Marcos. Media practitioners Joaquin Roces, Teodoro Locsin Sr., Maximo Soliven and Amando Doronila were also rounded up.
"...starting with the arrest of Senator Aquino at midnight on September 22, and going into the early morning hours of September 23, when 100 of the 400 personalities targeted for arrest were already detained in Camp Crame by 4 a.m.," the Official Gazette read.
Marcos went on air on the evening of Sept. 23, 1981 to announce that he had signed Proclamation 1081 or the imposition of martial law.
Pimentel: It's clear people were arrested
"Maliwanag naman siguro na marami ang hinuli...(I think it is clear that many were arrested)," former Senate President Aquilino Pimentel Jr., who was arrested in 1973 and detained for at Camp Crame for three months, said Friday after a press briefing at the Palace.
Pimentel, an opposition figure during the Marcos years, was arrested again in 1978, 1983 and 1985.
"Manong Johnny is entitled to his opinion. He has always been a defender of martial rule," Pimentel said. Acknowledging that Enrile broke with Marcos in 1986 and that that event contributed to the EDSA People Power Revolution, Pimentel remerked: "Apparently the idea of autocratic rule still persists in his mind."
He added: "I disagree with that and I still maintain that you can achieve what is good for your people without depriving them of their liberties."
Political prisoners released in 1986
According to reports by United Press International and the Washington Post in the aftermath of Marcos' ouster in 1986, President Corazon Aquino freed political prisoners whom Marcos had locked up.
"But there was no indication whether the government would consider releasing leading Communist personalities such as Bernabe Buscayno, a commander of the New People's Army, or Horacio Morales, leader of the Communist Party's banned National Democratic Front organization," the Washington Post reported in a February 28, 1986 story on Aquino's order to release an initial 39 political prisoners.
They were eventually freed, and former Rep. Satur Ocampo (Bayan Muna), also a former National Democratic Front spokesman, acknowledged in a 2009 Newsbreak story carried by ABS-CBN that Aquino released around 450 political prisoners nabbed under Marcos.
Ocampo was arrested in 1976 and jailed for nine years.
No massacres?
"During martial law, there were no massacres like what happened in Mendiola during the supposed democratic government of Cory Aquino."
Enrile was referring to the Mendiola massacre or the "Black Thursday" incident, where state security forces violently dispersed farmers protesting over the government's lack of action on land reform, leaving at least 12 dead and 51 others injured.
Contrary to the former senator's claim, there were a few massacres under martial law. First of which is the Malisbong Massacre on Sept. 24, 1974, where 100 heavily-armed men entered the rural community of Malisbong in Palimbang, Sultan Kuldarat and burned almost 300 houses.
"The Malisbong Massacre claimed the lives of 1,500 men, women and children as the entire village was razed to ashes. Their story ends with death—and the deafening silence of the nation after," Young Moro Professionals Network member Amir Mawallil said in an article published on Philstar.com in September 2016.
Another is the Bingul Village Massacre in 1977, where a paramilitary group entered a village in Mindanao, raided, burned and killed 42 Muslim villagers.
READ: Of national dementia: The Malisbong Massacre, 42 years after | Memories of Martial Law in Mindanao
'Oligarchs controlled communication'
"Oligarchies existed during the time of your dad and even before that and they are still around... They controlled the media, they controlled the newspapers, the radion, many facets of industry."
While it is true that oligarchs were major owners of press and broadcast media before martial law, Marcos himself ordered the shutdown of mass media when he placed the country under martial rule.
Members of the media were among those who were first arrested after the declaration.
"When some newspapers outlets reopened , they stood under strict government supervision. While the oligarchs were gone, media now was owned by either Marcos' relatives or friends – his notorious 'cronies' – an even more concentrated group," VERA Files said in its "Media Ownership Monitor" article.
Jabidah Massacre
"They invented the Jabidah massacre. I say invented because until now I have not heard of anyone who complained about anybody being massacred in Corregidor. No one."
The Jabidah Massacre was the slaughter of at least 28 Moro men recruited for an operation to invade Sabah in March 1968.
While some dismiss it as part of a political ploy to discredit the Marcos regime, Muslims consider it "a mark akin to a wound that has never fully healed," according to Autonomous Region in Muslim Mindanao Regional Gov. Mujiv Hataman.
"In our minds and hearts, there is no question that it happened and that it is true. In our history, there is no question about its rightful place in the long narrative of our struggle for self-determination," Hataman said in a commemoration of Jabidah in 2016.
READ: The Forgotten War