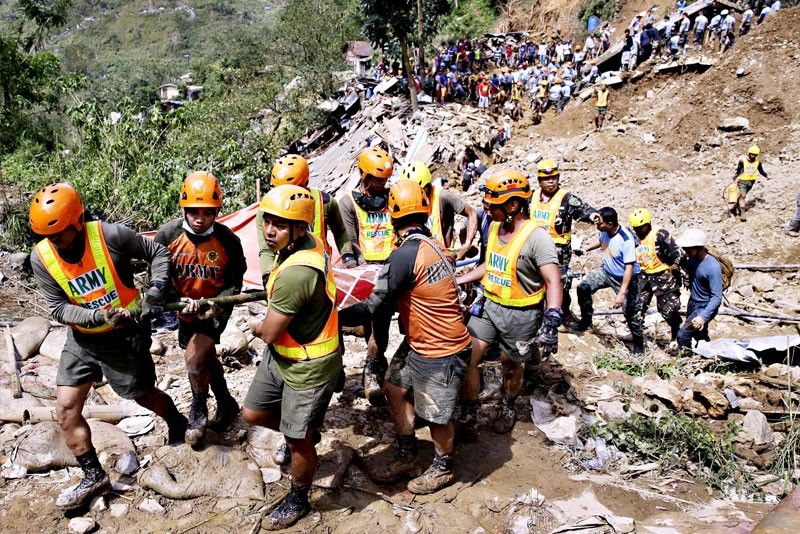 Army rescuers carrying a body recovered from the landslide.
AP
Rescuers seek miracle, signs of life in Itogon landslide
(The Philippine Star) - September 18, 2018 - 12:00am
MANILA, Philippines — Rescuers raced against time to find and pull out survivors from a massive mound of mud and debris that buried a bunkhouse and other structures where dozens of miners and their families had sought shelter at the height of Typhoon Ompong's onslaught in Itogon in Benguet.
The official casualty figure early yesterday was set at 56 dead, according to Mario Iringan of the Cordillera Administrative Region's interior department, but the figure is expected to rise as 40 to 50 people were believed to be still under tons of mud that buried the bunkhouse that doubled as a chapel.
Some 300 police, soldiers, firefighters and volunteers armed mostly with hand tools raced to remove rocks, mud, debris and drain water from collapsed buildings, hoping to find some signs of life after 12 bodies were pulled out.
The village of Ucab in the picturesque Cordillera region was hit by one of 50 landslides triggered by heavy rains brought by Typhoon Ompong, which tore across the northern tip of the Philippines early on Saturday, killing dozens of people.
Only three people have been rescued in Ucab as of yesterday. Fifty-six were missing, six of them children. Many of the adults were in an abandoned bunkhouse, next to a chapel and home of a pastor and his family. The buildings were all crushed by earth and rocks.
The abandoned bunkhouse, owned by gold miner Benguet Corp., was near the site of a mine which was operating illegally, according to the Chamber of Mines of the Philippines.
The chamber, of which Benguet Corp. is a member, said mining operators in Ucab had been repeatedly told to leave the area because of the threat of landslides. – Artemio Dumlao, Raymund Catindig, Evelyn Macairan, Cecille Suerte Felipe, AP