Don't demonize striking workers, Duterte told
September 13, 2018 | 2:24pm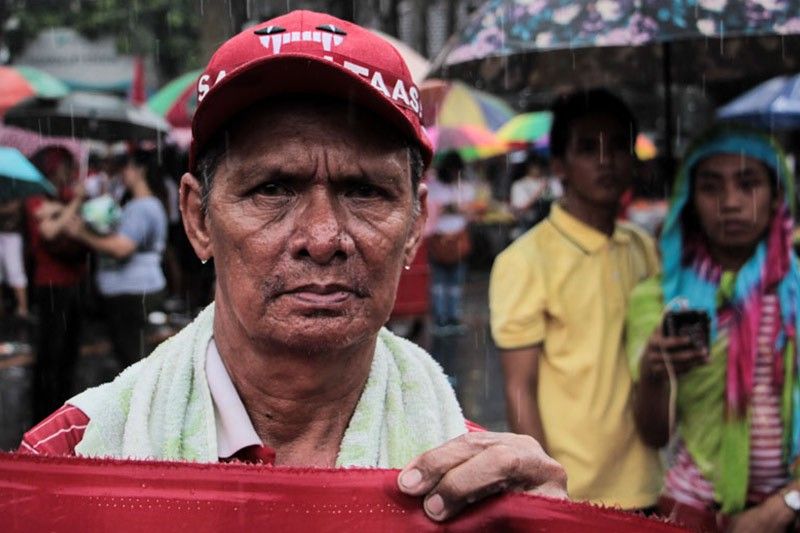 MANILA, Philippines — President Rodrigo Duterte should not "demonize" and blame workers for strikes that he says are scaring away foreign investors, a labor alliance said Thursday.
In a controlled briefing with Chief Presidential Legal Counsel Salvador Panelo, Duterte said labor groups like the Kilusang Mayo Uno weaken the economy because strikes keep investors away.
"[N]andiyan pa 'yang KMU, sige strike. Strike-strike nila 'di magsara. Sinong magutom? Pilipino. Kasi kayo nagpapadala ng... Ayaw ninyong humintay kasi alam ninyo walang pera. Walang negosyante ngayon magpapasok na after three months mag-strike kayo malugi 'yung kapital niya," the president said.
(And there's the KMU, always on strike. Strike here, strike there and the business will close down. Who will go hungry? Filipinos. Because you let yourself be carrid away... You don't want to wait because you know there's no money. No capitalist will invest if, after three months, you'll strike. He will lose money on his investment.)
KMU, which Duterte accused last year of being in league with communist rebels, responded on the same day that "the upsurge of workers' strikes these past months are results of Duterte's failure to end contractualization, refusal to address the rising prices of commodities by implementing a significant wage hike, and of the government's fascist attacks against trade union and human rights."
RELATED: Labor groups to mark National Heroes' Day with massive rally
Notices of Strike up in first half of 2018
According to a BusinessMirror report in August that cited data from the Department of Labor and Employment, there had been 155 notices of strike from January to July 2018, up by 18.7 percent against 126 notices in the same period in 2017.
A notice of strike is a requirement for a legal strike and should be filed at least 15 days before the date of the intended strike.
Most of the strikes were due to unfair labor practices, the report said.
Bukluran ng Manggagawang Pilipino, in a statement, stressed that "the highest law of the land and international statutes grant workers the right to legally impede company operations, as last recourse, in order to protect their rights and welfare."
"The BMP condemns this old tactic of demonizing the right to strike. The Integrated Bar of the Philippines should move to disbar Duterte for forgetting that the lawful exercise of the right to strike is guaranteed by the constitution," the group also said.
BMP: Blame inflation, taxes
It also cited the Bangko Sentral ng Pilipinas' Business Expectations Survey for the 3rd Quarter of 2018, which noted lower optimism among firms surveyed and the factors for that lower optimism.
Respondents in that survey attributed their lower business optimism to:
Increasing prices of basic commodities in the global market and the effects of the Tax Reform for Acceleration and Inclusion Law on local prices
Rising overhead costs and lack of supply of raw materials
Interruption of business activities and lower crop production during the rainy season
Slack in consumer demand as households prioritized enrollment expenses
The suspension of commercial fishing in Davao Gulf from June to August
A weakening peso
Stiffer competition
Respondents also said they were more optimistic for Q4 because of an expected rise in spending during the holiday season, better weather, and the roll-out of government infrastructure and development projects.
"Employers and employees are both flinching from rising prices, from spiraling production costs and the cost of living. One does not need to be an economist to easily deduce that the present runaway inflation is directly and indirectly caused by the excise taxes of TRAIN Package 1," BMP president Luke Espiritu said.
RELATED: Duterte calls on Congress to end labor contractualization
'They don't want to work, they just want to strike,' Duterte claims
In the same controlled briefing, Duterte also accused unions and labor groups of being used by communists to bring the country down.
"Iyang mga Left, sinakyan ng mga komunista, hindi ninyo alam. Kita mo diyan sa daan. Ano ang purpose niyan? Pangsira. Ayaw magtrabaho gusto magsali ng strike," he said.
(Those in the Left, the communists are using them, you don't know. You can see them [in picket lines] on the road. What is the purpose of that? To destroy. They don't want to work, they want to join strikes)
BMP, which is not affiliated with the national democratic movement but has participated in labor protests with them, rejected the assertion and called it red baiting.
RELATED: Duterte's red-tagging endangers activists – militant groups
"No, Mr. Duterte, no amount of external provocation would goad workers to willfully leave their work, albeit temporarily. It is a decision for supreme sacrifice not only for themselves but also for their families and loved ones," the group said.
BMP added that instead of assigning blame, the president should "control inflation by repealing your regime's regressive tax reform or face a restive labor front" that might mobilize against him. — Jonathan de Santos