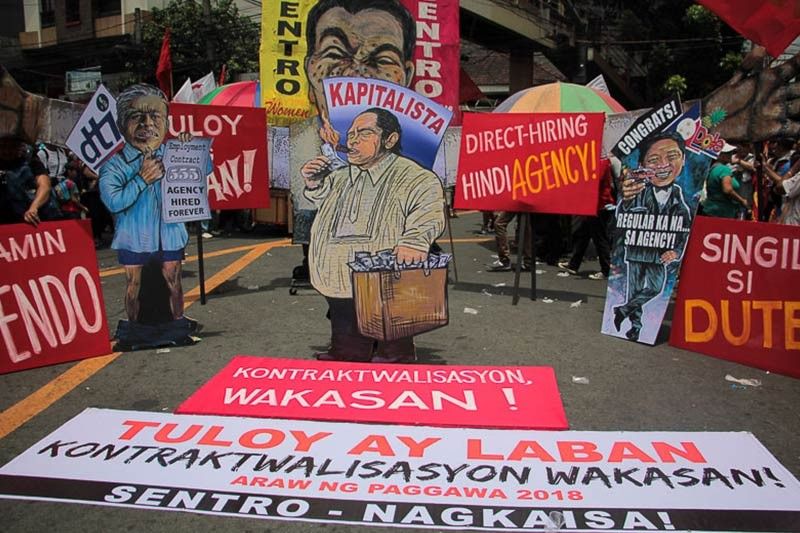 Protesters hold placards and banners for the May Day rally in Mendiola, Manila near the Presidential Palace in this file photo.
Philstar.com/Efigenio Toledo IV, file
Labor groups to mark National Heroes' Day with massive rally
(Philstar.com) - August 26, 2018 - 6:20pm
MANILA, Philippines – Labor coalitions will mark National Heroes' Day on Monday by protesting the Duterte administration's alleged failure to address workers' issues.
"Filipino workers are today's heroes. On our shoulders we bear the responsibility of building a modern society, but with the treatment we are receiving from the Duterte administration and those before him, we can no longer remain idle and accept poverty and oppression as our fate, we are not martyrs," Bukluran ng Manggagawang Pilipino president Luke Espiritu said in a release on Sunday.
BMP said thousands of workers across various ideological and political streams are expected to join the "Martsa ng Manggagawa", which is projected to be the largest workers' rally under the Duterte administration.
Workers' groups also protested together on May 1, Labor Day.

Workers from various labor unions and groups will march to Mendiola Bridge for a common program but will have their own activities beforehand.

Kilusang Mayo Uno and its allies are scheduled to converge at Welcome Rotonda in Quezon City Monday morning and march along España Boulevard to link up with the contingent of the Church Labor Conference, which is composed of the Federation of Free Workers, SENTRO, and Partido Manggagawa, in front of the University of Santo Tomas.
BMP, Socialista and the National Confederation of Labor, which are part of Workers Against Contractualization, will join the march when it reaches Recto Avenue.
The rallyists will call for "an end to contractualization, high prices, burdensome taxes, state-sponsored killings, and violent dispersals of workers' strikes," BMP said.
The National Heroes' Day march was organized by labor-based church organizations like the Church Labor Conference and Church Workers Solidarity, along with various groups from the trade union movement, BMP also said.
BMP said it is elated that leaders of the trade union movement have set aside differences in order, adding "political consciousness and organizing are the ultimate weapon of the working class."

Labor contractualization remains
The BMP lamented how the negative effects of labor contractualization remains despite Duterte's Executive Order 51 and the Department of Labor and Employment's Department Order 174 that were supposed to address the issue.
Duterte signed an executive order to prohibit illegal contracting and subcontracting on Labor Day in supposed fulfillment of a campaign promise to put an end to labor contractualization.
He has since said that it is up to Congress to amend the Labor Code and prohibit all forms of contractual labor.
RELATED: Duterte calls on Congress to end labor contractualization
The House has already passed a bill that protects the security of tenure of workers and prohibits sub-contracting work. It does not ban contractual labor, which employers' groups say companies need during busier seasons.
BMP said that workers are still suffering from "regressive taxes, spiralling prices, falling real wages, legalized contractualization, and the rising incidence of violence at workers' picketlines the past two years."
Espiritu said: "Thanks to him, workers are learning fast to not rely on fake messiahs like himself by choosing to create their own destiny by collectively pushing for the change we seek."
He said that recent violent dispersals of workers' strikes "are also caused by an administration that promotes brute force to allegedly maintain peace and order."
The Labor Code recognizes "the right of legitimate labor organizations to strike and picket and of employers to lockout (or temporarily refuse furnish work)."
It also prohibits obstructing, impeding, or interfering with "by force, violence, coercion, threats or intimidation, any peaceful picketing by employees during any labor controversy or in the exercise of the right to self-organization or collective bargaining, or shall aid or abet such obstruction or interference." – Rosette Adel