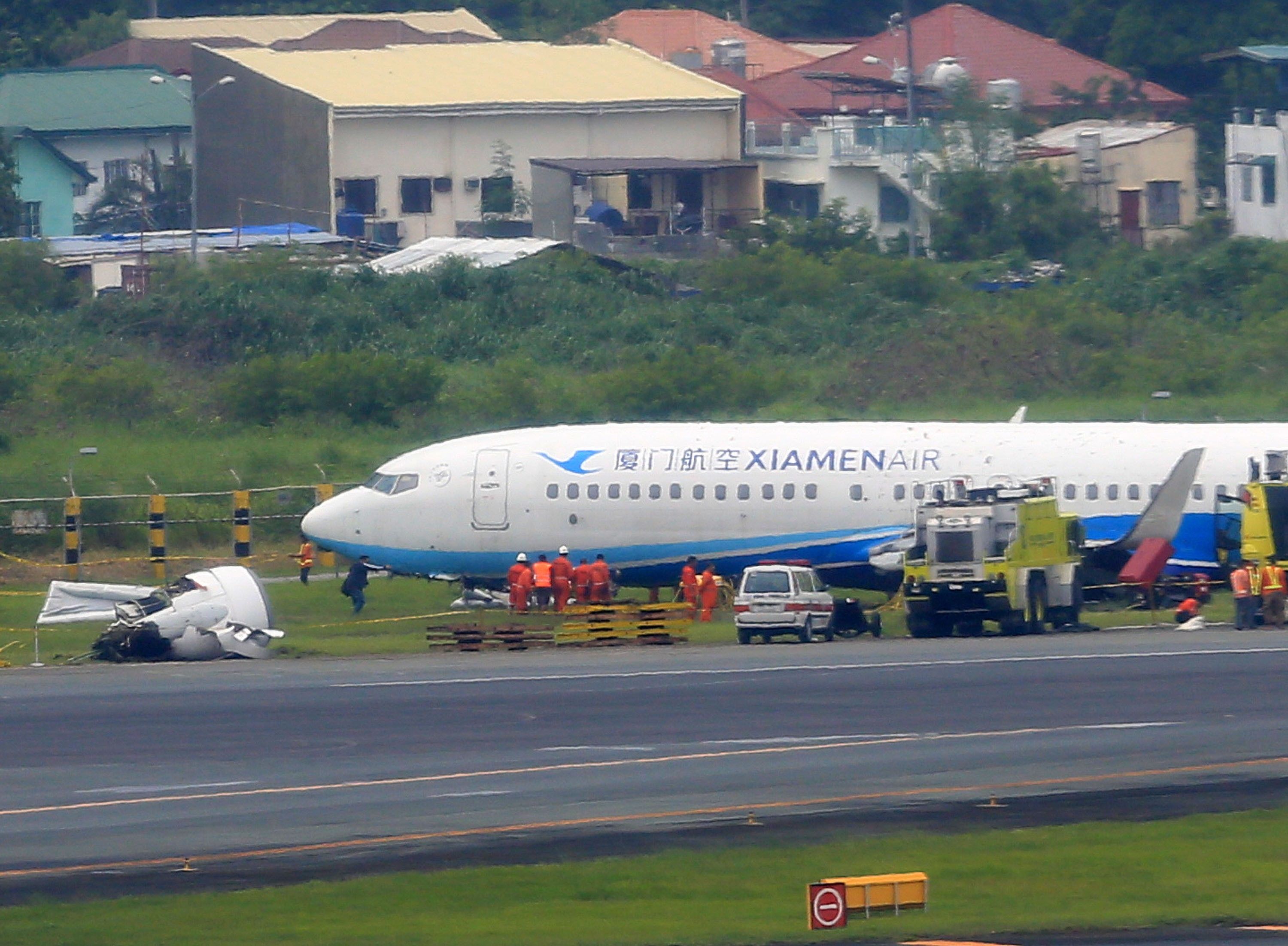 A Xiamen Airlines passenger aircraft skidded off the runway of the Ninoy Aquino International Airport on August 16, paralyzing the operations of the country's main gateway for at least 36 hours.
The STAR/Edd Gumban, File
Xiamen Airlines fines now up at P72 million
MANILA, Philippines — Xiamen Airlines would have to pay almost P72 million in fines for the penalty caused by an incident involving its aircraft last August 16, Manila International Airport Authority general manager Ed Monreal said.
The initial penalty that the Philippine government demanded from the Chinese airline was at least 33 million following the paralyzation of operations at the Ninoy Aquino International Airport.
During the Senate hearing into the NAIA fiasco, Monreal said Xiamen Airlines officials will be coming to the country on Wednesday to settle the initial penalty.
"Actually, the (Xiamen Airlines) finance officer went here last Friday and there was an exchange of information... the chairman himself will go again here," Monreal said in mix of English and Filipino.
Possible violations of Philippine civil aviation regulations
Meanwhile, the flight safety investigation committee (FSIC) of the Civil Aviation Authority of the Philippines is looking into possible violations of Philippine civil aviation regulations.
CAAP Director General Jim Sydiongco said this committee would also impose corresponding penalties for such violations.
"This committee is tasked to implement our local laws on civil aviation. Aviation safety is of the utmost priority and the Philippines is duty-bound under our international obligations to abide," Sydiongco told the Senate panel.
The CAAP's Aircraft Accident Investigation and Inquiry Board (AAIIB), on the other hand, is checking if the Philippines was complying to international obligations and treaties.
Both teams of the CAAP are working to determine what caused the accident.
"Both committees are at work continuing and gathering the information through interviews with eyewitnesses, examination of records, validation of data from all available sources to arrive at the truth on the accident involving the Xiamen Airlines aircraft," Sydiongco said.
Black box under CAAP custody
The Xiamen Airlines plane's cockpit voice recorder and flight data recorder have arrived from Singapore but it is still under CAAP custody.
Sydiongco, however, refused to disclose details on the aircraft's black box while investigations are ongoing.
"CAAP will publish the final report of the AAIIB and FSIC upon the conclusion of the investigations," he said.
The CAAP will also issue an amount of penalty for the Chinese airline, which will be different from the Manila International Airport Authority's assessment.
"The Civil Aviation Authority's fine is different, which is against the operator and against the pilots," Sydiongco said.
Xiamen Airlines earlier committed to shouldering the expenses for the removal of its aircraft, which skidded off NAIA's runway, paralyzing the operations of the country's main gateway.