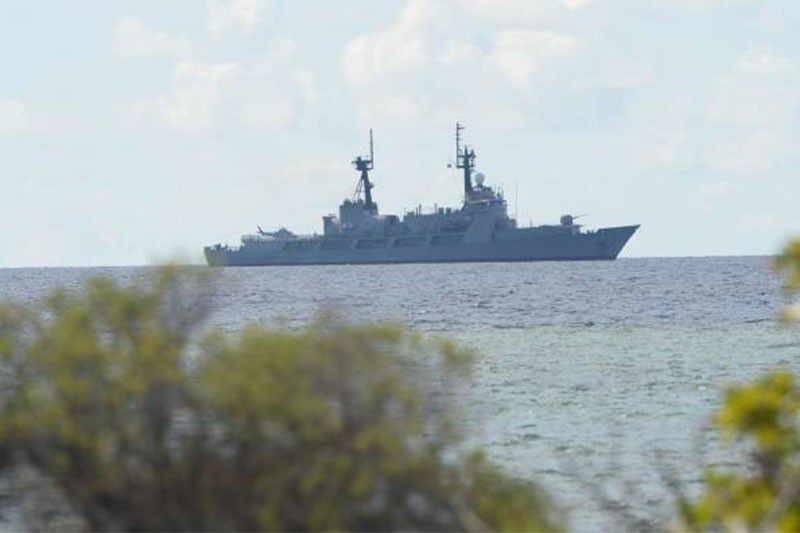 Philippine navy's frigate BRP Gregorio del Pilar is anchored near Thitu island during the visit of Defence Secretary Delfin Lorenzana to the island in The Spratlys on April 21, 2017. Philippine Defence Secretary Delfin Lorenzana flew to a disputed South China Sea island on April 21, brushing off a challenge by the Chinese military while asserting Manila's territorial claim to the strategic region.
AFP/Ted Aljibe
Palace dismisses possible Chinese interference on grounded Navy ship
MANILA, Philippines — Malacañang allayed fears of China's possible actions while the Philippines is retrieving BRP Gregorio del Pilar, which has ran aground near Hasa-Hasa Shoal in the West Philippine Sea.
Presidential spokesperson Harry Roque pointed out that retrieval operations for the Navy frigate are ongoing "with no problems from China."
"Let's not speculate," Roque told reporters when asked about what China would do after the incident.
Greg Poling, director of Washington-based Asia Maritime Transparency Initiative, warned that China may take advantage of the situation by offering assistance to the Philippines.
Noting that Beijing closed Jackson Atoll in 2016 to remove a foreign vessel, Poling said China might do the same to the Philippines.
"Worse, China could unilaterally act to 'assist' the ship stranded on what China calls Banyue Jiao [and] prevent [Philippine] ships from intervening," Poling said on Twitter.
The AMTI director noted that Hasa-Hasa Shoal is about 60 nautical miles from Palawan, which is close to Mischief Reef, one of Beijing's military outposts in the Spratly Islands.
Jay Batongbacal, director of the University of the Philippines Institute for Maritime Affairs and Law of the Sea, also noted that Hasa-Hasa Shoal was the same place where a People's Liberation Army Navy ship ran aground in 2013.
It also where Chinese where caught with more than 500 dead marine turtles, Batongbacal said on Twitter.
"It has a large navigable lagoon. Possible FP-15 was caught by low tide while standing guard," Batongbacal said.
Meanwhile, the Philippine Navy's Western Command has deployed all of its vessels to retrieve Del Pilar and to return it to harbor.
"An investigation is expected in such situations to find out the possible causes of the grounding and to come up with steps to ensure that similar incidents will be prevented," the Armed Forces of the Philippines said in a statement.
As It Happens
LATEST UPDATE: August 31, 2018 - 11:09am
The Philippine Navy has dispatched ships to assess, retrieve and bring flasghip BRP Gregorio del Pilar (PF-15) to safe harbor after it ran aground on Hasa-Hasa Shoal (Half Moon Shoal).
The Philippine News Agency quotes Defense Secretary Delfin Lorenzana confirming the ship had run aground and saying: "It is still there and the Navy is still assessing damage before pulling it out."
The Del Pilar is a former US Coast Guard cutter and is the lead ship of her class. The other fomer Hamilton-class ships in the Philippine Navy are BRP Ramon Alcaraz (FF-16) and BRP Andres Bonifacio (FF-15).
August 31, 2018 - 11:09am
The Philippine military is investigating the possible causes of the grounding of BRP Gregorio del Pilar in the vicinity of Hasa-Hasa Shoal in the West Philippine Sea.
"All afloat vessels in the Western Command area have already been mobilized to conduct assessment, retrieve the aground vessel and return her to safe harbor, and assist all personnel aboard BRP Del Pilar," the Armed Forces of the Philippines said in a statement. — Patricia Lourdes Viray